Reserve Bank Governor says won't be hiking OCR to 'lean against' over-valued Auckland housing market; says house building not keeping up with migration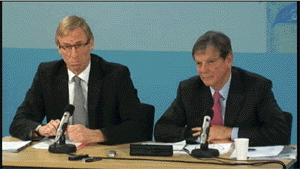 By Bernard Hickey
Reserve Bank Governor Graeme Wheeler has virtually ruled out an Official Cash Rate hike to slow down Auckland's housing market in the short term, but has stopped short of saying it would prevent him from cutting the Official Cash Rate again on December 10, as most economists currently expect.
Wheeler was commenting on the Auckland housing market in an appearance before the Finance and Expenditure Select Committee in Parliament. He had initially said he would not comment on monetary policy, given the hearing was about the Reserve Bank's Financial Stability Report released earlier in the day. He will appear again on December 10 to comment on the Reserve Bank's December quarter Monetary Policy Statement.
But National MP Andrew Bayley asked Wheeler about comments by the IMF yesterday about the Reserve Bank using monetary policy to 'lean against the wind' of financial stability risks from housing if prudential policy was not working.
"We can do things in terms of macro-prudential policy that can help out a bit, but in the end supply will fix that problem," Wheeler said.
"The possibility of us raising interest rates at this point to lean against house price pressures in Auckland is probably pretty negligible," Wheeler said.
"The last thing we'd want to do is drive the exchange rate up, for example, and with the economy going through a dairy price adjustment and growth probably slowing in the first half of this year, the prospect of raising interest rates in the short term is not something we would consider feasible," he said.
He did not address the issue of whether the Reserve Bank would hold back from cutting interest rates for a fourth time on December 10. Wheeler said in a speech on October 14 that "housing market considerations do influence our thinking on the OCR," which was cited by some as one reason why the Reserve Bank might not cut interest rates on December 10, as it forecast it was likely to in its September Monetary Policy Statement.
Elsewhere in the hearing, Wheeler said it was too early to say if the Reserve Bank's new restrictions on high LVR lending to Auckland landlords and the Government's moves to introduce a two year 'bright line' test to deter speculators was having an impact. He  said the bank would have a better idea of the impact after it received Real Estate Institute sales data from the month of February.
'Not enough houses being built'
Governor Wheeler also said insufficient houses were currently being built in Auckland to house the record number of migrants.
"We're not building enough houses to match the net migration inflows, let alone the shortfall or the natural increase," Wheeler said.
Wheeler said about half of the current annual net migration inflows of 54,000 were going to Auckland, which meant around 9,000 to 10,000 new houses were needed each year to house the migrants, given an occupancy rate of about three per house. However, only around 8,600 houses were consented in Auckland in the last year.
Wheeler not so keen on CGT
Green MP and Finance spokeswoman Anne-Marie Genter asked the Reserve Bank whether the Government needed to introduce further taxation reform to discourage speculative investment by landlords.
Governor Wheeler said most other OECD countries had capital gains taxes.
"When you look at the impact of those capital gains taxes, you often find they don't generate much revenue for the Governments in OECD countries, and that's partly because the systems are usually very complex, there's a lot of exemptions -- the family home is usually exempted -- so there's a lot of issues around Capital Gains Taxes," Wheeler said.
"Our perspective at this point is we're pleased with what the Government has done and we'll be very keen to see its impact."
'Stress tests not the only measure'
Meanwhile, National MP Chris Bishop asked about the results of stress tests on banks that showed they had sufficient capital to deal with a significant housing market correction. Opponents of the Reserve Bank's macro-prudential measures have often pointed to the stress test results from 2014 as a reason why the measures aimed at reinforcing financial stability were not needed.
Deputy Governor Grant Spencer told the committee that the stress tests conducted on banks in 2014 were an indicator the bank looked at, but the simple effects on capital levels were not the only measure for the Reserve Bank to look at when assessing the risks to financial stability from the housing market.
"You have to keep in mind that a bank may pass a stress test, but there may significant disruption to the economy still from relatively low levels of capital. When you look at the stress test and ask a bank how did you survive that, they say, 'we stopped lending to everyone,'," Spencer said.
"They survived it by battening down the hatches, which tends to happens with banks in recessions," he said.
"We have to be careful. Banks may pass the stress test, but a housing shock could still be problematic for the financial system and the New Zealand economy, hence our desire to make the banks even more resilient to a housing shock through macro-prudential measures."
Governor Wheeler then said the stress tests "were always going to be an indicative framework."
"Since we did those stress tests in 2014, Auckland house prices have risen 30%, so they're very helpful for giving us an indication of how the banks might respond," Wheeler said, pointing the potential pro-cyclicality of a bank stopping lending in response to a recession and house price shock.
"On the framework for LVRs -- when we first introduced them, banks were competing very aggressively to lend to people on low deposits. Almost a third of their lending was going to people with deposits of less than 20%. Now that's down to about 7-8%. If you look at the riskiness of a bank portfolio, it's got a significantly lower percentage of high LVR loans at this point, so that's been a positive for financial stability," he said.