RBNZ Governor suggests Government could help boost productive capacity of economy, lift economic activity and inflation pressures by spending more on infrastructure in Auckland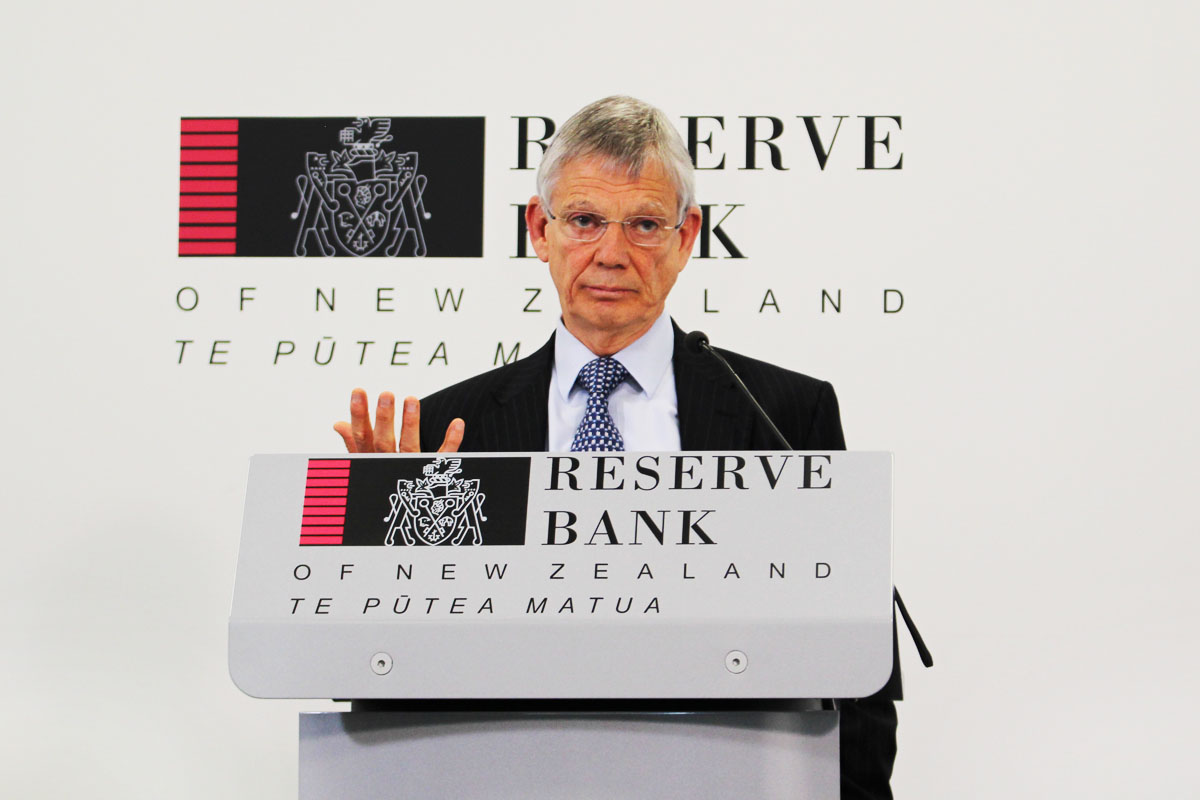 By Bernard Hickey
There's an old saying in economic policy-making circles that monetary policy needs 'mates'.
Often that refers to the Government controlling spending to remove some of the inflationary pressures from a fast-growing economy and therefore helping the Reserve Bank to keep interest rates lower than they otherwise would be. That was certainly the case from 2006 to 2008 when then-Reserve Bank Governor Alan Bollard made veiled warnings to the-then Labour Government to help the Reserve Bank control inflation that was threatening to break out the top end of the 1-3% target band by running bigger surpluses.
Now the balance is the other way around and the Reserve Bank is battling to get inflation back up into the 1-3% target band. Reserve Bank Governor Graeme Wheeler cut interest rates today to help do that, but was painted by economists as a 'reluctant cutter' who is also forecasting no more cuts in the Official Cash Rate from its current 2.5%.
So how can he boost economic activity and inflation without further cutting interest rates? One way is to ask for some help from your fiscal policy 'mates'.
Governor Wheeler took the unusual step (for him) of calling today for a little help from his 'mates' in the Government, in the form of increased spending, specifically on infrastructure in Auckland. Coincidentally, shortages of rail, roads, hospitals, schools and other infrastructure needed to support housing development is also a factor restraining Auckland housing supply and driving the unsustainable house price inflation that the Reserve Bank considers a risk to financial stability, and which Wheeler has said he thinks about when setting the OCR.
Wheeler even cited clause 4b in his Policy Targets Agreement that relates to financial stability when explaining why he would not cut further and had forecast a flat OCR to December 2018, even though the bank had lowered its inflation forecast and delayed the expected rise in inflation to the 2% mid-point of the range by more than a year until December 2017.
Wheeler was asked at the news conference for the Monetary Policy Statement if the Government could be a 'mate' by loosening monetary policy.
"A lot of the focus tends to be on monetary policy to work out price output splits for an economy to try to get some demand growth and output growth and also maintain low inflation," Wheeler said.
"One of the issues is what role can fiscal policy play," he said.
"One could mount a case for saying there's the potential to have more infrastructure spending around Auckland."
Wheeler said the economy was generating output worth NZ$230 billion a year.
"So some capex expenditure by the government could well be helpful to try and reduce excessive capacity in the economy and, from our point of view, reduce the output gap and build inflation pressures, so that would be something that would be helpful."
Flexible set of fiscal policy targets?
Wheeler was then asked if the Government should be more flexible with its fiscal policy, rather than simply target a surplus and stay there. Wheeler said he would not comment on the specifics of the last year, but would comment generally.
"There's many reasons why Governments have fiscal targets, be they debt targets as a share of GDP or deficit as a share of GDP or moving towards surplus. They put a lot of credibility in trying to achieve those targets," Wheeler said.
"The general point I'd make is that one shouldn't as a policy maker...don't just always look to monetary policy to affect levels of demand in the economy.  Fiscal policy can also play a role and arguably there is a case for more infrastructure related spending around Auckland."