English sees no need to change Policy Targets Agreement around inflation; says RBNZ not trying to shift goal-posts; says happy to see debate over measuring inflation and targeting inflation, but no plans for change now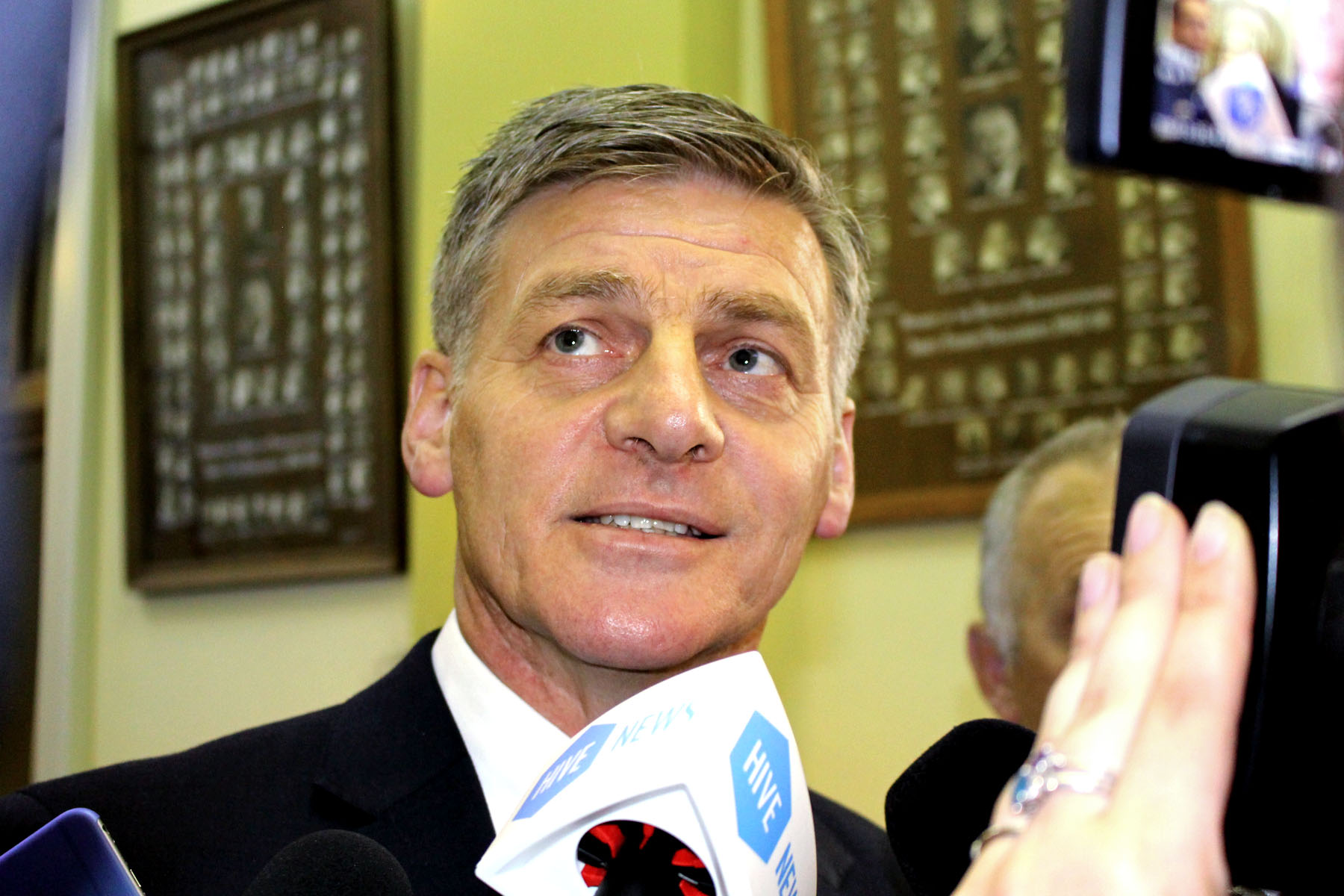 By Bernard Hickey
Prime Minister John Key and Finance Minister Bill English have rejected suggestions Reserve Bank Governor Graeme Wheeler is failing to meet his 1-3% inflation target or is trying to re-write his Policy Targets Agreement (PTA) with English.
They said Wheeler faced unusual circumstances and they were happy with his performance, but acknowledged there was a growing debate about the nature of inflation and the Government remained open to the use of other tools.
The debate over the Governor's performance has flared again over the last fortnight after data showed annual inflation of 0.1% being under the 1% bottom end of the bank's 1-3% target band for five quarters and below the 2% mid-point of the PTA for more than four years. Wheeler said in a speech last week he was focused more on core inflation, which he said was running at 1.6%. The Governor also took the unusual step of criticising commentators calling for 'mechanistic' cuts in the Official Cash Rate to meet the bank's inflation target.
Meanwhile, a fall of more than 10% in dairy prices last week was followed by a 2 USc rise in the New Zealand dollar as central banks overseas continued loosening policy and financial markets viewed the Governor's comments and hawkish and delaying expectations of further rate cuts. The speech and the latest moves in overseas interest rates and currencies have rekindled debate about whether the Reserve Bank is meeting its targets, and whether it should even continue trying to meet its targets. See contrasting views here from Chris Green, who says the bank was seeing inflationary ghosts, and Stephen Toplis, who suggested targeting inflation was a waste of time.
Key told reporters he was happy with Wheeler's performance and accepted his argument that inflation would return to the bank's 1-3% target band within a two year horizon.
He said low inflation was positive for consumers because it gave them real wage increases.
Asked about whether the Reserve Bank needed new tools to control the housing market, Key said: "We're always open to a discussion with the Governor about what things might work best. But in the past there's been those discussions, and inevitably they get around to other areas of stimulus for the economy, and ultimately tax."
"I don't think there'd be any movement on the Government's side on the tax side. We have an open dialogue with him and from time to time he's come with things like LVRs. Some years ago they looked at whether there were more tools available, and quite quickly they got eliminated. I don't see those coming back on the table."
'Not shifting goal posts'
English said the Reserve Bank was dealing with some unusual circumstances and was trying to meet its side of the PTA. He said it was not trying to shift the goal posts, "and in any case, it can't."
"We've got to step back a bit and keep this in context. Inflation is low, but it's stable. It's not causing the problems of unpredictable inflation. You've got reasonably good business confidence and real wage increases occurring reasonably steadily," English told reporters.
"We've got to be careful that we don't get lost in an academic argument around some quite unusual circumstances. We don't want to lose sight of the fact the economy is in reasonably good shape. The inflation and interest rate part of it is fairly predictable, even if unusually low and it's not really getting in the way of people getting on and making business decisions," he said.
English agreed, however, that relying on the Consumer Price Index may not be as useful as had been the case, although he said the Government had no plans to change the PTA, which specifies CPI inflation rather than core inflation as the target.
"You can see the problem. We've relied on CPI, which for the last 25 years has been a pretty reasonable and effective measure. We're now in circumstances where it's less meaningful than it was, but it's not that clear what other measures might be more useful," English said.
"The Bank at least has a positive proposition of what core inflation is, bearing in mind its responsibility to keep inflation in the band," he said.
Asked if the PTA needed to be rewritten to specify core rather the CPI inflation, he said: "We don't see any particular reason to rewrite the PTA. It's just with these very unusual circumstances, you are going to get discussion about what inflation means now. We used to think we knew what it meant, but now around the world where you've got deflation and warnings you've got more deflation coming from adjustments in the Chinese economy, we're having to rethink it."
"The whole framework was devised to bring inflation down. No one ever thought it would be used to lift inflation, and central banks that have tried to lift inflation have found that pretty difficult," he said.
Asked again if a new framework was needed, he said: "No I don't think we do. I think you can argue about aspects of the current framework. The point of inflation targeting is to bring some stability to prices and predictability to the way the central bank operates and within reasonable bounds that's what we currently have. We don't see it as a major hurdle for economic growth. The fact that interest rates are low and stable and inflation is low and stable, for whatever reason, means that people who are making employment and investment decisions can see what's happening and can get on with business."
Risk of inflation expectations turning into deflationary expectations?
Asked if there was a risk that inflationary expectations became 'un-moored' and turned into deflationary expectations that endangered growth and investment, he said: "That is a potential threat. We haven't had it in our economy as they've had in other economies such as Japan and Europe. This is part of the puzzle. No one really quite knows what's around the corner. Now we're getting this commentary that the Chinese adjustment, to change in the composition of their growth, and the deflation of their financial and debt bubble, could export deflation so that could raise more of those issues."
"Where we all expected inflation to be rising now after the Global Financial Crisis, it hasn't. If anything it seems to be continuing to go lower."
Help from Government stimulus?
English was asked if the Government could help out the Reserve Bank by stimulating the economy through fiscal policy.
"Our fiscal track has been fairly clear for the last two or three years. We're gradually moving from contractionary fiscal policy to neutral to expansionary policy as we've achieved the target of getting the Budget around surplus. We had already built into our track some extra spending  -- an extra NZ$1.5 billion next year -- and we've signalled a bit of an expansion of our capital spending because we've got so many projects that we need to get on with investing in," he said.
"That's the discussion we'll have in the run up to the Budget. It's really about the timing and how to use the space we've given ourselves."
'A worthy debate'
English said he was happy to see a debate about the inflation targeting framework.
"I'm quite happy to see a debate about it, because they're very unusual circumstances and it does make you rethink what you mean by inflation, how you're measuring it, what impact it has and the traditional linkages. For instance, you would have thought with the exchange rate dropping as far as it has in the last 12 months that would have fed through to more inflation. All our experience of the last 20 to 30 years would tell us it would flow through to higher prices. It doesn't seem to be happening. They've got to rethink that linkage. That's just one example," he said.
"I don't think we should be concerned about a debate over it, but I think we should be a bit careful to conflate that debate into some sort of major economic obstacle for the real economy. From the point of view of households and businesses, interest rates are the lowest they've been, inflation is low and stable, they're getting real income increases they can get on with business."