BNZ's Stephen Toplis argues the world has conspired to ensure RBNZ Governor Wheeler's inflation targeting failure & weak inflation's not sufficient reason for OCR cut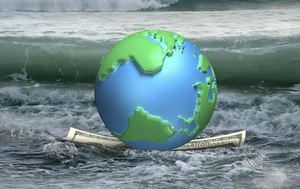 By Gareth Vaughan
How could a central bank governor get it all so wrong?
So asks BNZ's head of research Stephen Toplis in a report on inflation targeting and the Official Cash Rate.
 It may be considered sacrilegious to say this but ... in the current environment, inflation targeting is probably a waste of time," suggests Toplis. "The evidence shows that achieving an inflation target has been more than a little problematic and the prognosis for the way ahead looks no better."
He notes that annual headline Consumers Price Index (CPI) inflation fell below the mid-point of the Reserve Bank's 1% to 3% target band (on average over the medium term, with a focus on keeping future average inflation near the 2% target midpoint), in December 2011 and has been there ever since. BNZ's forecasts suggest it'll remain there at least until the September quarter of 2017. Currently annual CPI inflation is a mere 0.1%. 
"How could a central bank governor get it all so wrong? Consistently forecasting rising inflation, consistently failing to achieve it. The answer is: easy really. The world simply conspired to ensure the 'Governor's failure.' In the first instance, the NZ dollar refused to roll over, putting downward pressure on import prices. And when the NZ dollar did finally submit, global commodity prices and global inflation, more generally, dropped precipitously alongside growing excess capacity internationally," says Toplis.
And recently struggling emerging markets and more oil price weakness have added to the process.
"To put the cumulative impact of these developments in some perspective, the price of imports in the September quarter 2015 was 18.6% below the peak of Q4 (December quarter) 2008. We reckon a further 6.0% fall has occurred over the last six months and that prices will remain subdued for the foreseeable future. Between late 2008 and September 2015 export prices also fell 12.8%, putting further downward pressure on the domestic price structure. It should thus be of little surprise that tradables prices have fallen steadily for the last four and a half years. Peak to trough that movement has been a drop of 5.5%. With tradables prices accounting for 46% of the total CPI, it's no wonder that annual headline inflation has been so low," Toplis says.
"Most importantly, tradables inflation is largely beyond the control of the Reserve Bank. Sure, the Bank has a modicum of short term influence over the currency but the extent of this influence is probably overstated. Moreover, even if it was influential, the extent of commodity price movements would most likely swamp the currency impact anyway."
Against this backdrop Toplis argues the only way for the Reserve Bank to achieve its inflation target is to stimulate domestic demand to the extent non-tradables inflation increases to compensate.
"In large part, that's what has happened with domestic demand running very aggressively. But even this has not created price pressure, except in the price of housing, which has little direct impact on the CPI anyway," Toplis says.
Pushing any harder, he suggests, would be potentially courting disaster with excess domestic demand meaning ongoing upward pressure on house prices, increased leverage in an already debt soaked household sector, increased demand for imports, a worsening current account balance, weakening external debt position, and "a heightened chance of a future sudden stop and significant economic volatility."
"Should the RBNZ be taking this risk in the blind pursuit of an inflation target? We think not," Toplis says.
We're not alone
Toplis goes on to point out the Reserve Bank of New Zealand is far from alone in its search for inflation.
"In all of the following countries annual headline inflation is below the mid-point of the RBNZ's target band: United States, China, Japan, Britain, Canada, the entire Euro area (including Austria, Belgium, Germany, Greece, Italy, Netherlands and Spain), Czech Republic, Denmark, Poland, Sweden, Switzerland, Australia, Philippines, Singapore, South Korea, Taiwan, Thailand, and Israel. There will be more!"
"All these countries can't depreciate their currencies at the same time, they can't all keep easing monetary policy, and their combined weight in the global economy means fighting the disinflation tide is a futile effort," Toplis argues.
Fortunately, he suggests, the Reserve Bank has realised it's pushing the proverbial up hill and begun to focus more on core inflation than headline inflation.
"This is entirely appropriate in our view. And with core inflation currently sitting at 1.6%, the RBNZ is defending its current stance not to cut interest rates again," Toplis says.
"This approach does not, however, come without its own set of difficulties. In particular, the Reserve Bank uses its own sectoral factor model of inflation as its preferred core measure. For the vast majority of us, the calculation of this measure is way beyond our capability. And even if you could work it out there is no way it can be forecast. We don't deny it's a useful benchmark but it will be an uphill battle for the Reserve Bank to convince all and sundry of its appropriateness." 
Another question Toplis wants to address is providing more leeway to the downside of the target in the current environment of "globalisation, communications advancements, heightened price discovery and technological advancements."
In a bind so what's the catalyst for action?
Toplis concludes by suggesting the "real bind" the Reserve Bank is facing at the moment is that the benefits from implementing any policy should outweigh the negatives.
He noted that in his speech last week Wheeler highlighted that the Policy Targets Agreement contains 'a requirement that the Bank monitor asset prices, have regard to the efficiency of the financial system and seek to avoid unnecessary instability in output, interest rates and the exchange rate.'
The Reserve Bank, Toplis notes, is taking this to heart.
"And, for all intents and purposes, has made the decision that, while inflation outcomes and forecasts, at least at face value, demand further easing, the costs of doing so are just too great and the chances of success  - getting inflation higher - are simply too low." 
"With this in mind, for the time being, we think that forecasters need, also, to take a slightly different approach in predicting prospective RBNZ actions. Weak inflation readings should be seen as a necessary, but not sufficient, condition for easing monetary policy," Toplis says.
"The catalyst for action will be when either (a) inflation expectations fall precipitously such that the chance of entrenched deflation becomes real or (b) real economy conditions deteriorate in such a way that the RBNZ believes lower interest rates might help avoid a period of sub-trend growth. In our opinion the latter poses more of a risk than the former."
"With all this in mind, we will stick to our view that the cash rate is on hold (at 2.50%) for the foreseeable future. If we end up further lowering, our already low, headline inflation forecasts it is unlikely that we will change our RBNZ view. However, if international events look set to undermine the economy or the negative flow on effects from the dairy sector's current demise significantly threaten New Zealand's growth path, we will be happy to revise our call accordingly. While not our central scenario this is a tangible risk," says Toplis.