Parliamentary Commissioner for the Environment says banking industry and insurers very focused on rising sea levels; warns coastal owners may face negative equity; calls on Govt to investigate fiscal, economic risks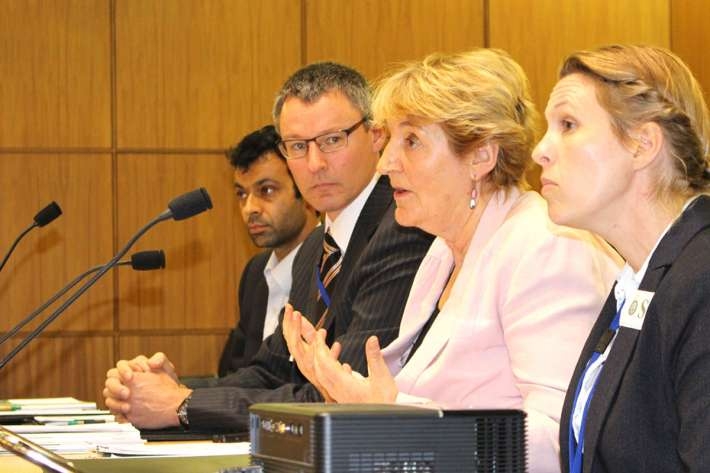 By Lynn Grieveson
Coastal property owners and bankers will eventually face insurance problems and the potential for negative equity because of rising sea levels, the Parliamentary Commissioner for the Environment has warned.
Commissioner Jan Wright told Parliament's Local Government and Environment select committee on Thursday that she was calling on Finance Minister Bill English to set up a working group to address the economic and fiscal risks of the inevitable rise in sea levels as a result of climate change.
"Banks are very keen to engage. We have had very interesting discussions with banking people and the insurance industry are right onto this, believe me", she said.
Wright was presenting the Commission's November 2015 report into rising sea levels, which she described as a "slowly unfolding red zone", with roughly the same number of homes (around 9,000) mapped as under 50 centimetres above sea level and therefore most at risk. She said the total replacement cost for buildings in these lowest lying areas was NZ$3 billion, which did not include the cost of other infrastructure. The replacement cost of buildings on land up to 1.5 metres above sea level was NZ$20 billion.
See more on Wright's preliminary report in February last year here and on a November 2015 report on the forecast replacement costs here. The Government said in November the report was "speculative". See more on that here.
A study published this week in Nature found that continued growth in greenhouse-gas emissions could trigger an unstoppable collapse of Antarctica's ice, raising sea levels by more than a metre by 2100 and more than 15 metres by 2500. Hear more in this Kim Hill interview with one of the study's author's, James Hansen.
"Calls for compensation are going to be inevitable," Wright said.
Speaking with reporters afterward, she said banks and the insurance industry were "deeply involved in thinking about this so there will be costs for government and councils. People will, I am sure, call for compensation." 
Insurance costs may rise
"You might see premiums go up, the co-payments might go up and then eventually a house would become uninsurable, probably a while before it become uninhabitable. So they [the insurance companies] would just take themselves quietly out of the picture and you could end up with the interesting situation of negative equity," she said.
"People we have talked to in the banking industry are starting to take this really seriously and think what they are going to do about it. It doesn't mean they have figured out what they are going to do about it, but they certainly recognise that they have to be thinking about it and coming up with plans."
Committee chair, National MP for Coromandel Scott Simpson, said he "knew it to be true" that "the insurance sector are all over this."
 "I've fielded questions from constituents that suddenly find it's not as easy to get insurance when they have purchased a house or property in an area of concern," Simpson said.
Government guidance needed
Wright called for more guidance from central government for Councils, telling the Committee that, although it was urgent that greenhouse gas emissions were reduced in order to limit the amount of sea level rise, there was time to "plan how to react and adapt" and it should not be a rushed process.
"It is more important to prepare well than to rush.  What we have got is a situation where central government is giving direction to Councils (things they must do) and guidance (things we suggest they do) and that needs to be much better than it is at the moment. It is not up to the task," Wright said.
She criticized the lack of standardised information and protocols for identifying at-risk low-lying areas.
"There's a bit of a mess here we discovered. Some Councils have done their whole regions, some have done none, some have done part. It's not done consistently across the country," she said.
'Standardisation required'
Wright also said there was inconsistency in how far ahead Councils were planning and what level of potential sea level rise they were modeling with.
"That is something that needs to be decided by central Government," she said." It is not appropriate for one Council as it were to be optimistic and another to be pessimistic. We need some standardisation around that, otherwise it just becomes an unnecessary variation across the country and more and more confusion." 
"We need Councils to do strategies for their coastlines, not ad-hoc piecemeal stuff. Some person builds a seawall in front of their place can make it worse for the people at either end. Council builds a seawall – okay, now you have created a financial precedent. You built one for them, we want one now. There will be no end to this."
Kapiti and Christchurch LIM examples
Wright said the Commission had looked at the cases of Kapiti and Christchurch Councils, which put hazard lines on maps following coastal risk assessments, resulting in outrage amongst homeowners who found the LIM (Land Information Memorandum) reports of their properties now stated they were at risk. She described the comments on the Christchurch LIMs as "uninformative and incomprehensible" -  adding that, despite having numerous people with doctorates working in the Commission, "we could not quite get our heads around what had happened in that coastal risk assessment."
"The responsibility does firmly fall on central government to get the direction and advice to Councils much better. There will be laws that will need to be changed," she said.
"A lot of what's happened is because Councils are bound by certain laws. So as soon as a Council accepts, in the Kapiti case for example, a coast risk assessment, then someone asks for a LIM, it has to be on the LIM, immediately, bang, no delay."
"We do need to learn by doing and the current way in which those laws and policy statements are working is not really allowing that. It's boxing Councils in to a certain way of acting."
"So what has gone on in Christchurch where all these people are upset, some of the things that are happening don't seem to be logical or fair. I am sure that what they have done is perfectly legal. So there is a big onus on central government to sort this."
Reaction
Green MP Eugenie Sage said the Goverment's denial of the issue would cost New Zealand in the long run.
"It's irresponsible for the Government to ignore sea level rise, in the hope that might make it go away," Sage said.
"New Zealanders expect their government to be preparing for long-term problems, but right now the National Government is choosing to kick this NZ$20 billion can down the road," she said.
(Updated with links to research, reaction)