Labour and Green parties sign first ever Memorandum of Understanding to work together to change Government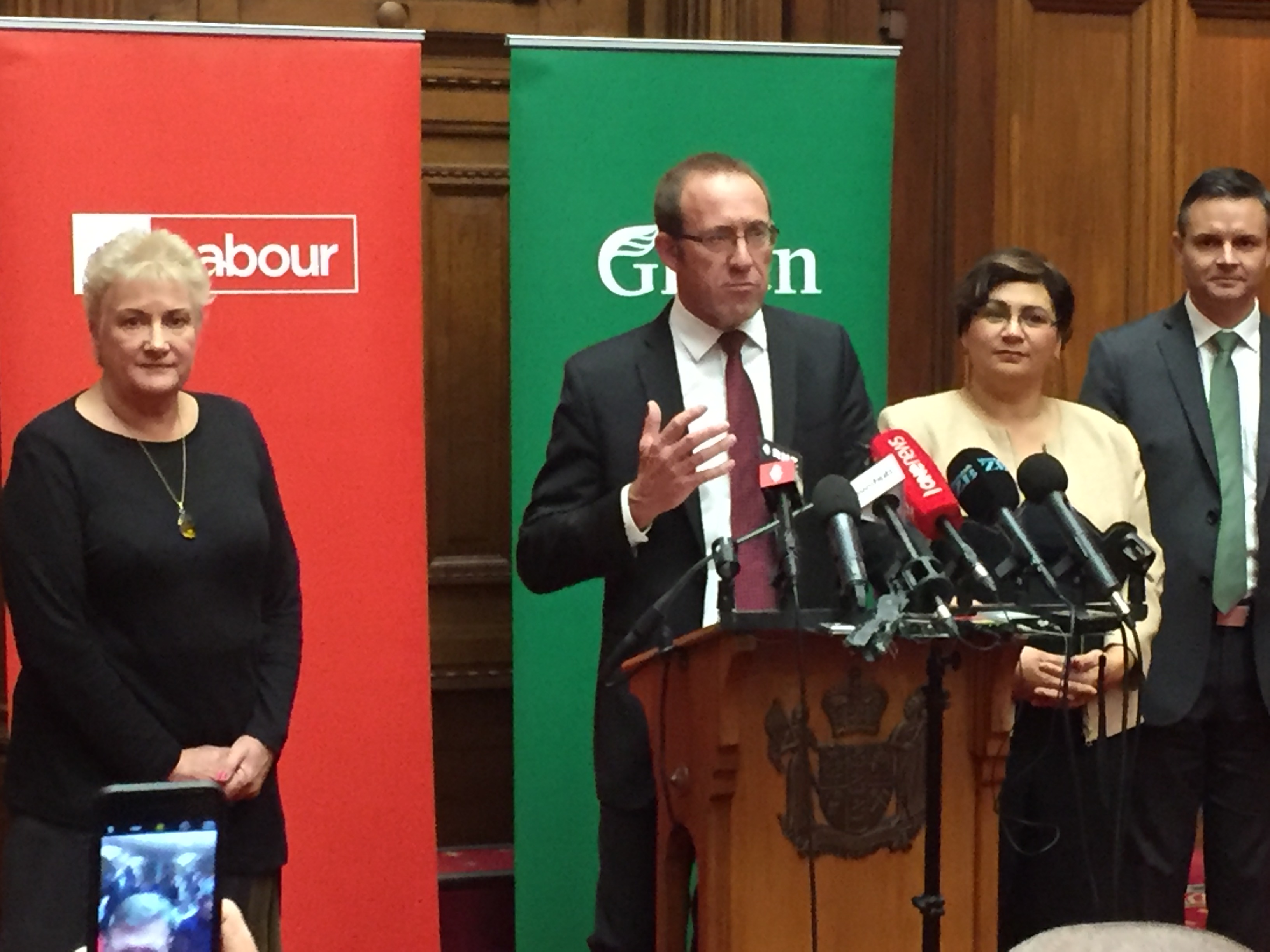 By Bernard Hickey
The Labour and Green parties have signed what they said was an historic Memorandum of Understanding (MOU) to cooperate to change the Government, including looking to cooperate on some joint policy platforms and work together in some electorates.
Labour Leader Andrew Little, Deputy Leader Annette King, Green Co-Leader Metiria Turei and fellow Co-Leader James Shaw made the announcement in the old Legislative Chamber in Parliament on Wednesday afternoon.
"We are sending a clear signal to New Zealanders who want a new and better government that Labour and the Greens will work together to deliver that," Little said.
"It is our intent to build on this agreement to offer New Zealanders the basis of a stable, credible and progressive alternative government at the 2017 General Election," he said.
"The MoU is a fresh start and a sign of newfound strength in our relationship and our mutual commitment to changing the Government."
The then Labour Leader David Cunliffe and then Green Co-Leaders Metiria Turei and Russel Norman could not agree on a similar deal before the 2014 election, which some saw as undermining confidence in the combination as a alternative Government, particularly given the prospect of the inclusion of the (now defunct) Mana-Internet party.
"New Zealanders who want a better future now have crystal clear clarity about what they are getting with their vote. We are a vote for change," Turei said.
"When Labour and the Greens have actively cooperated and campaigned together, New Zealanders did perceive our parties as a credible alternative to National. New Zealanders want to see politicians working together. This MOU lets people see we are a strong and stable alternative to the current Government," she said.
The MOU includes a 'agree to disagree' protocol that allows them to campaign with different policies in certain areas, albeit after informing each other before public debate.
"We agree to articulate differences in a collegial and respectful manner so as not to detract from the purpose of the agreement," they said.
'We'll work with Winston'
Turei and Little were asked in the news conference after the announcement if Labour would ditch the Greens if New Zealand First Leader Winston Peters refused to work with the Greens, as he has done in the past.
They both said they could work with Peters and Turei said she was comfortable that New Zealand First would be able to work with the Greens after next year's election.
"This is not a monogamous relationship," Little said.
"We have no concerns about working with New Zealand First," Turei said, saying she was also working with the Green Party 10 years ago when Peters locked the Greens out of the Labour Government formed in 2005, and the situation was different this time.
They agreed they would work to form some joint policies, but said there would be some differences.
The Green Party still favours a Capital Gains Tax, while Labour under Little has said Labour would not campaign for such a tax again. They also jointly proposed a re-nationalisation of the wholesale electricity buying system before the last election, but Little has previously signalled Labour would not campaign with that policy again.
Little said Grant Robertson would be Finance Minister in a Labour-Green Government, but would not say beyond that who would get the various portfolios.
Turei said Labour and Green would look at jointly campaigning in certain electorates, including the Ohariu electorate in Wellington, where United Future MP Peter Dunne won last year with a lower vote than the combined total of the Labour and Green candidates. Dunne went on again to support the current National Government.
For his part, Peters was in typically combative form when asked in Parliament about the agreement, saying he would not answer questions on it was "mathematical crap" and a waste of time.
Asked about his relationship with the Greens, he said: "Does anybody out there give a rat's derriere about that question? No they don't."
(Updated with reaction from Winston Peters)