Key says via phone call from London that decision to stop taking dividend from Housing NZ as 'a bit semantic'; says commentators increasingly accept Govt's 'comprehensive' housing plan'; says Labour plan not new or startling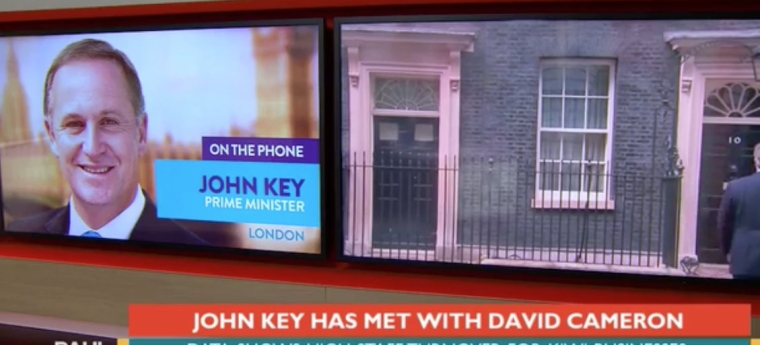 By Bernard Hickey
Prime Minister John Key has downplayed the Government's hurried decision yesteday to stop requiring Housing NZ Corp (HNZC) to pay dividends, saying the dividend issue was 'a bit semantic' and 'technical'.
Economic Development Minister Steven Joyce told a member of the public via Twitter yesterday that HNZC had just told the Government it would not be paying a dividend, which contrasted with Budget documents in May forecasting it would pay NZ$92 million of dividends over the next two years. Joyce's comments, which were confirmed by Housing NZ Minister Bill English's office late on Monday, followed Labour's announcement on Saturday that it would not require HNZC to pay dividends as part of its plan to build a net new 1,000 extra state houses per year.
Key was asked about the housing policy change in a phone interview with TV3's Mark Sainsbury from London, where he is meeting David Cameron ahead of visits to Paris, Rome and Jakarta over the next week. He described the debate over the dividend as "a bit semantic."
"What we've been looking at ultimately is how much money we put into Housing New Zealand. For some time, actually, I've been aware that we've been putting a lot more than the dividend back into Housing New Zealand, so even if they pay a dividend or don't pay a dividend, that's not really the issue. The issue is how much money does Housing New Zealand have to invest in the areas they need to invest in, which is new housing and ultimately the restoration work of the properties in Housing New Zealand," Key said.
"To us that's what really matters, rather than the sort of the technical way the dividend works," he said.
Asked about further housing measures being introduced once he returned to New Zealand on July 20, Key said there were a number of measures around social housing that the Government could implement.
"Just generally speaking on the wider issue of housing, we've been making the point for some time now, which I think is increasingly accepted by commentators, which is that we have a very comprehensive plan and there's nothing I saw from Labour on the weekend that was terribly new or startling," he said.
Not semantic on May 19
As recently as May 19, Bill English and Paula Bennett said in their Budget release on Housing NZ in defense of its dividend payment plans that: ""The dividend is not the issue, and is the normal way successive governments have used to place a discipline on Housing New Zealand to use its $19 billion of assets well in delivering suitable housing where it is most needed."
By last night this had changed, according to English's spokesman. He said via email the dividend figures in the May 19 Budget were almost a year old.
"Housing New Zealand has recently been working on its forward financial plan, which has been updated to reflect an increased focus on increasing the stock of social housing," the spokesman said.
"This revised financial plan proposes significant new capital for building houses. As is usual for public entities requiring new capital the investment will be funded by retained earnings and fresh equity injections," he said.
"After Budget forecasts were finalised we were advised by HNZC that it is now forecasting a tiny surplus in financial year 2016/17 and is proposing that no dividend be paid. Due to the ramping up of HNZC's social housing programme, it will require more capital and we do not expect to receive a dividend in financial year 2017/2018 either."
He did not detail the scale of the equity injections required or why the ministers had defended the continuation of dividends in Budget documents.
There was no detail on the scale of this ramping up of Housing NZ's programme, how much extra capital it would need or how it would be funded, given it would suggest a necessary increase in the Government's borrowing programme.
Opposition see policy making on the run
Labour Finance Spokesman Grant Robertson described Joyce's tweet as policy-making on the hoof and one of National's biggest ever U-turns over using Housing NZ as a 'cash cow.'
"After years of insisting the dividend was necessary to ensure the Corporation was financially disciplined, Bill English suddenly decides -- two days after Labour announced it would forego the dividend – it's not needed," Robertson said.
"This is panicked and desperate policy on the hoof from a Government that has failed miserably to solve the housing crisis," he said.
"If National really wants to solve the housing crisis, it should adopt the rest of Labour's plans or better still, hand the reins over to the party providing the ideas."
Green Co-Leader James Shaw, who along with Metria Turei had pressed the Government on the dividend issue as recently as the end of May, said more back-downs were needed to solve the housing crisis.
"The idea National has so-called comprehensive housing plan is a joke, when there's obviously no coordination between Ministers' offices about that plan," Shaw said.
"First Paula Bennett announced $5,000 cash grants for people to move out of Auckland without Bill English knowing, then we had imaginary Ministry of Social Development homelessness 'flying squads', and now it looks like Steven Joyce has rewritten HNZ's dividend policy on the fly," he said.
"National is clearly in panic mode trying to respond to the housing crisis. They've basically torn up their latest Budget."
English says no formal decision yet
Housing NZ Minister Bill English later told RNZ there had not been a formal decision yet on whether or not Housing NZ would pay a dividend, "but it's pretty unlikely."
"The plans that we've been looking at show that as they ramp up their build, which will get quite big -- up to 4,000 houses over the next few years -- then they will need to get finance," he said, adding that HNZC was looking at investment of over NZ$1 billion.
English said there had been discussion for over 12 months on Housing NZ ramping up its investment.
"If we're going to have over NZ$1 billion of investment, the NZ$50 million dividend is neither here nor there, but it will be a contribution to that NZ$1 billion," he said, adding he was not concerned by Joyce's tweet revealing the policy shift.
English said there was "absolutely" not correlation between the Government's stance on the dividend and Labour's policy announcement.
"The process of adapting to this fast-rising market has meant that every time Housing NZ has gone back to review its longer term plans for building houses, the cost of procuring houses has gone up, the demand has been stronger, so the capital requirements keep growing and that has meant we're well past the stage where they can finance it off their own balance, and that's completely normal practice among our public entities," he said.
'Government in disarray'
Robertson said the Government was in disarray on housing.
"This is the latest in a series of panicked responses, including mythical flying squads, $5000 'get-out-of-town' grants that, yet again, the Finance Minister was out of the loop on, and finding $1b for infrastructure loans that wasn't in the Budget," Robertson said.
"The reality is that National has taken over $664m out of Housing NZ in dividends since it's been in government, at a time that waiting lists have gone up and nearly 3000 state houses have been sold. If National had wanted to fix up state housing they should have foregone a dividend years ago," he said.
(Updated with latest comments from English, Robertson)