English says unfair to say Wheeler has failed to meet his performance target on keeping inflation around 2% when global inflation is very low and NZ economy is growing faster than 3%; says 2nd term up to board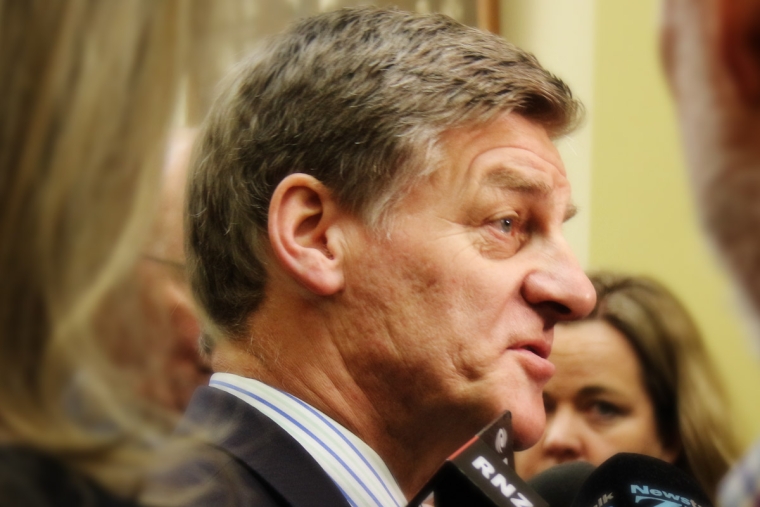 By Bernard Hickey
Finance Minister Bill English has defended the performance of Reserve Bank Governor Graeme Wheeler in meeting his inflation target, despite CPI inflation averaging 0.8% over the Governor's term which is well below the 2% mid-point English and Wheeler agreed in 2012.
Last week the Reserve Bank again delayed its forecast return of CPI inflation to the 2% mid-point of Wheeler's Policy Targets Agreement with English by another nine months to September 2018, which would mean CPI inflation had been below 2% for almost 7 years and would not have been at or above 2% during the Governor's entire five year term to September 2017.
The Reserve Bank forecast CPI inflation, which was 0.4% in the June quarter, would return to the bottom end of the bank's 1-3% target band in the December quarter of this year, which would imply inflation was below the target band for a full two years. The New Zealand dollar rose last Thursday despite Wheeler's comments about the currency needing to fall because financial markets had expected a more aggressive easing than the 25 basis points delivered. Some economists are forecasting annual deflation in the current September quarter and the currency is over 5% above the Reserve Bank's forecasts, implying yet more deflationary pressure.
English was asked if the Governor had failed to meet his PTA target with English.
"I think that's an unfair assessment in the circumstances," English told reporters in Parliament.
"If world inflation was 2-3% and we were wandering along at 1% and had high unemployment then I think you could say that," he said.
"But the fact is we're dealing with the threat of deflation around the world. Fortunately New Zealand is not in that position because deflation is regarded as a real problem for economies, for households, for returns on savings, a real problem for businesses and the Reserve Bank has got to deal with the fact that most of the developed world is dealing with 0-1% interest rates."
English said any assessment had to take into account that the economy was growing at faster than 3% with stable interest rates and moderate wage growth.
"These are characteristics of an economy that is actually succeeding, not one that's failing, and that's the important context of the discussion you have about the Reserve Bank," he said.
"Whatever the niceties of Reserve Bank monetary policy, the fact is the economy is producing jobs, it's lifting incomes and that's relatively unusual."
'It has room to move'
English agreed that CPI inflation was not in the target band.
"But any reasonable person would think that it's quite difficult when you've got a deflationary effect around the world, where deflation has become the big threat, rather than inflation. Our Reserve Bank is trying to achieve the target in a global context where inflation is zero and interest rates are negative in some places," English said, adding it was challenging for the Reserve Bank to hit its target.
"Every time he reduces interest rates he gets advice that that's pouring fuel on the housing market, so the dilemma is well understood. The Reserve Bank is trying to reach its inflation target. It's trying to do that against the background of very low inflation and dropping inflation around the world and it's trying not to pour too much energy into a pretty vigorous housing market."
English said the Reserve Bank had room to cut the Official Cash Rate by more if it thought it needed to.
"The Reserve Bank does have more room to move if it decided that is what it wanted to do. It seems to have signaled that it's keeping that in mind in the last statement. That puts them in a better position than central banks around the world where in most developed countries they're into quite extraordinary monetary policy trying to achieve some inflation," he said.
Second term for Governor?
English was then asked if he expected Wheeler to apply for a second term. Wheeler has not indicated publicly whether he will apply for a second term, although there is speculation he may not.
"That's a matter for the Governor, and in any case the board of the Reserve Bank deals with the issue and makes a recommendation to the Finance Minister," English said.