RBNZ leaves Official Cash Rate on hold at 2.0% as expected; says "further policy easing will be required"; says a "decline in the exchange rate is needed"; says seeing signs LVR changes and tighter bank lending criteria are moderating housing market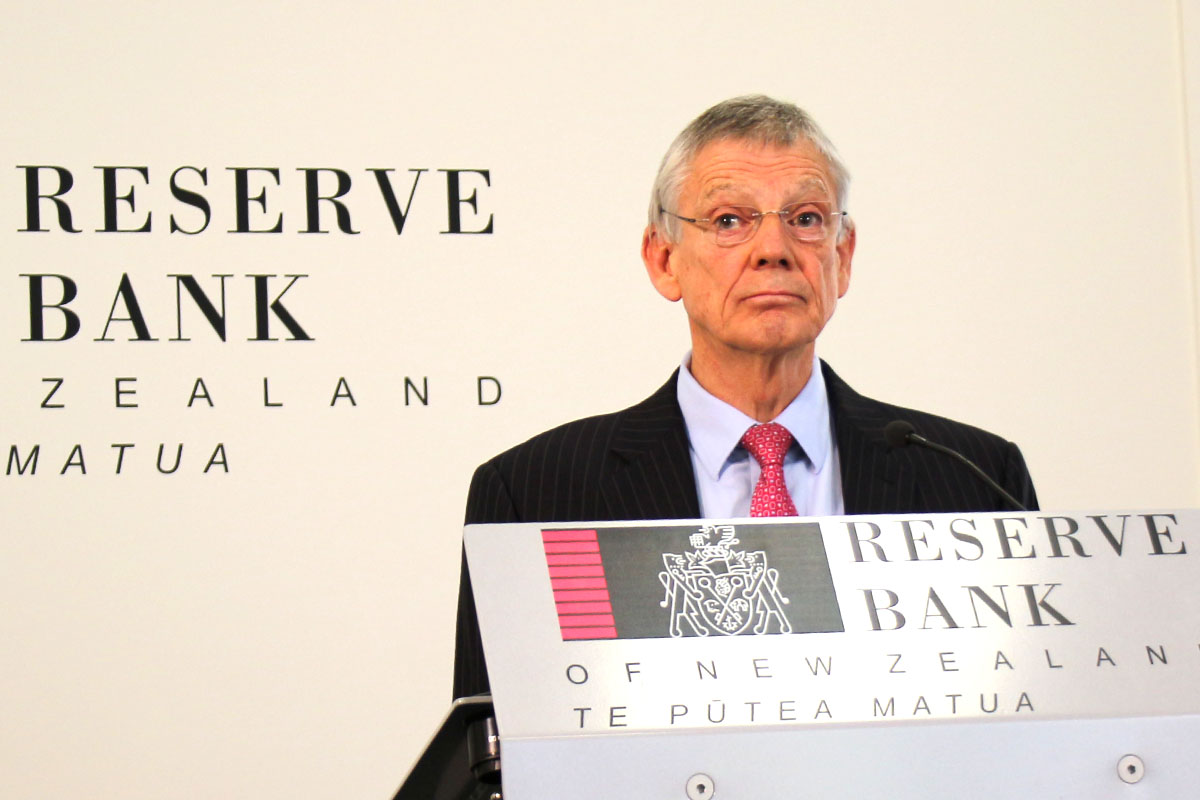 By Bernard Hickey
The Reserve Bank has held the Official Cash Rate at 2.0%, but has repeated its view that "further policy easing will be required."
The decision to hold the OCR and signal further monetary policy easing was expected by all economists, with the only doubt over whether there will be one or two more OCR cuts, with the first one expected with the Reserve Bank's next full Monetary Policy Statement on November 10.
The Reserve Bank's decision was an 'in-between' one wedged between full Monetary Policy Statements and therefore did not include a Reserve Bank forecast track for the 90 day bill rate, which is seen as a proxy for the OCR. The Reserve Bank's August 11 MPS included a forecast implying one or two more cuts in the OCR to around 1.65%, and that view was reaffirmed in a speech written by Graeme Wheeler on August 23.
The Reserve Bank also repeated in its seven paragraph statement that the New Zealand dollar was too high and was generating deflationary pressures. In response, the New Zealand dollar rose slightly and remained near one month highs of 73.5 USc, having risen 80 basis points earlier in the morning after the US Federal Reserve held US interest rates.
Reserve Bank Governor Graeme Wheeler also said he was seeing initial signs that its new Loan to Value Ratio (LVR) controls on landlords announced in mid-July, along with tighter lending criteria and a lack of pass-through of previous OCR cuts by banks, was moderating the housing market.
Wheeler began the statement by pointing to below-trend global growth despite unprecedented monetary stimulus.
"Significant surplus capacity remains across many economies and, along with low commodity prices, is suppressing global inflation," Wheeler said, pointing to volatility in global markets in recent weeks and an uncertain outlook for global growth and commodity prices, along with political uncertainty.
"Weak global conditions and low interest rates relative to New Zealand are placing upward pressure on the New Zealand dollar exchange rate," Wheeler said.
"The trade-weighted exchange rate is higher than assumed in the August Statement. Although this may partly reflect improved export prices, the high exchange rate continues to place pressure on the export and import-competing sectors and, together with low global inflation, is causing negative inflation in the tradables sector," he said.
"A decline in the exchange rate is needed."
'NZ growth in line with forecasts'
Wheeler said June quarter GDP figures were consistent with the bank's expectations and local growth was being supported by strong net immigration, construction activity, tourism, and accommodative monetary policy.
"While dairy prices have firmed since early August, the outlook for the full season remains very uncertain. High net immigration is supporting strong growth in labour supply and limiting wage pressure," he said.
'Moderating influence on housing'
Wheeler said house price inflation remained excessive and was posing concerns for financial stability.
"There are indications that recent macro-prudential measures and tighter credit conditions in recent weeks are having a moderating influence," he added.
'Inflation to rise from below target'
Wheeler said headline inflation was being held below the bank's 1-3% target band by continuing deflation in tradables inflation, which is related to prices set on international markets. Annual CPI inflation in the June quarter was 0.4%.
"Annual CPI inflation is expected to weaken in the September quarter, reflecting lower fuel prices and cuts in ACC levies," he said.
"Annual inflation is expected to rise from the December quarter, reflecting the policy stimulus to date, the strength of the domestic economy, reduced drag from tradables inflation, and rising non-tradables inflation. Although long-term inflation expectations are well-anchored at 2 percent, the sustained weakness in headline inflation risks further declines in inflation expectations."
Wheeler said monetary policy would continue to be accommodative.
"Our current projections and assumptions indicate that further policy easing will be required to ensure that future inflation settles near the middle of the target range. We will continue to watch closely the emerging economic data," he said.
Economist reaction
Economists said the decision was largely as expected.
First NZ economist Chris Green said he saw two more OCR cuts, with one each in November and February.
"Despite an expectation that the GDP growth rate is likely to remain above trend over the year ahead, we assess that concerns about the inflation outlook and the risks of inflation expectations potentially embedding lower will prompt the RBNZ to undertake an additional rate cut, resulting in a trough in the OCR at the 1.50% level," Green said.
Infometrics Senior Economist Benje Patterson said the Reserve Bank had left some mixed messages with its statement.
"On one hand, the Bank is saying it is fundamentally concerned with low headline inflation and is going to cut the OCR, but then it has failed to act and is sitting on the fence for now," Patterson said.
"This sort of mixed message isn't helpful and is hardly going to help the Bank's cause for maintaining credibility among market participants. The crux of the issue is that the Bank has got to a point where it no longer seems to take OCR announcements seriously and simply treats them as fillers between Monetary Policy Statements," he said.
"This trend has to stop. Either treat all opportunities to review the OCR on an equal footing, or the Bank may as well move to a system of only having four reviews per year that coincide with Monetary Policy Statements. This sort of claim might seem dramatic, but given that central banks derive much of their power from maintaining credibility, it seems silly to risk trust, which has taken years to build up, by following such an absurd strategy."
(Updated with more detail and reaction)