English and Coleman to contest bid for National Party leadership in Caucus vote next Monday; English's hopes for quick and cohesive leadership change dashed; Coleman wants 'generational change'; English says NZ Super options open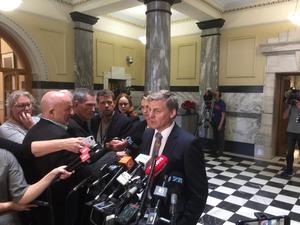 By Bernard Hickey
Deputy Prime Minister Bill English's hopes for a quick and conflict-free leadership change have been dashed with Health Minister Jonathan Coleman and Police Minister Judith Collins saying they will contest the National Party Caucus vote for the leadership next Monday with a call for 'generational' change.
Coleman emerged from a two hour National Party caucus meeting early this afternoon to say he would be running at a formal vote to be held next Monday. (There's background on Coleman here).
English announced his candidacy shortly afterwards in a news conference in Parliament.
He said he saw the options for reform of New Zealand Superannuation as open and would not repeat Prime Minister John Key's commitment never to change the retirement age or the indexation of New Zealand Superannuation while he was Prime Minister.
English said he had plenty of support from his caucus colleagues and said he respected Coleman's decision to run against him.
Collins later told reporters she would also bid for the leadership, while Social Housing Minister Paula Bennett said she was also keeping her options open.
"We are going to go into the toughest campaign ever that we have fought and I know that we need to win and the only way we can do that is if we have some of the toughest people running it," Collins said.
Transport Minister Simon Bridges ruled himself out of the top job, but said he was open to being a Deputy Prime Minister. Amy Adams is also thought to be keeping her options open.
'Appetite for change'
"I sense an appetite within caucus for a change from the status quo and for a moment of generational change to be seized," Coleman told reporters after the Caucus meeting.
"I would not put my hand out unless there was considerable appetite for a contest of ideas across the caucus," he said.
Today's comments mark the first open signs of conflict within the leadership group of the National Party since John Key won the top job from Don Brash in November 2006. New Zealand faces a week of uncertainty about who will be Prime Minister.
"We have a huge opportunity in NZ, somewhat unique among developed countries of a strong growing economy, government surpluses, a proven confident business sector that is creating jobs - so we have got choices over the next 5 to ten years that most countries don't have," English said today.
"I have been intimately involved in the policies of the John Key led government, I can see fantastic opportunities for stronger economic performance, for spreading the benefits of growth for more New Zealanders and for getting stuck into some of our most intractable social problems - and area where we are just getting started really," he said.
"So I am a candidate for the leadership."
No Deputy PM pick yet
Asked if it was time for regeneration, English said: "Well, yes it is and that is what we are doing, that is what the caucus is going through. That is why the caucus wants to go through a competitive process and regeneration is about ability to deliver in the circumstances from 2017 through to 2025 and we are very well set up for that."
English said he had not thought through who would be his deputy or who would be in his ministry, and he denied that he would be promising ministries to various caucus members to win their support.
Asked if he would run on a ticket, he said: "That is yet to be seen. This is a caucus who had John Key there as a leader for ten years, there has been a great deal of stability and cohesion. I think they want the opportunity to really consider what the alternatives are, because two-thirds of them have never been involved in a leadership change."
Asked how many supporters he had in caucus, he said: "I have had plenty of strong indications of support, but that's a matter that will be refined over the four or five days."
'Unity is everthing'
English said he was not particularly surprised that Coleman had decided to contest the leadership.
"I know Jonathan well. He manages the biggest, hardest public agency in Government and that's the health system. He does that very competently. I have always known he was ambitious, so he is welcome to have a go," he said.
Asked if he was worried it would divide the party, English said: "It can do, we've seen that in the past. But I think there is a strong commitment from the caucus to make sure they have a process to make sure they get the leader they really want at the same time as maintaining the kind of stability and cohesion they have got used to. They understand how effective it is. One the reasons we have been a well-supported government is because it has been such a disciplined caucus and they know that any signs of loss of that discipline are not going to help. Unity is everything."
English re-opens NZ Super debate
Meanwhile, English declined to repeat John Key's commitment to resign if the age of eligibility for New Zealand Superannuation or its indexation to 66% of the average wage.
"There's always options there to change super, but we haven't considered them," he said.
He later declined when ask to repeat Key's commitment to resign if these settings were ever changed.
"No, I won't be making that commitment. But equally we haven't considered any of the options. But in any case that is an issue for the duly elected leader of the National Party and Prime Minister next week."
English hinted in July 2014 that the policy might change with a change of leadership.
"I've got nothing new to say about the pension age. We made a commitment. It's now become a matter of trust, as much as policy. The Prime Minister said he would resign if the age changes. If the age changes and he doesn't resign, no one would trust him ever again, even if they support the policy," English said back in July 2014.
"We're not changing it. A future Government may well do that (increase the retirement age)," he said then.
Kaye back
Auckland Central MP, Nikki Kaye, has also returned to Parliament, having received treatment for breast cancer. 
She announced she would contest Auckland Central in 2017 and would back English for PM.
After Prime Minister John Key's shock resignation yesterday, English told reporters he would consult with his family and caucus members over 24 hours on whether he would bid to become Prime Minister. Key said he would support English if he put his name forward.
English had said he would prefer the caucus coalesced around a single candidate quickly and avoided a divisive contest at next Monday's caucus meeting set to decide the leadership.
Police and Corrections Minister Judith Collins, Economic Development Minister Steven Joyce and Social Housing Minister Paula Bennett had all said they had not ruled out bidding for the leadership and indicated they would be happy to see a contest.
Key left the meeting around 11.15am to allow the caucus to discuss the leadership issue and selection process without him in the room. He told reporters it was up to caucus to decide whether the leadership was contested when asked if he was unhappy that English was not immediately being selected.
The National caucus meeting continued beyond midday and eventually broke up around 12.30 pm.
(Updated with Collins joining the contest, and Bridges ruling himself.)