Credit rating agency warns of impact from banks' tightening commercial property lending standards as Auckland Unitary Plan opens increased building options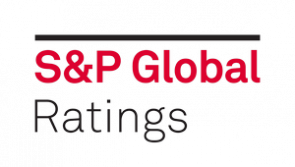 New Zealand banks are tightening lending standards, including for property development, meaning new construction could slow despite the aims of the Auckland Unitary Plan. This, credit rating agency Standard & Poor's Global Ratings says, could put renewed upward pressure on house prices.
Against a backdrop of weaker net interest margins and a gap between what New Zealand households are borrowing and depositing, local banks have been tightening lending standards, S&P says in its annual NZ banking outlook report.
"Banks have indicated a bias toward tightening lending standards across household, business, and agriculture lending. This has included a tighter stance on pricing for capital and risk. Overall, we expect this bias to continue into the first half of 2017, particularly in light of the aforementioned headwinds. Despite the significant economic tailwinds behind Auckland and surrounding regions, we expect credit extension to the business sector to slow, particularly as we understand some of the larger banks are operating close to their internal limits on commercial property," S&P says.
The credit rating agency estimates a housing supply shortage of between 30,000 and 40,000 dwellings in Auckland.
"With banks reporting a tightening in lending standards for property development, it's conceivable that new construction will slow, despite the rollout of the Auckland Unitary Plan, applying further upward pressure on house prices," S&P says.
The latest monthly Real Estate Institute of New Zealand figures showed lower median prices both nationally and in Auckland.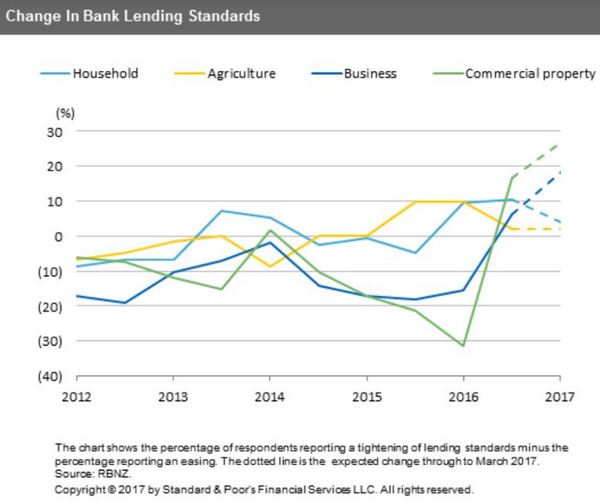 'Entering the latter part of the current credit cycle'
Overall S&P says NZ's banking system is showing signs of entering the latter part of the current credit cycle. It's forecasting debt growth will slow because of recent increases in residential mortgage rates, which should continue as banks' wholesale and retail funding costs edge higher.
"Tighter risk-based pricing and margin recovery are also factors, in our view. We expect this to reduce both the demand and supply of credit. The outlook for slower credit growth also comes off the back of the need, in our opinion, for banks to close the funding gap - the difference between credit and deposit growth - that has been building for the last year or so, and, to a lesser extent, the recent tightening of macroprudential restrictions," S&P says.
"We expect the performance of New Zealand banks to remain strong in 2017, on the back of low credit losses aided by historically low interest rates and solid economic growth. In our base case, we forecast housing-related imbalances - namely inflated house prices and, more recently, rising household debt levels - to stabilize in 2017, with both credit growth and house prices to slow, albeit modestly."
"In our alternative scenario, we believe there is a low probability risk that credit growth remains elevated around current levels. Less likely, in our view, is the prospect of house prices resuming another leg upward. The increased risk of either scenario playing out would place downward pressure on banking sector creditworthiness, in our opinion," S&P says.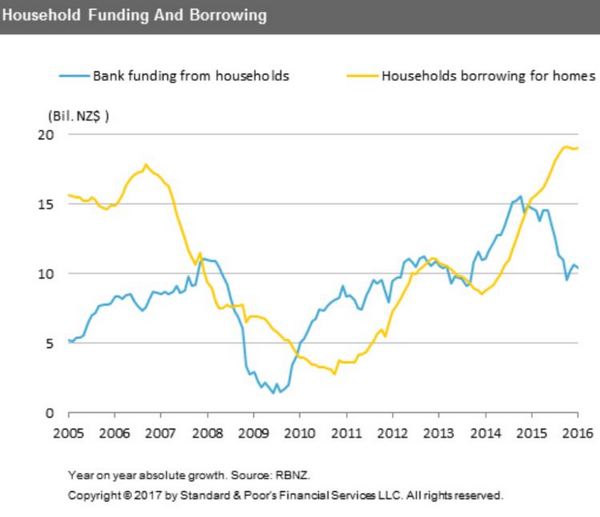 Parental support seen
Meanwhile, S&P says the Australian parents of ANZ NZ, ASB, BNZ and Westpac NZ "remain highly likely" to provide timely financial support to their Kiwi subsidiaries, if needed, under all foreseeable situations.
S&P has AA- ratings on the big four NZ banks, with negative outlooks. It has an A+ rating on Kiwibank with a negative outlook. See credit ratings explained here.
"The negative outlooks on the New Zealand major bank subsidiaries mirror those on their Australian parents. We note that the negative outlooks on the Australian parents reflect the sovereign rating outlook on the Commonwealth of Australia. Concurrently, it reflects a one-in-three chance that Australian government supportiveness toward the Australian banking sector will diminish, in our opinion, in the next two years. We would lower our ratings on the New Zealand major banks if we lowered our long-term ratings on their Australian parents," S&P says.