Tax plan looks set to be on new Labour election agenda as Little's 'no change' shadow is no more; Also, Ardern on being able to handle Winston & the Greens in Cabinet; 'Election will see generational change'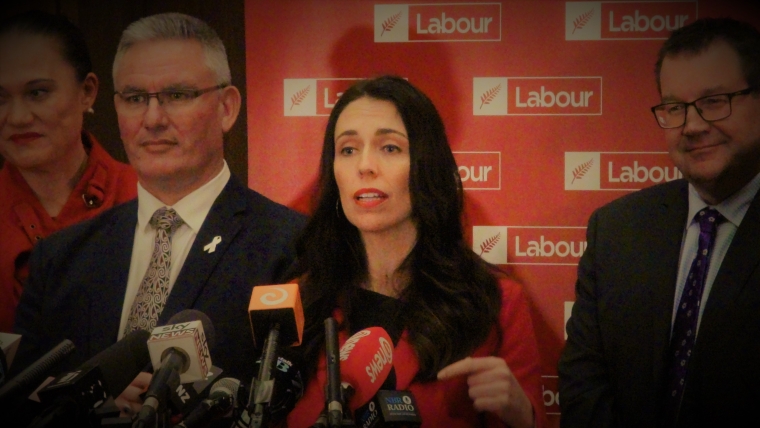 By Alex Tarrant
A more comprehensive tax policy looks set to be on new Labour Party leader Jacinda Ardern's Election 2017 agenda as the shackles imposed by Andrew Little's 'no change' stance are lifted.
Ardern was keeping her policy cards close to her chest on Tuesday after taking over from Little, saying she would embark on a 72-hour stock take of Labour's campaign and policy manifesto.
But importantly, she did not rule out taking a much more comprehensive tax policy to the electorate before 23 September than Labour's current policy, and even seemed to encourage speculation.
I'm told that a more progressive stance is set to appear.
Ardern also indicated she would like to add policy to the election manifesto. As Labour's policy costings have already been published, any extra spending might need to be covered by extra revenue as the party seeks to stay within its self-imposed Budget Responsibility Rules.
However, this doesn't seem to be in the 'revenue-for-policy-sake' bucket. Rather, it will be in the 'we think New Zealand needs a more progressive tax system' bucket.
'Tackling inequality'
Asked whether she favoured bringing back Labour's former capital gains tax policy, Ardern replied:
"I think it's fair to say, and anyone's who's watched me in politics over the last nine years, and watched Labour's values as well, will know that I'll be very focussed on issues of inequality. That's a major concern for me."
While she asked for time to review policy ideas over the next three days, Ardern added: "but there will be a few different ideas that I'll be talking to the team about."
Later during her first press conference as leader, I asked whether Labour would be taking a more comprehensive tax policy into the election as opposed to Little's former stance. As I asked the question, a wry smile appeared momentarily on finance spokesman Grant Robertson's face.
Robertson appears energised by the prospect of actually being able to take a progressive tax policy into the election campaign.
Former Labour leader Phil Goff's move to run on a capital gains tax stance in 2011, something David Shearer and David Cunliffe carried on, has softened the electorate to such talk from a major party. Capital Gains Tax was only spoken about in dark corners of the Parliamentary precinct before Goff went out on a limb with it following the 2010 Tax Working Group's recommendations.
What we're still not sure on at the moment is what a new Labour package could include. But Robertson is a CGT fan and also a fan of a top higher personal income tax rate. The word 'progressive' may as well be tattooed across his back. I'd note that Robertson was also the driving force behind Labour's consideration of a universal basic income before Little shut the idea down as being too wild.
While a UBI might be a step too far this election, could Labour's previous policy of a tax-free threshold for income come back on the agenda? It would be the first step in that direction.
Perhaps Ardern and Robertson won't look to rock the boat that much, but we can certainly expect the Labour Party before 23 September to announce a much more comprehensive tax policy than it currently has.
When Little became leader in 2014 he was quick to drop pretty much all of Labour's tax initiatives including that capital gains tax. Talk of a higher top personal income tax rate also disappeared under his tenure. In its place have appeared a number of minor tweaks – extending the bright line test, ending secondary tax, and later, a move to combat negative gearing.
As I wrote on Monday, the stance meant the Green Party was able to take on the mantle of being the number one promoter of a more progressive income tax system, while also being able to attract the attentions of those keen on a capital gains tax.
Little did allow Robertson the promise that Labour would form a new tax working group sometime before 2020 to work out how to tax income, wealth and assets much more fairly, with the potential to take recommendations into that year's election. But that's not really a proper tax policy.
Ardern's first press conference as leader - being able to handle Winston & The Greens
Meanwhile, Jacinda Ardern's first press conference as leader appeared to be well-received. She was happy to take control of proceedings, and push back at journalists when asked critical questions.
Importantly, Ardern indicated she was willing to find common ground with New Zealand First leader Winston Peters if that were required. What was her message to him? "I like single malts," she said referencing Peters' famous love for whisky. It was a whisky session with Jim Bolger in 1996 that helped form a government back then, after all.
"The point I'm trying to make is that, we'll find our common ground. You won't hear a lot of conversation about that from us in the election campaign. We're going to be focussed on Labour," Ardern said.
However, there was still a hint of Little's criticism of Peters from the weekend. If voters wanted assurance that National wouldn't be in charge after the election, the surest way was to vote Labour. "If the voters present something different to us, then we'll work with that. But I'm sure we'll find common ground if and when we're required to do that."
The message was largely the same for the Green Party. The Memorandum of Understanding between the two parties would stay, although Labour's campaign would only be about Labour's policies.
Ardern said attaching any of Labour's current woes to the rise in the polls the Greens have seen since the MoU was signed wasn't a useful exercise. Labour's team took responsibility for its own campaign. "I'm not interested in the relative effect of other parties," she said.
One of the answers that drew the most reaction from the media pack was to a question of whether Ardern could lead a cabinet that included the Greens and Winston Peters: "I used to be the President of an international youth organisation that had members from Lebanon, Palestine and Israel. I think I can do this."
It wasn't an answer anyone was expecting, and it did the trick. There were answers to every question. Was she ready to be Prime Minister? Her team wouldn't have appointed her if they didn't think so.
"I've had nigh on twenty years of experience working in and around politics," Ardern said. She also referenced her "pretty diverse rural background" growing up in Morrinsville as helping prepare her for the job. "Granted, I am a young proposition for the party. But this team has worked alongside me for nine years. They have faith in me and I absolutely believe I'm up to the job."
An inter-generational election
Another tack into Greens territory was Ardern's targeting of young people, and talking about her appointment as signalling generational change.
"I'm very mindful that the next generation is about to inherit a New Zealand that isn't better than what their parents experienced. So, our focus will be about bringing fairness back into New Zealand. We'll have a focus on equality and inequality…" she said. "I want to take stock for a bit. What will be clear to people though - it is a generational difference."
Also: "At stake is a chance to build a New Zealand that is better than we found it, and to build a future to look forward to." And: "We can prepare ourselves and future generations for a much brighter future."
On the Maori Party, the door was left open, even by new deputy Kelvin Davis. Maori Party President Tuku Morgan on Tuesday called for the new Labour leadership to be open to working with his party, as Maori around the country had been telling him they would prefer the two parties worked together than Maori with National.
It was a far cry from Morgan's sharp criticisms of Little a few months ago, where he accused the Labour Party leader of throwing his Maori caucus under the bus by not accepting them on the list. Little then ruled out working with the Maori Party – which formed in 2004 after splitting from Labour.
Davis' message to Morgan and co: "If the Maori Party is still standing after the election, they'd have to up their game if they want to work with us." It's not in 'wide open arms' territory but the comment was welcomed by Maori co-leader Marama Fox to some extent. Do we see a slight twinkle in the eye of those who reckon a Labour-Greens-Maori coalition could get over the line if polling improves? (By a lot.)
The worst job in politics
Asked whether she was ready for the extra scrutiny that came with becoming Prime Minister, Ardern did say there wasn't much that compared to the role in terms of preparing for it. "And all of us are untested until we have the opportunity to trial for something like that."
"I present a real difference for New Zealanders and a new vision as well, on behalf of the Labour Party. So, I'm ready to take on that challenge and I'm excited about the campaign," she said. "Everyone knows I have just accepted, with short notice, the worst job in politics. But I also welcome this job. It is an enormous privilege to be the leader of the New Zealand Labour Party."
Some commentators have pointed to Ardern's age ("I'm youth-adjacent," she did admit) as implying she won't be able to handle the role of leader of the Opposition, let along Prime Minister. The Labour Party is well known for its infighting and strong voices.
From what was on show, Ardern appeared ready to at least try and handle it. Stuart Nash was asked about a comment yesterday that he didn't think Labour should change leader this close to election. Before Nash could reply, his new leader took control: "Stuart already has acknowledged to me that he was wrong." To which Nash could only add: "What she said."
So, if she was ready for the role, and believed Labour does stand a chance – with or without a grand coalition of the left – then did she have a message for Prime Minister Bill English?
"Don't be complacent."