Statistics New Zealand says inflation for 2017 was just 1.6%, versus market expectations of 1.9%, after a virtually flat December quarter; Kiwi dollar falls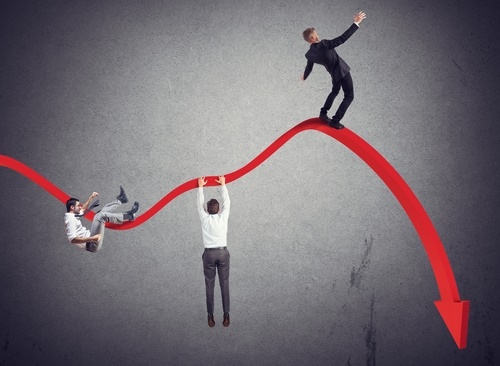 After showing signs of stirring, inflation has again proved evasive, dropping to just 1.6% for the 2017 year, compared with market expectations of 1.9%.
As at the end of September, inflation had been running at 1.9%.
The much lower than expected figure for December may again raise the possibility that the Reserve Bank - contrary to market expectations - may come under pressure to actually drop official interest rates again.
The New Zealand dollar, which was riding high against a weak American dollar prior to announcement of the CPI figures, immediately slumped by nearly a cent to US73.4c - reflecting a realisation in the marketplace that there will be no interest rate rises here in the foreseeable future, and there could even be falls. ANZ economists moved back the timing of the first interest rate rises to mid-2019 from late 2018.
ASB senior economist Jane Turner said the weak inflation result was largely driven by an unexpected fall in tradable inflation, despite a 6.1% lift in petrol prices over the quarter. Core measures of inflation reinforced that underlying inflation pressures are weak, she said. 
"This release suggests that inflation has yet to stage a convincing comeback in NZ, outside of the housing sector.
"...And, with this release raising numerous questions about the strength of inflation moving forward (especially when considering the stronger-than-thought economic backdrop of recent years) it reinforces that there is no need for the RBNZ to raise interest rates anytime soon.
"We will revisit our CPI forecasts in the wake of this release and what it means for our RBNZ call. But for now, it seems appropriate that the RBNZ to leave to OCR on hold over 2018."
ANZ senior economist Phil Borkin said at this stage the ANZ economics team retained a view that domestic inflation will rise and broaden in time, largely predicated on their belief that through the combination of skill shortages and government policy changes, wage inflation will continue to lift.
"However, we acknowledge that it is far from a clear picture. Other policies (such as the free first year of tertiary education) will have a mechanical offsetting impact. And together with recent movements in oil and the NZD (until today!), the impact of structural deflationary forces, and the fact we see growth over the coming 12 months or so only at trend, and not above, it remains a murky picture.
"In this environment the RBNZ will remain cautious. Accordingly, we have pushed out our expectation for the first [Official Cash Rate] hike to mid-2019 (from November this year), though one could certainly make a case for having a flat-lined profile altogether until the balance of risks becomes clearer."
Here is the Stats NZ release:
Prices rose 0.1% in the December 2017 quarter, Stats NZ said today. Higher petrol prices, air fares, and housing-related costs were countered by lower prices for vegetables, new cars, and a range of household goods.

The relatively flat result this quarter leaves the consumers price index (CPI) inflation rate at 1.6% for the December 2017 year. Inflation was 1.9% for the September 2017 year.

Inflation is a key measure for the Reserve Bank in setting interest rates and is commonly used in adjusting pay rates and other contracts.

Petrol price rise leads quarterly inflation

Transport rose 3.2% in the December 2017 quarter, influenced by higher petrol prices (up 6.1%) and international air fares (up 11%).

"Petrol prices were up in the December quarter, following two quarters of falls," prices senior manager Jason Attewell said. "Rising oil prices and a falling exchange rate pushed prices up sharply between July and November this year. The average price for 91 octane petrol hit $1.94 in the December 2017 quarter, up from $1.83 in the September 2017 quarter."

There was regional variation in petrol price movements in the December quarter, with Auckland prices up 5.8%, while Wellington and Canterbury prices rose by more, up 7.1% and 6.8%, respectively.

Housing-related costs continue to rise

Housing and household-related prices were a large contributor to inflation in the December 2017 quarter, influenced by higher prices for construction and rent.

Construction prices rose 1.3% in the December quarter. In the year to December 2017, construction prices rose 5.3% across New Zealand, led by a 6.5% increase in Auckland. Prices also rose 3.1% in Wellington, and 5.8% in the rest of the North Island.

Rent prices rose 0.5% in the December 2017 quarter, with increases in most regions countered by flat prices in Canterbury. In the year to December 2017, rental prices increased 2.3% across New Zealand, led by a 3.6% increase in Wellington.

"For most longer-term renters, prices tend to stay about the same from year to year, while rents may rise more as tenancies change hands," Mr Attewell said. "Around 40% of properties surveyed showed no price change over the year."

Seasonal falls and specials keep retail prices down

Food prices fell 1.7% in the December 2017 quarter (up 0.2% after seasonal adjustment), influenced by seasonally lower vegetable prices (down 19%). Prices fell for tomatoes, lettuce, and other salad foods.

"Retail prices fell by more than usual in the December 2017 quarter, contributing to lower inflation than widely expected," Attewell said. "Changing retail pricing strategies have led to lower prices for a range of household items, while specials drove new car prices down 6.2%."

Household contents and services prices fell 1.5% in the quarter, influenced by lower prices for glassware and tableware (down 6.2%), and major household appliances (down 2.8%). Clothing prices fell 1.8%, led by lower prices for women's clothing (down 2.3%).

The relative importance of items has changed in the December 2017 quarter as a result of the 2017 CPI review.