National nose-dives in new poll to the point Labour and Greens wouldn't need NZ First to form a government; Collins receives more support than Bridges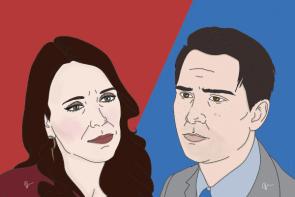 National has taken a hit in the latest Newshub-Reid Research Poll, falling below Labour for the first time since the poll began 12 years ago.
Support for National is down 3.5% from the last poll conducted in May 2018, to 41.6%, while support for Labour is up 4.9% to 47.5%.
Labour has polled so strongly that with the backing of the Greens, it wouldn't need New Zealand First to form a government.
The poll sees Labour take 60 seats in the house - one short of having enough to govern on its own - and National only 53.
National Leader Simon Bridges has been overtaken by National MP Judith Collins in the preferred prime minister ranks.
Support for Bridges has fallen 3.9% to 5.0%, while support for Collins is up 2.5% to 6.2%.
Prime Minister Jacinda Ardern is way ahead at 41.8% - support for her increasing by 1.6% since May.
The Greens are sitting just above the 5% threshold at 5.1%, having slipped back 0.6%. 
New Zealand First is at 2.9% - up 0.5%.
Act is at 0.4% (up 0.2%), the Maori Party 0.8% (down 0.1%), the Conservatives 1.1% (no change) and The Opportunities Party 0.5% (down 1.1%).
The poll was conducted between January 24 and February 2 - just after Ardern received lots of attention on the world stage at Davos. It has a 3.1% margin of error.