Jenée Tibshraeny argues National's proposal to give 'savers' tax relief is an ill-conceived bid for baby boomer votes that'll distort the tax system, stymie growth and prevent interest rates from rising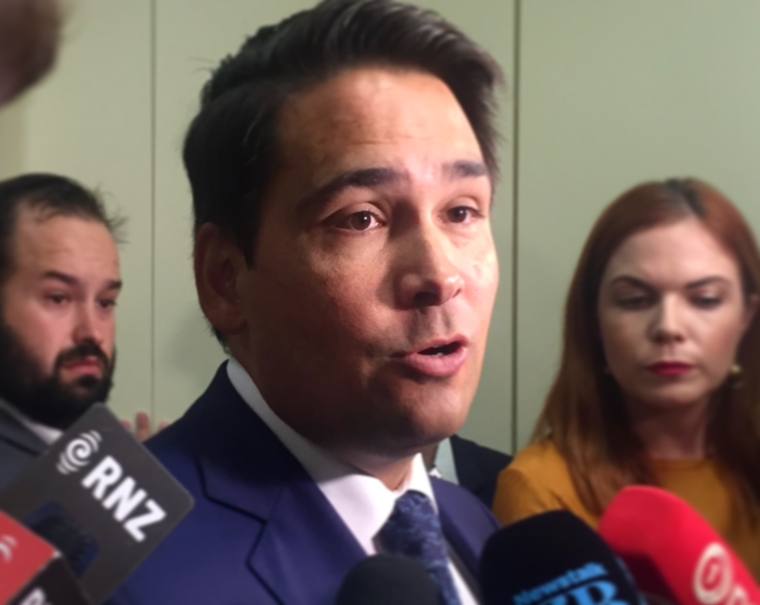 By Jenée Tibshraeny
National is proposing to tinker with the tax system to cheer up baby boomers upset by the low interest rate environment. 
Ok, so the party didn't pitch its idea quite so crudely in its economic discussion document released on Monday. It said:
"Savings (including retirement savings) are currently taxed relatively heavily while borrowing to invest is taxed relatively lightly. This is exacerbated in the current environment of low interest rates and steady but positive inflation.

"Savings are taxed at the full marginal rate on their entire nominal returns, including the inflation component. Meanwhile, borrowers are able to deduct their full interest payments, including the inflation component, from their investment income to lower after-tax returns.

"Not accounting for inflation in the tax system creates distortions in economy-wide investment and savings decisions and the allocation of capital…

"Is there merit in allowing savers to deduct the inflation component from their interest income to help address New Zealand's low level of private savings and reduce the high effective tax rates on savings?"
Yes, household debt in New Zealand is high.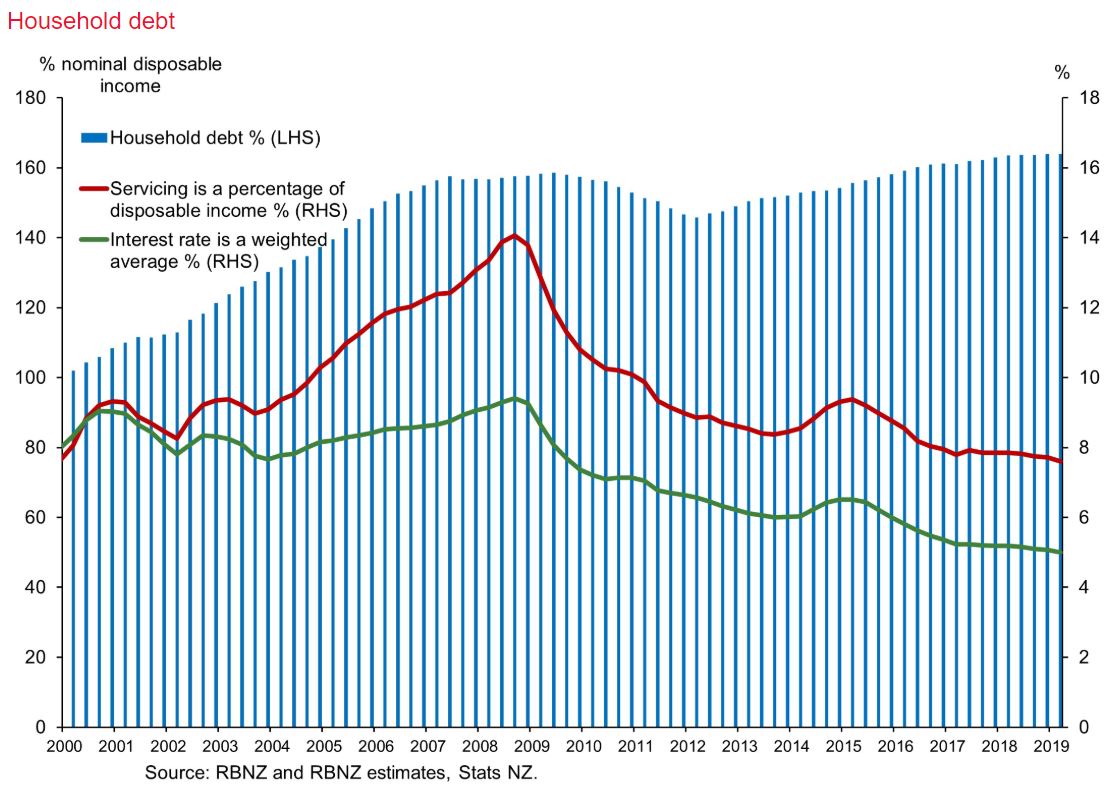 And yes, the marginal effective tax rate on bank savings is relatively high: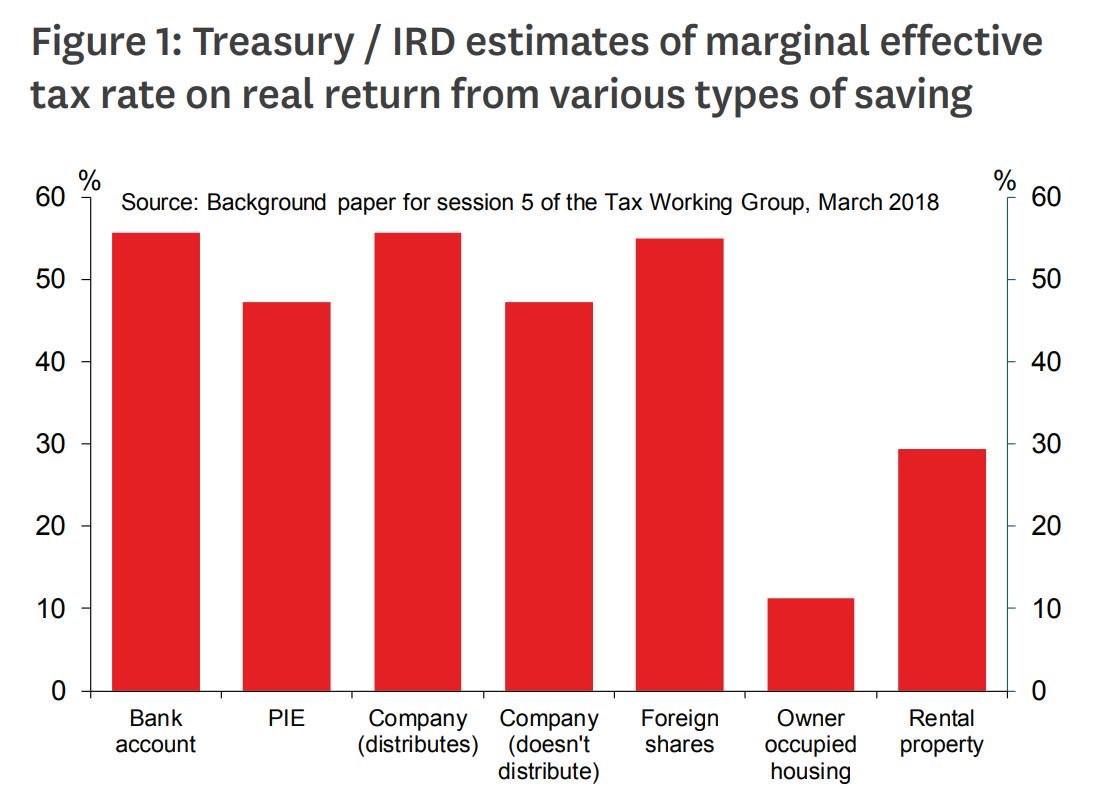 But no, deducting inflation from interest earned off savings isn't the way to address these issues.
Un-evening an already uneven playing field is a bad idea
Firstly, National can't say what it means by "savings". Is it referring to interest earned from the $181 billion households have in bank deposits?
It mentions "retirement savings". Does that mean KiwiSaver investments? If you get inflation deducted from your KiwiSaver returns, shouldn't you be able to deduct inflation from the returns of your "savings" invested in other PIE funds?
And what if your "savings" plan involves investing directly in the bond market? The low interest rate environment is also detrimental to you. Do you deserve tax relief?
As for investors who "save" by investing directly in equity markets - the economic uncertainty causing interest rates to fall might be damaging their portfolios. Why can't they get tax relief?
My guess is that in order to keep this policy simple, its application would need to be limited - perhaps to bank deposits and maybe KiwiSaver - at which point a distortion is created in the tax system New Zealand has worked hard to keep simple.
Distortions prevent money from finding its way to where it's most productive.
In this case, already well-off baby boomers, who happen to make up a large portion of the voting population, wouldn't have to change their behaviour in response to normal market forces, like everyone else would. 
You can't respond to a cyclic issue with a structural change
The tax system needs to endure different phases of the economic cycle. It can't be used to provide a favoured class with relief during a particular phase of this cycle.
The Reserve Bank has talked about low interest rates being the new norm, but what happens when they pick up? Would National be keen to provide savers with tax relief then?
And what if the inflation rate surpasses interest rates? IE, what if the discount became greater than the expense?
National didn't like Labour and the Greens' attempt to use a capital gains tax to make housing more affordable for first home buyers.
Now it wants to use the tax system to make bank deposits more lucrative for savers - ironically many of whom would've benefited from untaxed capital gains earned selling property that sky-rocketed in value.
If it was sincerely interested in bringing more fairness to the tax system, it would address the glaringly obvious issue shown in the above graph - that the marginal effective tax rate on property is way below that of other asset classes.
More saving = less spending = lower interest rates = problem exacerbated 
Putting the fundamental issues of distorting and misusing the tax system to win votes aside, allowing savers to deduct inflation from interest earned simply doesn't make economic sense. 
It doesn't encourage people to put their money where we really need to them to put it - in businesses to grow the economy, in our capital markets, in our debt markets to support infrastructure investment.
Sure, if we're all going to make the most of the low interest rate environment and borrow and spend to stimulate the economy, banks need their coffers replenished.
But this policy is counter-intuitive. It discourages the stimulus needed to prevent interest rates from falling further… and hurting savers even more.
I briefly spoke to National's finance spokesperson Paul Goldsmith on his way to Caucus on Tuesday morning (after writing this piece). He explains his rationale behind the potential policy: