David Hargreaves crunches some numbers around Fonterra and does little to soothe his own anxiety about the future of New Zealand's dairy giant and our dairy industry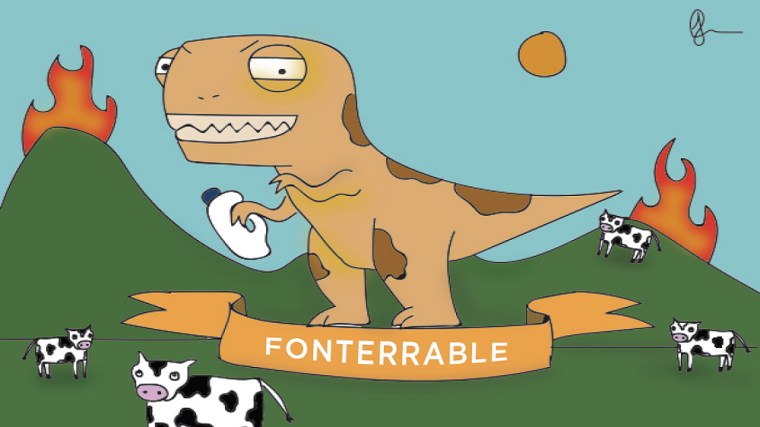 So how bad is it at Fonterra?
We were hoping to find out at least in part on Thursday of this week, with the release of the embattled dairy giant's financial accounts for the year to July 31.
Now, after a delay, we are left waiting for an extended period. All we know is the result will be out by the end of this month.
What I would say from experience is that delays of this nature involving the auditors are never good news.
And what I would further say, although I am only speculating, is that such delays generally occur when the auditors are in disagreement with the company over asset valuations: IE the auditors want bigger write-downs.
Fonterra's already indicated about $860 million of write-downs. If there have to be bigger write-downs than that, well, where does this start to take us?
And the other point is, regardless of what the final wash-up is for the financial year ended July 31, what happens in the new financial year that's recently begun?
Are the write-downs that Fonterra's going to take for the past financial year going to be sufficient moving through this new year? Or are we actually at the start of a cycle that will see more of these write-downs occurring. And what will that do to Fonterra and its farmer shareholders?
ANZ agriculture economist Susan Kilsby has already articulated a view that more write-downs will be required.
So, there may be more write-downs to come in future.
But, as well, will more write-downs than Fonterra has previously signally now be required to be made for the financial year that recently finished?
There's a lot of interesting dynamics coming into play on this one.
Auditors PwC are having their last go-around with the Fonterra accounts. They are due to be replaced for the 2020 financial year by KPMG.
It's fair to say that PwC will not want to leave any stone unturned in their last time around with the Fonterra accounts. Nor will they want to be open to any criticism that sufficient write-down action may not have been taken.
This would be I dare say particularly the case with the Financial Markets Authority now taking an interest in Fonterra and its write-downs.
The FMA as ever is not saying much about it, but this is the official word from it:
"The FMA has received a complaint from a Fonterra shareholder. The FMA has engaged with Fonterra's management and asked for information regarding concerns about Fonterra's recent announcement and its pending financial statements for the last period. As part of its monitoring of financial reporting, the FMA had already contacted Fonterra to discuss it's 2019 year end statements, just prior to its recent NZX announcement (write downs reported in media on Aug 12). The FMA has been in ongoing dialogue with Fonterra around its financial reporting, and Fonterra has been cooperative with the FMA. We are now considering what further information may be required to assist our enquiries.

It is not unusual for the FMA to engage with FMC-Act reporting entities when their financial statements have unusual features, such as large asset write-downs.

The FMA has also relayed the complainant's concerns about Fonterra's financial statements over the past four years to CAANZ (Chartered Accountants Australia New Zealand/NZICA), which is the frontline regulator of licensed audit firms. We will engage with NZICA over this matter and provide support where needed."
So, that's another interesting bit of backdrop to this developing saga. 
Fonterra in its statement last week announcing the delay of the financial result stressed that the change in reporting date was "unrelated to any discussions with the Financial Markets Authority, recent speculation about further material asset impairments, or other announcements".
But it all adds colour to a very colourful picture.
In the financial year recently completed Fonterra was under pressure to reduce debt. It had a target of $800 million of debt reduction by the end of the financial year. 
It has confirmed it did not meet that target. But it hasn't said to this point how much it missed by.
I would stick my finger in the air pointing in the general direction of the wind and suggest it might have fallen something like $200 million short.
Such a figure would roughly equate to Fonterra's failure to find a buyer for its hugely problematic 18.8% stake in Beingmate.
Remarkably, Fonterra's now trying to sell the Beingmate shares on-market, something that would take a very long time to achieve. This course of action tells you two things: 1. This was a truly awful investment. 2. Fonterra needs the money, however it may get it.
In terms of Fonterra's debt, here from the horse's mouth (taken from the 2018 annual report), is what Fonterra targets:
The Board closely monitors the Group's leverage ratios. The primary ratios monitored by the Board are:

–– Debt payback. The debt payback ratios are adjusted for the impact of operating leases. They are calculated as 1. Funds from operations divided by economic net interest-bearing debt, and 2. Economic net interest-bearing debt divided by earnings before interest, tax, depreciation and amortisation (EBITDA).

–– Gearing. The gearing ratio is calculated as economic net interest-bearing debt, divided by equity plus economic net interest-bearing debt. Equity is as presented in the statement of financial position, excluding hedge reserves. The gearing ratio as at 31 July 2018 was 48.4% (31 July 2017: 44.3%). The Group is not subject to externally imposed capital requirements.  
Fonterra aims to be within 40% to 45% in terms of its targeted gearing. So, it has fallen fairly well outside of that. The below graph, from Fonterra presentation materials, shows how it has gone against the target in the past five years: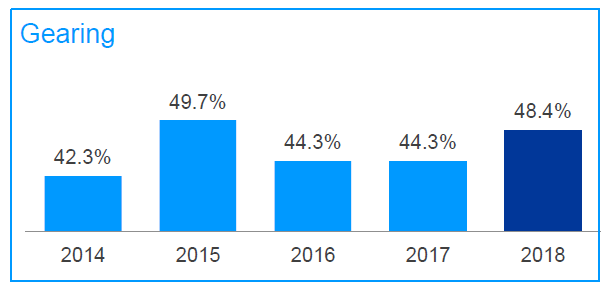 And if that all looks a bit abstract, there's the below graph that gives everything a slightly more temple-pounding feeling, with some dollars and big numbers.
In Fonterra's accounts you will find a bit of a range of figures for 'borrowing'.
The gearing ratio that Fonterra goes by is based on its preferred measure of debt, which it styles as "Economic Net Interest Bearing Debt".
Fonterra's explanation of this is that it "reflects total borrowings, less cash and cash equivalents and non-current interest-bearing advances, adjusted for derivatives used to manage changes in hedged risks". Slightly confusing, but here's the numbers, and yes, those are shown in millions of dollars, so the net debt as a July 31 last year was a touch under $6.2 billion: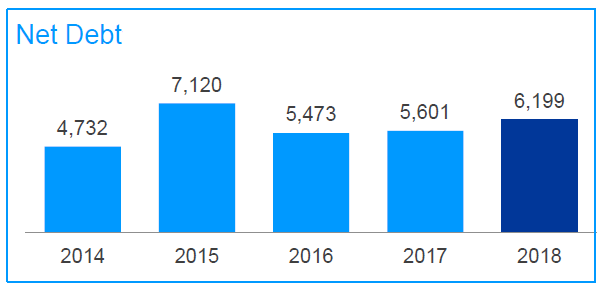 It might not be helpful to digestive patterns to know that as at the half-year point in the 2019 financial year the Fonterra net debt stood at $7.4 billion, with a gearing of 52.5%. It needs to be stressed, however, that given the seasonal nature of the dairy industry, the debt figures DO blow out during the course of the first half of the year. But still...
Fonterra said this about the debt position at the half-year point:
This [52.5% gearing figure] is up 0.9% on the same period last year and is due to the higher debt at the start of the year as opposed to us needing greater levels of debt during the first half. 
So, how bad is it going to be, when we do get the result announced, and what's going to happen?
To go back to the write-downs as they were originally announced, I have to say, I nearly fell off my chair when I saw that $200 million had been earmarked as write-downs on the New Zealand consumer businesses. The point to note here was that Fonterra had netted off the $100 million gain (excellent sale result) on the sale of the Tip Top ice cream business. So, if you excluded that windfall, it meant Fonterra was taking a $300 million hit on the value of domestic businesses.
Now, we all know about Fonterra's travails as being a tale of overseas misadventures. To hear that the company's now getting hit at home, elevates concerns about its future, I think, to an entirely different level.
And it is interesting in regard to this to get a bit of context from last year's Fonterra annual report. In the section on intangible assets and goodwill Fonterra had this to say (I have put some parts in bold text to give my own emphasis):
Consumer and Foodservice New Zealand

During the year, margin compression and operational challenges have negatively impacted the returns generated by the consumer and foodservice business in New Zealand.

These challenges have impacted the forecast cash flows used to support the carrying value of the consumer and foodservice New Zealand CGU.

Fonterra has identified a number of strategic and operational initiatives that will, over time, refocus the business to generate margin growth and improve productivity.

These initiatives are underway however their long-term nature means that not all the benefits are expected to be realised within the three-year business plan timeframe.

As a result, the business plan has been extended to a five-year forecast period. The cash flow forecast shows a higher rate of growth in years four and five compared to years one to three, as the benefits of the strategic and operational initiatives identified are achieved.

The margin growth and productivity improvements in years four and five are determined by assessing the expected financial impact of the initiatives identified based on past experience, the competitive landscape and market opportunities.
How do you read that? Remember, this is LAST year. What I see is a company extending out its forecast period in order to show the business turning around and therefore justifying the asset valuations the company has. Is this/was this wise? 
Regardless of how much rosier Fonterra was earlier seeing the forward results for these NZ businesses, presumably a year on it is being forced to face facts that the earnings are not in fact going to match the valuations Fonterra has for these assets.
But it's interesting that this was an issue identified a year ago. And now a year later we are seeing the write-downs.
It does all go into the mixer in terms of one wondering just how much more various Fonterra assets might need writing down.
Whatever the result announced by Fonterra, whenever that is, the increasing conclusion I come to is that we are really only in the middle of a process with Fonterra. 
There's more to be dug up, I'm  afraid. And where does that leave Fonterra as a business at the end of it? And where does it leave the farmers?
But wait, there's more...
There is much more to be said about Fonterra and the whole situation.
I'm going to have at least one more go at this with another article before the result is announced, so, look out for that. 
Businesses don't go bad overnight. 
The time between when bad decisions are made and when the full ramifications of those bad decisions hit can be a surprisingly long time.
In looking back at Fonterra, I think a clear case can be made that the real 'disaster' year was 2015. And, yes, it just so happens that was the year Fonterra dived into Beingmate - but that's actually really not half of it.
I will explain in my future missive.
In the meantime we wait pensively for the Fonterra result. 
These are very crucial times for Fonterra and the whole dairy industry. It is by no means clear that this story will have a happy end.