Chris Trotter looks at how different generations see and judge Prime Minister Jacinda Ardern and weighs up what this means for both Labour and National heading into the 2020 election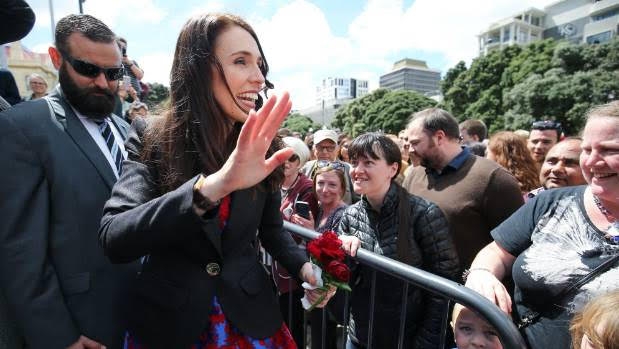 Chris Trotter*
"Brand Alpha" – sounds like something out of a political thriller. It is, however, a very real business entity, dedicated to tracking the "authenticity of brands across the Asia-Pacific region". For this research, New Zealanders now have special reason to be grateful. Just one week after the Christchurch Mosque Shootings, when the New Zealand Prime Minister's image was, quite literally, up there in lights all across the world, Brand Alpha made the decision to investigate the authenticity of "Brand Jacinda".
As is so often the case with fascinating tit-bits of otherwise unnoticed information, Brand Alpha's report caught the eye of one of this country's more attentive and perceptive financial and political journalists, Fran O'Sullivan. Her opinion piece ("For Labour, Ardern is the brand that keeps selling", Weekend Herald, 14/9/19) highlighted the most interesting findings of the company's research firm, Principals.
If asked, most New Zealanders would probably assume that the demographic segment most supportive of "Jacinda" would be her own: the 35-to-54-year-olds who make up Generation X. Those same Kiwis would likely be equally pre-disposed to assume the demographic segment most critical of the Prime Minister's performance would be the one encompassing those born prior to World War II, and the Baby Boom Generation.
Most New Zealanders would, however, be wrong. According to Principals' research, the opposite is true. It is the older generations who are most in love with "Jacinda". Her own generation, the Gen-Xers, are not only primed to expect more from her than any other generation, but they are also the most disposed to criticise her when she fails to meet their expectations.
These findings assume a critical importance as New Zealand enters election year. Certainly those who may have been banking on older voters seeing through "Brand Jacinda", and remaining loyal to "Brand National" – of which they were overwhelmingly supportive in the 2017 General Election – now have a very good reason to reconsider their position. Equally, all those Labour Party strategists working from the assumption that Jacinda has Generation-X in the bag would be wise to tear up their plans.
Judging by their on-line targeting of middle-aged mums and dads struggling with high fuel costs, high rents, and a housing market that is still unaffordable, it would seem that National's pollsters have detected the same distribution of generational loyalties as Principals' researchers. Social media is currently awash with National Party ads which go straight to the heart of the grievances of those who consider themselves members of the "unlucky" generation.
O'Sullivan quotes Principals' research finding that: "Gen-X is the least optimistic generation when asked about their futures and less practically and emotionally supported than all other generations. So they have particular expectations of all politicians." National seems intent on convincing these voters that not only has the Ardern-led Coalition Government failed to meet their expectations, but that she, and it, never really had any serious intentions of doing so.
Convincing the Gen-Xers to vote against "Brand Jacinda" will thus depend on National successfully highlighting the enormous gulf between what she promised her age-group and what she has delivered. Principals' research confirms that Ardern's greatest vulnerability is to the charge that she is all style and no substance. The policy debacles represented by KiwiBuild, the abandoning of the proposed Capital Gains Tax (CGT) and the Government's lacklustre response to Climate Change (the issue Ardern insisted would be her generation's "nuclear-free moment") are not the least bit helpful in this regard.
Equally unhelpful, at least in the eyes of her "toughest audience", will be Ardern's handling of the charges of sexual assault involving members of the Labour Party. "Me Too must become We Too", was the New Zealand Prime Minister's impassioned appeal to the United Nations General Assembly in New York. Accusations of insensitivity towards, and a cover-up of, the accusations of young female complainants are difficult to reconcile with "Brand Jacinda's" ideals. The intense scrutiny which she has had to endure from female Gen-X journalists has been especially wounding to the Labour Leader and her team.
But, if the "financially-squeezed Gen-Xers" have much to complain about from the Ardern-led Government, the "greatest" and "luckiest" generations have a great deal to be thankful for. The Government's "failures" over KiwiBuild and the CGT look remarkably like successes to the Baby Boomers. The last thing they need is a sudden inrush of affordable houses to a market that has served them exceptionally well. Equally unwanted is a large tax bill when the time comes to cash-up their rental properties. As for Climate Change: well, as the 16-year-old climate activist, Greta Thunberg, so succinctly put it: "They probably think, 'We'll all be dead by then – so screw it!'"
There may, however, be something more than straightforward generational selfishness to the Baby Boomers' love affair with "Brand Jacinda". It is just possible that in the young, unmarried, career woman who stepped-up to meet her party's need in 2017, at least some Boomers saw a person who recalled for them the confidence, idealism and unbounded optimism of their youth. In their young Prime Minister's determination to have it all: the relationship, the baby, and the Ninth Floor of the Beehive; they may also see the living vindication of everything they had fought for. After all, "Girls can do anything!" was their slogan – and haven't they been proved right!
For Labour strategists, therefore, the prospect looms of an electoral grand alliance between these nostalgic Baby Boomer grandparents and their idealistic Millennial grandchildren. An electoral pincer movement against the grim pessimism and bitter disillusionment of the middle-aged and desperate generation hemmed-in between them. Older people are notoriously conscientious voters – much more so than those aged between 35 and 54. With "Brand Jacinda" breaking-up the over-55s – to National's disadvantage – Labour's ally, the Greens, can be encouraged to concentrate all its resources on convincing the Millennials to vote for a much more forceful approach to Climate Change.
National's success thus hinges upon its ability to generate sufficient fury among Gen-Xers to vote against both their parents and their children. They must be encouraged to call down a plague upon the houses of both the old and the young, so that, finally, a government can be elected that listens to them; delivers to them; and only to them. Simon Bridges and Paula Bennett will bend all their powers towards convincing Generation X of the old adage: "Fool me once, shame on you. Fool me twice, shame on me."
"Brand Jacinda", they will say, "is all style and no substance. Don't be fooled again!"
---
*Chris Trotter has been writing and commenting professionally about New Zealand politics for more than 30 years. His work may be found at http://bowalleyroad.blogspot.com. He writes a fortnightly column for interest.co.nz.