Kirdan Lees says $20 billion is the starting point of additional fiscal support that will be required from the Government for New Zealand's small and medium sized businesses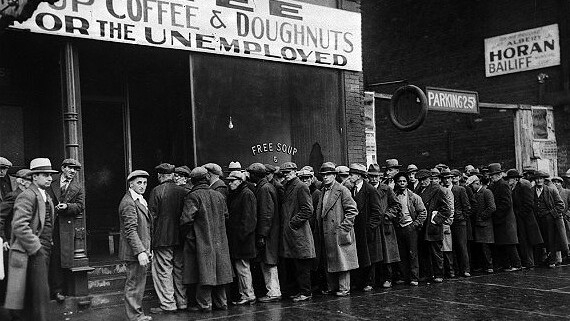 By Kirdan Lees*
Treasury's scenarios show the economic impact of COVID-19 could be catastrophic. The worst-case scenario shows unemployment could hit one-in-four people by March 2021. Output would plummet, perhaps down a third compared to GDP prior to the COVID outbreak.
But this is indeed the worst-case economic scenario, that assumes a prolonged period of six months in Alert level 4 lockdown with only existing fiscal support measures in place. And Treasury's scenarios are contingent on the containment policies for COVID-19. So each day of flat or falling cases makes this worst-case economic scenario much less likely.
Instead, low levels of new daily COVID-19 cases make Treasury's first scenario most likely. This scenario assumes 1 month of Alert level 4 lockdown, 1 month of Alert level 3 requirements and ongoing conditions of Alert levels 1 and 2. Even under this base case, unemployment rises to 13.5%.
The worst-case scenario won't play out like this: outcomes are not set in stone and fiscal policy can do much more to respond
Treasury rightly point out the scenarios are all about providing insight and are not official forecasts. Taking a scenario-based approach is useful for framing what policy should do. Scenarios establish a framework to monitor data against. This helps ready policy to change when the data points to some scenarios being more likely than others.
Perhaps the most important takeaway from Treasury's scenarios is the number of jobs that would be supported by additional fiscal policy measures.
Treasury suggest an additional fiscal package of $20 billion could reduce unemployment from 13.5% to 8.5%. Based on their estimates this saves 138,000 jobs. At least on these headline numbers, this comes at a cost of $145,000 per job saved. 
But the unemployment rate might not reveal that much. Workers that remain in the economy could be employed at 80 or 60 percent of capacity. In these circumstances, richer analysis should consider underemployment – that is, how many workers want to and are available to increase the number of hours they work.
The scenarios show additional fiscal support is much needed. Figure 1 shows New Zealand's existing package is falling behind the scale (relative to GDP) other countries have provided to support their economies. A further $20 billion of spending would put New Zealand in line with the scale of other countries' packages – at least for now. But there's no doubt additional fiscal support will be announced globally.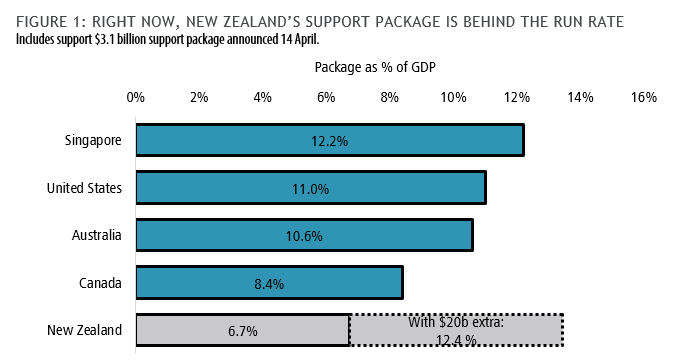 And different types of policies could be needed
The immediate impact of COVID-19 is all but baked-in: a sharp contraction in output associated with a fall in demand from consumers in lockdown and lower production from workers who cannot work from home.
Rightly, support to date has been targeted at packages to support paying salaries, to help shield firms from the downturn in the economy. But wage costs are not even half of the problem firms are facing.
Wages are only part of the cost equation confronting firms. Many firms have little to no demand for the goods and services they produce. If finances of small to medium firms are similar to the US, then cashflow constraints will start to bite. Recent NBER research says the median US SME business has more than $10,000 in monthly expenses and less than one month of cash on hand. We expect similar numbers apply to New Zealand. So as we pass from the initial economic impacts of COVID-19 to the recovery phase (see Figure 2), fiscal "shield" policies will need to do more to shore up the balance sheet and cash flow position of small firms. Outcomes for firms and works will be contingent on the effectiveness of these policies.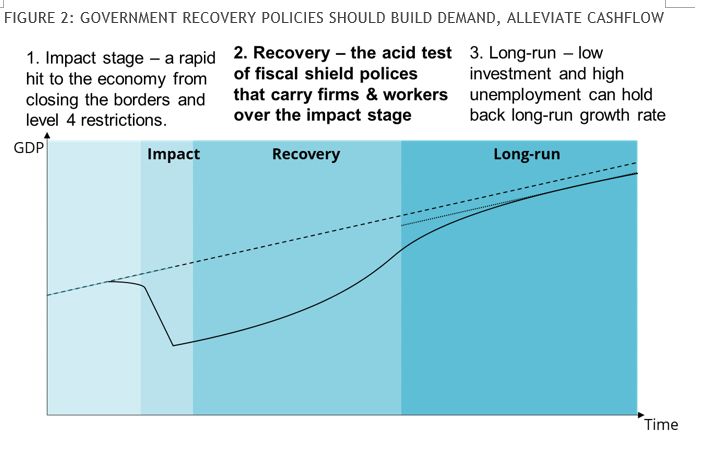 There is much that central government can do
What can government do? Government can scale up several interventions, all of which come at a cost:
(i) Allow deferral of tax and debt payment to ease liquidity constraints for SMEs. The just announced loss carry-back mechanism, where firms can offset tax losses against past profits, will help.
(ii) Extend or instruct banks to give loans directly to firms by underwriting the risk on the riskiest of loans, similar to elements of the Business Continuity Package.
(iii) provide loans directly from the government to firms to help keep and create jobs. This policy is being pursued most aggressively by the British Government who released £330 billion – some 15 percent of their economy – for no-interest loans to small firms.
These measures will all help firms bridge the economic impact of the containment policies needed to stamp out COVID-19. But scale is needed. With such a large chunk of small-to-medium New Zealand firms affected, $20 billion is the starting point of additional fiscal support that will be required.
---
*Kirdan Lees works at boutique economics consultancy Sense Partners.