Kirdan Lees says the idea of lower local government rates for everyone doesn't stack up and cutting rates would ultimately be counterproductive, leading to deferral of capital investments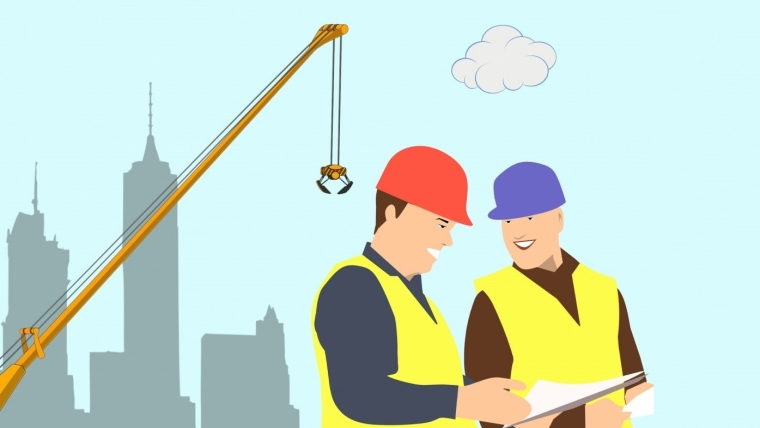 By Kirdan Lees*
Many commentators and ratepayers are calling for Councils to hold constant, or even lower rates. We think that's understandable but cutting rates will ultimately be counterproductive.
On closer inspection – without policy interventions – going too hard on rates reductions will defer capital investments that are much needed right now.
The opportunities foregone could be large – 20 times bigger than the gains from rates relief. Turning off the tap now to get rates lower merely holds the local economy back just when businesses need all the help they can get.
Instead, local and central government need to work collaboratively to do two things:
Seek out borrowing mechanisms that enable and then speed-up investment in viable projects. This includes tapping into the RBNZ asset purchase scheme, securing central government funding secured against future targeted rates, or grant funding.
Work collaboratively to help those most at need. This means assisting out-of-work families avoid the sting of higher rates payments by using the accommodation supplement and other existing welfare tools, continuing to use existing rates relief programmes and exploring other schemes to defer rates where needed.
Some councils need help with funding – capital spending is at risk
Local councils' revenue streams are stressed. Councils already need to claw back falling income from user charges for consenting, parking, and public amenities and face political pressure to reduce rates. Without intervention, spending will hit borrowing constraints (see Figure 1) and force councils to reduce capital expenditure.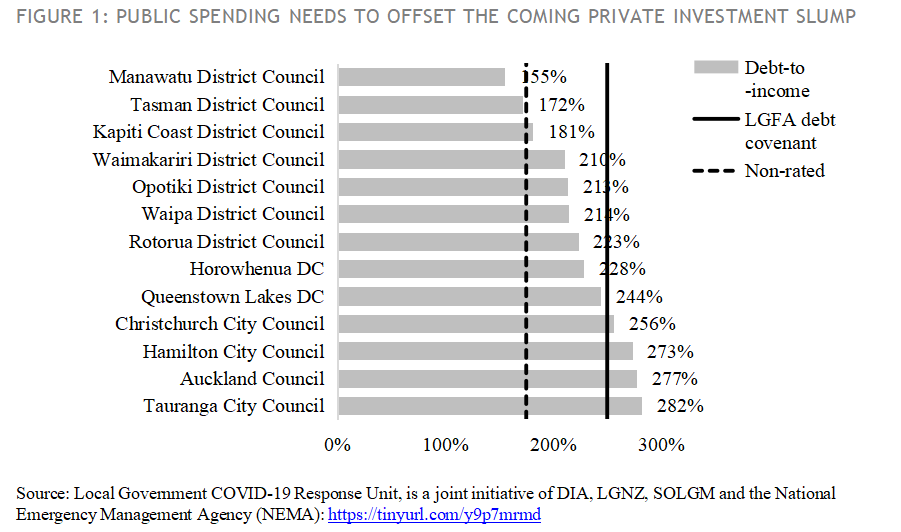 The Local Government COVID-19 Response Unit connect rates revenue to these debt limits:
"Hamilton, Auckland and Tauranga are the most at risk of reaching debt ceilings. For every $1 of budgeted revenue they do not receive, their debt cap falls by $2.50."
Moral hazard matters – we shouldn't simply bail out every council that gets close to its debt limit – that sets up poor incentives for councils to manage funds prudently. But borrowing covenants should be re-examined. The RBNZ is buying both central and local government bonds to keep interest rates low and markets functioning. A debt-to-income cap at 250% of income does not reflect the low interest rate environment and is too inflexible.
In addition, a time bound commitment by the RBNZ to purchase debt gives the local authority certainty and liquidity. Local authority debt purchases could first be funnelled through a Special-Purpose Vehicle, to allow all councils to participate easily. This provides a transparent, even hand from the RBNZ to local authorities to manage their borrowing. 
Borrowing and spending on capital projects supports jobs
Rates relief is small relative to the large capital investment that could be funded. For example, a 3% decrease in rates is worth around $200m. But $200m in interest payments would allow capital investment of $4 billion at interest rate of 5% per annum.
Tying the sectoral footprint of that quantity of capital investment to Statistics New Zealand estimates of employment suggests $200m of rates relief could be worth 1,700 jobs. $4 billion of capital expenditure may be worth 30,000 jobs – much needed for the construction sector and beyond as the COVID-19 hit to private sector investment strikes. The trade-offs are stark.
In our view, as we look down the barrel of cancelled private sector projects and widespread job losses and a slump in private sector investment likely to be larger than the GFC (see Figure 2), achieving rates relief by deferring capital spending should be avoided.
Rate reductions won't be funded from cuts to operating expenditure alone. Councils already need to claw back falling income from user charges for consenting, parking, and public amenities. Austerity in recession does not work – councils would be likely to need to cut back significant capital projects (see Figure 3).(Note1)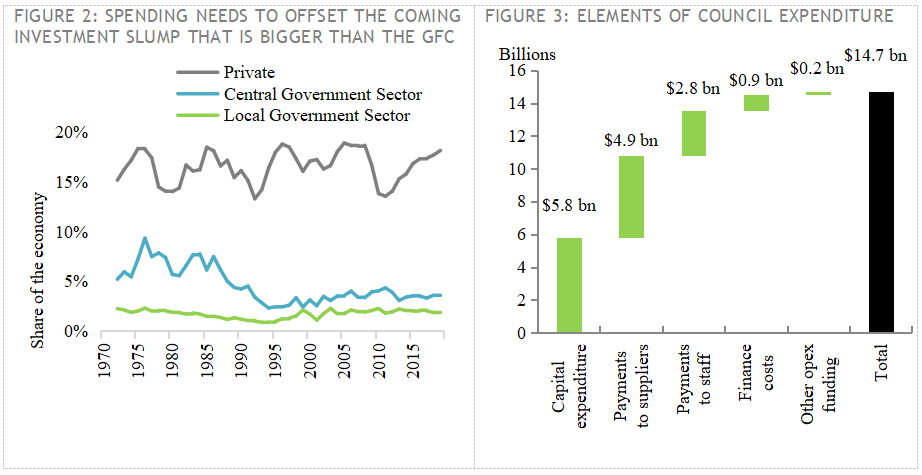 Without intervention – the impacts are large
The size of the prize is large: $9.4 billion of capital projects are contained in council Long Term Plans for the year ahead. For some context: local government invested $5.6 billion last year and construction spending by all sectors was $30 billion.
The planned $9.4 billion of local government capital investment may protect 73,000 construction jobs and partially offset the economic fallout of Covid19 on the private sector that we expect to be much larger than the post-GFC fall in private investment. The Local Government COVID-19 Response Unit acknowledges the impact on jobs: 
"The combined effect of lower-than-planned rates and other revenue reductions means councils are likely to reduce some operational expenditure and capital expenditure, which will create job losses directly or indirectly."
Council should work with central government to shield the most vulnerable from any rate increases 
Rates account for around 4% of total income for the typical household. But it can be as high as 8% of income for the low-income households. There is a strong case for targeted rates relief.
Welfare is centralised in New Zealand, but rates relief can be an immediate and localised way of looking after the most vulnerable in our communities.
We see three ways for local and central government to work together to help households struggling with rates payments:
Use the accommodation supplement and other existing welfare tools;
Continue existing rates relief programmes (about $55 million, less than 1% of the total rates bill) but keep a close eye on its effectiveness;
Explore a scheme to defer rates that are then attached to the title for payment (adjusted for inflation) at the point of sale. This would create an asset for local governments and allow families to bridge the economic impacts of COVID-19.
Central government could underwrite the scheme to speed up implementation. A small charge - 1% interest rate might help those that need the scheme self-select in and ensure those that don't, don't. Limiting the length of time the scheme operates for reduces costs.
Downsides include the impact on valuations, the value of collateral banks will already be lending against. But since the scheme preserves an asset in terms of the rates lodged on the LIM, it is less costly than rates relief and could be rolled out widely.
This would create an asset for local governments and help firms and families bridge the economic impacts of COVID-19. Central government or the RBNZ could underwrite the scheme.
Cutting rates involves challenging trade-offs
At a time of national belt-tightening, local councils are set to cut their spending to moderate rates increases. Relief on rates increases will help some households and businesses, especially as job losses mount. Households are worried about their financial situation with household financial stress indicators at GFC levels based on the ANZ Consumer Confidence survey.
We should always demand that local government runs the ruler across all spending, and every investment project, to test what can be provided where most efficiently. But right now simply pushing for rates increase at the expense of capital expenditure hurts rather than helps local economies.
---
Note 1. The initial report of Local Government COVID-19 Response Unit "Financial Implications: Initial Analysis", released on April 14 provides evidence on the problem definition and suggests: "The overall impact is likely to be a reduction in the ability of councils to fund existing planned work, or to bring forward "shovel ready" projects to help stimulate the economy."
---
*Kirdan Lees works at boutique economics consultancy Sense Partners.