As the banks begin offering mortgage deferrals of up to a year, we play around with some numbers for illustrative purposes - with illuminating results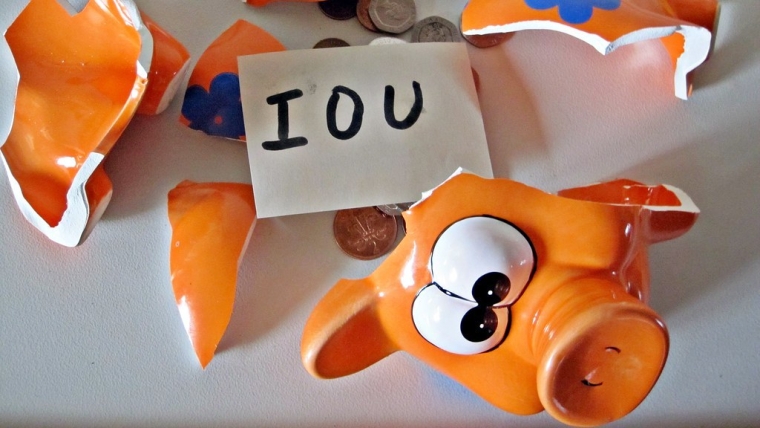 Well, first it was six months and now it's for a full year, potentially.
Yes, that's the mortgage 'holiday' as we first saw it popularly styled, though you will note banks are tending to push the term 'deferral' these days. Which is fair enough. Because while your payments might be taking a break, the interest keeps ticking up. The deferral is putting payment off. But the debt's still there, and it's growing. Not much of a holiday really.
It will be interesting to see how many people do choose to extend out the deferral from the six months (starting in March) to now the full year (ending March 2021).
The Reserve Bank, which is overseeing the scheme, as it has been from the start of the original deferral in late March, is giving the distinct impression that while, okay, a full year's deferral is now available, it would prefer people not to use it.
RBNZ Deputy Governor Geoff Bascand in announcing extension of the deferral scheme last week said for many borrowers, resuming, or continuing payments in some form would "be the most suitable approach," rather than taking up a deferral of their loan payments.
'Not the default setting'
"A deferral should not be the default setting and it will be up to individual lenders to decide whether to offer one to their customers."
The reality is that when the deferral was first offered in March of this year, just prior to the lockdown, a lot of bank customers snapped the offer up. I was surprised how many.
The New Zealand Bankers Association, the industry body representing the banks, says since March 26, when New Zealand first went into lockdown, banks have deferred all repayments on consumer loans totalling around $21 billion for over 61,000 customers. That represents 7% of total consumer lending.
Nearly a quarter of those customers have subsequently restarted their loan repayments.
But that 7% was quite a chunk and it's therefore not surprising there are those out there who would probably rather see such numbers not being repeated or exceeded.
Going 'the full 12 months'
Interest.co.nz's David Chaston had a look at the situation at the time of the initial deferral  and now we've had the interest.co.nz spreadsheet out again, doing an illustrative example of what might happen for someone who 'goes the full 12 months'.
We should say, the example we've chosen (and these things are arbitrary) is probably something of a 'worst case' scenario, since we are making the supposition that our homeowner took out a $400,000, 30-year, loan, interest rate of 2.69%, as of March - and then immediately went into deferral. At time of going into deferral, our homeowner was paying $1,620.28 a month.
While this is, as said, an arbitrary example, it provides a useful illustration of some of the consequences for those who decided to defer and may defer further.
It's very much worth noting that there's no hard and fast approach to what happens when someone comes out of deferral. The banks, it seems, are looking at it on a case by case basis according to the needs and situation of the customer. Which is what you would hope.
Results may vary - a lot
We've looked at two differing approaches in our example and the thing that's worth bearing in mind is that there's very different results based on how you decide to proceed after coming out of the deferral period.
The examples we cite here (based on the $400,000 loan over 30 years at 2.69%) are for the mortgage holder to either:
A/ Increase their monthly PAYMENTS after coming off deferral in order to pay off the loan in the original timeframe, or:
B/ Keep the payments the same, but increase the TIMEFRAME for paying the loan off.
This is the basic outcome of option A, noting that 'Base' refers to what would have happened with the mortgage continuing as usual, 'Deferral 1' covers just the six-month deferral, 'Deferral 2' takes in the full year.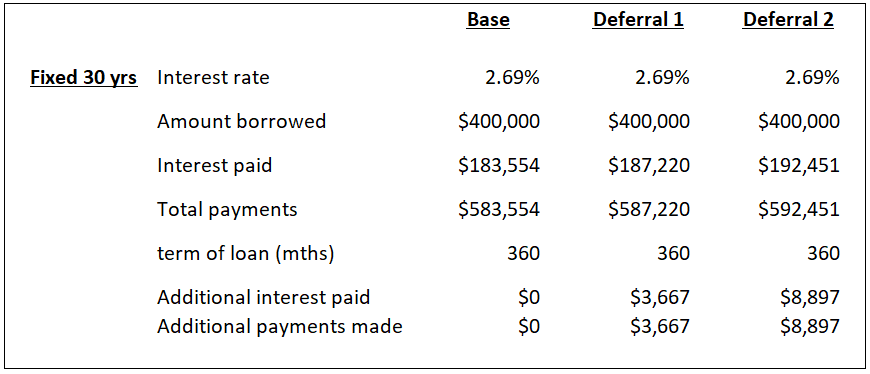 Some quick arithmetic on that: 
In order to pay off the loan in the same timeframe under 'Deferral 1' for six months, our homeowner would have to increase the amount they pay each month from the original $1,620.28, up by $33.51 (a 2.1% increase in payment size). Going the full 12 months, or 'Deferral 2', would require a hike in monthly payment of $81.76 (a 5% increase).
Notwithstanding that our mortgage holder would need to be paying more each month they would, owing to the wonders of compounding interest, still need to find in total across the life of the loan an extra $3,667 (for the six month option), or $8,897 (for the full year). That means they would be paying 2% more in interest across the time of the loan if they defer for six months and 4.8% more with a 12 month deferral. In terms of total repayment, someone in this example deferring for six months would pay 0.6% more money (that's interest and principal) across the life of the loan than they would without deferral, while someone deferring for 12 months would pay back 1.5% more money. 
Okay, so what about if we decide to keep our monthly payments the same and increase the time taken to pay the loan off? This is where it gets real interesting.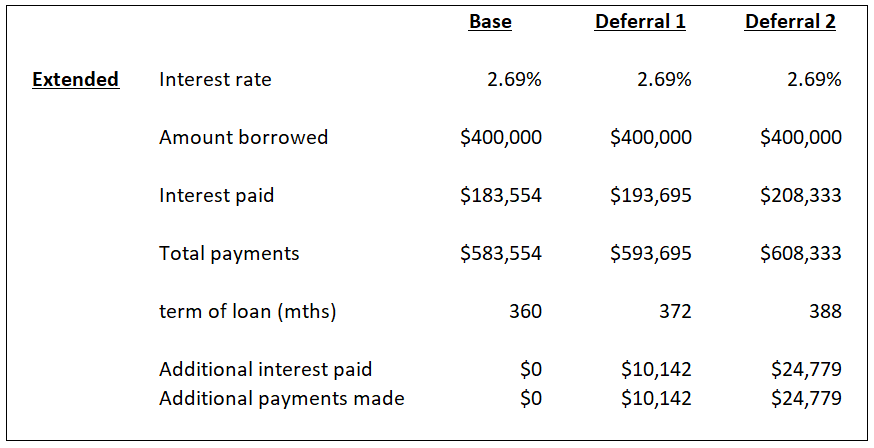 Now, you might not think it would make that much difference, would you?
Here we go:
In this example, keeping those payments at the original $1,620.28 a month, we would need to keep going with the mortgage for an extra 12 months, with 'Deferral1'. So, yes, the six month 'holiday' would keep us on the treadmill for another 12 months. But it wouldn't just cost time. It would cost $10,142 more, which in terms of our interest bill would be 5.5% more than we would pay without a deferral. And in terms of overall payment (interest and principal) it would cost us 1.7% more.
And the 12 month deferral? Well, that would hike the interest bill by $24,779 - some 13.5%. In total, including principal, we would pay 4.2% more across the term of the loan than we would without the deferral.
Time is money, they say. In this instance it really is both. For the 12 month deferral, we would have to extend our payment time by a whopping two years and four months. That's two years and four months of your life you ain't getting back!
A couple of other points to note that apply to both examples:
Assuming we had continued to pay the mortgage after starting in March, the principal would have reduced to $395,678.05 by September. With a six month deferral, regardless of the payment option chosen after restart of payments, the principal would stand at $403,816.32 upon restart. So, the six-month 'holiday' would have seen us racking up an extra $8,138.27 in debt - which works out at $1,356.38 a month. Expensive holiday.
Twelve months? Well, worse. I think you probably figured that. By next March our principal owed would have blown out to $410,167.99 - so, that's an extra $19,684.23 owed, which works out at $1,640.35 of extra debt piled up for every month of deferral.
Final thoughts
You might conclude from the perceived tone of this that I'm suggesting people should not go down the deferral route. Actually I'm not - and I'm not in any case a financial adviser so I would not advise. And the fact is, everybody's financial situation is going to be different. And for some people, being able to put the mortgage payments on ice for a year may be just what they need to ride out the storm. It's not one-size-fits all. 
But I think RBNZ's Geoff Bascand is quite right to caution against the 12 month deferral being the default setting. 
There's no such thing as a free lunch. A bit of crunching of the mortgage deferral numbers shows us that.
*This article was first published in our email for paying subscribers. See here for more details and how to subscribe.