Gareth Vaughan on inflation worries, why Richard Prebble can blame himself for QE, curious court cases as borrowers take on their bank, Brexit & red tape, the big US chance for climate change action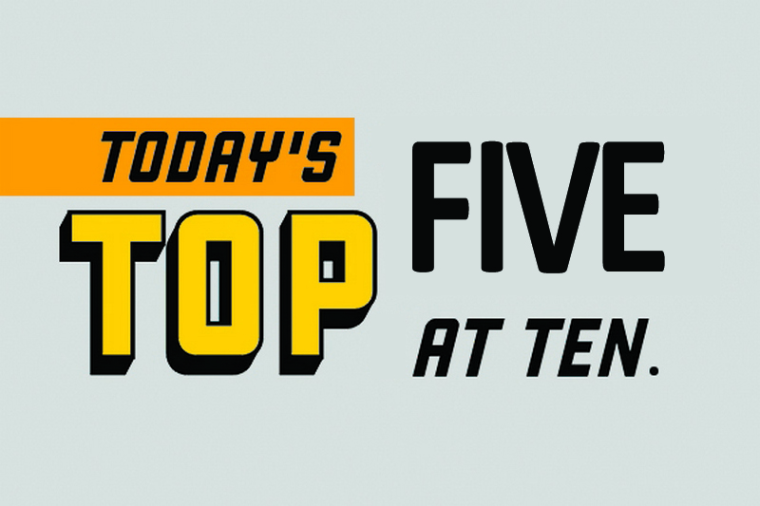 This Top 5 comes from interest.co.nz's Gareth Vaughan.
As always, we welcome your additions in the comments below or via email to david.chaston@interest.co.nz. And if you're interested in contributing the occasional Top 5 yourself, contact gareth.vaughan@interest.co.nz.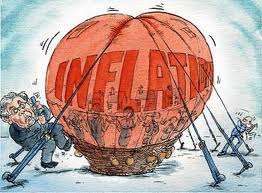 1) Should we be worrying about inflation?
Inflation has been a major focus this week. Locally we had the latest quarterly survey of business opinion from the New Zealand Institute of Economic Research saying businesses are finding it easier to pass their higher costs through to price rises for customers. And in its Official Cash Rate review we had the Reserve Bank pointing to global supply chain disruptions and higher oil prices creating price pressures.
From the US we had news that consumer prices rose by the most in more than eight and a half years in March with both the headline and core inflation measures higher than forecast. The annual figure came in at 2.6%, which was ahead of the forecast of 2.5% and up from 1.7% in February.
And from The New York Times we have a report that the Biden Administration is "quietly keeping tabs on inflation." This, of course, is against the backdrop of the President's multi-trillion dollar economic stimulus package and infrastructure spending plans. Biden's advisers believe any price spike is likely to be temporary and not harmful. Basically a one-off event caused by a pandemic recession that ruptured supply chains and depressed activity in the likes of restaurant dining and tourism.
Armed with their internal data and conclusions, administration officials have begun to push back on warnings that a stimulus-fueled surge in consumer spending could revive a 1970s-style escalation in wages and prices that could cripple the economy in the years to come.

Yet they remain wary of the inflation threat and have devised the next wave of Mr. Biden's spending plans, a $2.3 trillion infrastructure package, to dispense money gradually enough not to stoke further price increases right away. Administration officials also continue to check on real-time measures of prices across the economy, multiple times a day.
The article goes on to note it has been some time since there was any real concern about inflation. Indeed, in recent years we've probably heard more about deflation.
Economic teams in recent administrations spent little time worrying about inflation, because inflationary pressures have been tame for decades. It has fallen short of the Fed's average target of 2 percent for 10 of the last 12 years, topping out at 2.5 percent in the midst of the longest economic expansion in history.
But Biden's team sound wary.
Mr. Biden's aides are sufficiently worried about the risk of that spending fueling inflation that they shaped his infrastructure proposal, which has yet to be taken up by Congress, to funnel out $2.3 trillion over eight years, which is slower than traditional stimulus.
Bloomberg's Odd Lots podcast, co-hosted by two excellent financial journalists in Joe Weisenthal and Tracy Alloway, is often an interesting listen. Their latest episode features an interview with Zach Carter. Carter's the author of a very good book on economist John Maynard Keynes. In the podcast Carter talks about what caused the hyperinflation in Weimar Germany, an issue that features in his book. Now that was inflation...
Below is the blurb accompanying the podcast.
Whenever the government is engaging in fiscal or monetary expansion, people like to invoke the history of Weimar Germany and how soon we might all go around transporting dollars in wheelbarrows. But what really happened with Weimar and how did it come about? On this episode, we speak with Zach Carter, the author of the best-selling book "The Price of Peace: Money, Democracy, and the Life of John Maynard Keynes." He explains how the story of collapse of the German currency was less about money printing and more about domestic political collapse and the destruction of the country's productive base.
2) Why Richard Prebble could look in the mirror rather than blame Social Credit for the RBNZ's quantitative easing.
Richard Prebble, a Rogergnome from the 1980s Labour government who subsequently became leader of the ACT Party, has written an article typically laced with bluster and hyperbole for the NZ Herald. In it he labels the Reserve Bank's bond buying, or quantitative easing (QE), social credit and puts the boot into the Social Credit political party, which received just 1,520 votes, or 0.1%, of the total votes in the 2020 election, and has never been in government.
Today the Reserve Bank has a programme to create $100 billion to lend to the Government at near-zero interest via the secondary market so they can pretend it is not social credit. 
He's referring to the Reserve Bank's Large Scale Asset Purchase Programme, although you could almost be forgiven for not realising that. Through this the central bank is buying government bonds and local government bonds in the secondary market off the banks listed here. Treasury's 2020 Pre-Election Economic and Fiscal Update forecast the Government, effectively buying back its own debt at a premium from banks, would cost $11.1 billion over three years. 
The official aim of the programme is to lower borrowing costs to households and businesses by injecting money into the economy through bank intermediaries. The Reserve Bank is currently planning to spend up to $100 billion buying these bonds with new money by June 2022. Starting in March last year, so far it has got to just over $51 billion.
Below is a QE explanation from the Reserve Bank.
When we buy assets, this increases their price and so reduces their yield. That means the interest rate, in this case on government bonds, fall. This has the effect of 'lowering the tide' on other interest rates in the economy, particularly longer-term interest rates of two years or more. It also reduces the cost of borrowing for households and businesses.

Secondly, when we buy these government bonds, it encourages the sellers of assets to use the money they receive from us to switch into other financial assets like company shares, bonds, or new lending – helping to inject money into the economy.
This explanation aligns QE with trickle-down economics, through which tax breaks and benefits for big corporates and the wealthy are expected to trickle down to everyone else. And as with the trickle-down economics theory, after more than a decade of experience with QE in the likes of the US and UK, there are plenty of questions over whether its biggest achievement is actually helping widen wealth and income inequality between asset owners and non-asset owners.
QE is being implemented by our independent, inflation targeting central bank, set up as such by the Government Prebble was a part of in the 1980s. So Richard, it'd make more sense for you to look in the mirror than blame Social Credit for QE. It's part of your legacy. QE has become an orthodox response from inflation targeting central banks once interest rates hit the zero-bound.
Meanwhile Social Credit leader Chris Leitch, like Prebble, worries about the impact QE is having on house prices. In an article submitted to interest.co.nz last year Leitch advocated for  monetary financing, not QE. That is the Reserve Bank giving money directly to the government, and "letting the government spend it into the economy on building infrastructure, providing more resources for hospitals, loans to small businesses, or funding state house building."
Treasury and the Reserve Bank even prepared a paper for Finance Minister Grant Robertson last year comparing QE and monetary financing. The Government has not, however, gone down the monetary financing route.
Egypt has reportedly impounded the Ever Given, the container ship that was stuck in the Suez Canal in March. An Egyptian court has ordered the vessel's owner to pay nearly $1B in compensation before releasing the ship. There are reportedly 25 Indian crew members on board pic.twitter.com/TBqrkVMHuW

— NowThis (@nowthisnews) April 15, 2021
3) Court action gets curiouser and curiouser as borrowers take on their bank.
This fascinating and bizarre case, that made its way to the Supreme Court, was brought by husband and wife duo Qiufen Lu and Liansen Mao against ICBC NZ Ltd. Readers with long memories might recall them as associates of infamous property manager/developer, Augustine Lau from this story and this one in 2017.
The Supreme Court judgment, released on Thursday, sets the scene.
The first applicant, Ms Lu, a Chinese citizen and resident, borrowed approximately $2.9 million from the first respondent (the Bank) to assist with the purchase of a $6 million property in Auckland. She intended to subdivide the property, but after various defaults on her obligations, the property was sold by the Bank in a mortgagee sale. The Bank then commenced proceedings in China to recover the shortfall owing under the loan agreement. The proceedings in China involved a claim not only against Ms Lu but also against the second applicant, Mr Mao, who is Ms Lu's husband. The claim against Mr Mao arises because, under Chinese law, a spouse can be jointly liable with the actual debtor for certain debts. The Bank also obtained freezing orders against the assets of Ms Lu and Mr Mao in China. 

The freezing orders in respect of Mr Mao's bank accounts and securities and Ms Lu's bank accounts were subsequently discharged. Only a freezing order over Ms Lu's securities remains.

Ms Lu applied in China to have the China proceedings stayed on the basis that New Zealand is the proper forum for the resolution of the Bank's claim. That application failed. An appeal is yet to be determined.
Lu also sued ICBC in the High Court, making a range of allegations detailed in the judgment. ICBC succeeded in having her claim struck out and was awarded costs of $20,000. Lu then sought to file further proceedings in the High Court with two proceedings struck out and one not accepted for filing. Lu and Mao also filed a notice of appeal in the High Court against the High Court strike-out judgment.
They were advised that they had filed this in the wrong Court, and eventually filed a similar notice of appeal in the Court of Appeal on 5 August 2020, approximately five months out of time. They sought an extension of time to appeal.

The Court of Appeal dismissed the application for an extension of time... In particular, it took the view that the proposed appeal against the High Court strike-out judgment could fairly be described as "clearly hopeless".

 The applicants also applied to stay enforcement of both the High Court strike-out judgment and the High Court costs judgment. Their application was dismissed. 
The Supreme Court comes in with Lu and Mao seeking leave to appeal against the decision of the Court of Appeal refusing to extend time to appeal to that Court. They also sought leave to appeal directly to the Supreme Court against the High Court strike-out judgment and the High Court costs judgment.
In relation to the Court of Appeal judgment, the applicants say that it is a matter of public interest for customers of Chinese banks to know that the law of China may be applied to enforce loans from New Zealand in China. We do not see that point as arising in the proposed application. The Court of Appeal judgment involved an orthodox application of this Court's decision in Almond v Read to an application to extend time to appeal to the Court of Appeal. No point of general or public importance arises and there is no appearance of any miscarriage of justice. The grounds for leave to appeal are not therefore made out and we decline the application for leave in relation to the Court of Appeal judgment.
The application for leave to appeal against the High Court strike-out judgment, and the High Court costs judgment, were dismissed. And the Supreme Court ordered Lu and Mao to pay ICBC costs of another $2,500.
Data from 2 April 2021 shows that only $219m of residential mortgage loans remained on deferral. This is down from a peak of $22.2bn of loans on deferral at 29 May 2020. The stock value data is available from 22 May 2020. More here https://t.co/gIbe5aPItc #rbnz pic.twitter.com/DxeJMCuctt

— Reserve Bank of NZ (@ReserveBankofNZ) April 15, 2021
4) Another way to look at Biden's infrastructure plan.
Writing for The Atlantic, Robinson Meyer argues President Biden's US$2 billion infrastructure plan is the one opportunity to pass meaningful climate change legislation in the US over the next few years.
Since climate change became a political issue in 1988, Democratic presidents have had a single window early in their first term to pass a climate bill. Bill Clinton's came in 1993, when he tried to levy a tax on certain types of energy; Barack Obama's arrived in 2010, when he supported a more ambitious carbon-pricing bill. In both cases, the climate bill passed the House, then died in the Senate. The United States continued to muddle through without much of a plan. Most climate policy came through either puny tax credits or the president's power to spend foreign aid.

The upshot is that the United States, the largest historical contributor to climate change, has limped for the past few decades with no serious climate policy.

But this bill hurls several different and mostly sensible tools at the climate problem. Its marquee policy is probably its clean-energy standard for the electricity sector, which aims to zero out carbon emissions from power generation by 2035. But nearly as important is its extension of certain key green-energy tax credits; it also converts these into direct payouts from the IRS, which should make them simpler, cheaper, and more equitable to implement. Also significant are the plan's fledgling attempts at industrial policy—it aims to set up 10 "pioneer facilities" that will show how large steel, chemical, and cement makers can decarbonize through carbon capture and storage technology.
5) Red tape increases for UK firms after Brexit.
Now that the UK has Brexited, how's it working out for the country's businesses?
Not great according to this Bloomberg article.
Customs checks, paperwork and border delays since the U.K. completed its withdrawal from the European Union at the start of the year are sucking cash and time out of firms from big-name retailers to small family-owned businesses. Companies, which warned for years that this would happen, take no pleasure in saying "we told you so," but the frustration is clear as they grapple with the long-term reality.

For many businesses on tight margins, every pound spent on documentation means less for wages, hiring and investment. While the impact will be far less dramatic than the short-term shock of the Covid-19 lockdowns, over time it will add up, hobbling the economy and eating into sales, earnings and incomes.
Certainly the initial go-it-alone period hasn't been easy.
The story of unwanted hassle is one repeated across the U.K. One in four small exporters have halted sales to the bloc because of red tape, and a survey on Monday showed more than 40% of businesses had lower export revenue in the first quarter. In January and February, total goods exports were down 27% compared with a year earlier, and imports also declined.
UK government promises of its own free trade deals with other countries are being closely watched.
With so much at stake, a group of lawmakers and businesspeople has set up the independent Trade and Business Commission to review trade deals and figure out how the U.K. can best benefit. It will start hearings this week on Brexit's impact and whether the effects "will be compensated for by greater trade with the rest of the world," such as the still-distant U.S. accord.