The crystal ball: Where interest rates and house prices are headed over the next couple of years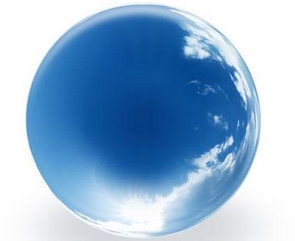 By Bernard Hickey
Economists and the Reserve Bank broadly expect the Official Cash Rate (OCR) and floating mortgage rates to rise around 2% over the next two years, while house prices are expected to rise in line or slightly below inflation of around 2%.
Fixing or floating is seen as a close call and is dependent on a borrower's view on how quickly interest rates rise and their desire for certainty, although some economists have called this week to fix because they think interest rates will rise sooner and higher.
Most economists expect the Reserve Bank to start increasing the OCR from its record low level of 2.5% from either October 27 or December 8 and rise towards to around 4.5% by the end of 2012. BNZ's economists expect the first hike on September 15 and say floating borrowers should now think about fixing. BNZ sees the OCR rising to 5% by the end of 2012. Westpac sees the OCR raised to 6% by the end of 2013 and have also said now is the time to fix.
Stronger than expected GDP growth and inflation figures in mid July have prompted some economists to pull forward or harden up their views on when the Reserve Bank will next hike rates.See more here in Alex Tarrant's article on stronger than forecast CPI figures.
The Reserve Bank itself forecast in early June that the 90 day bill rate, which is typically around 0.2% above the OCR, will rise around 2% to 4.6% by end of 2012. That would imply floating mortgage rates rising to around 7.7% within the next two years from around 5.75% now. The Reserve Bank next comments on interest rates on July 28, but is expected to leave the OCR on hold.
The Reserve Bank forecast in June that house price inflation would be in line with or below the rate of inflation over the next couple of years. It is forecasting inflation of around 2% per year over the next three years. Economists are not unamimous on house prices, though most see house prices rising by around the inflation rate over the next couple of years.
Floating vs fixing?
Before the Global Financial Crisis this was an easy decision for most borrowers because fixed mortgage rates were almost always cheaper than floating rates. But that changed after the Lehman Bros crisis because banks were unable to find the cheap and easy short term wholesale funding that helped them keep fixed rates lower.
Since then the Reserve Bank has also tightened funding rules that encourage banks to fund more locally and for longer terms than before. This has made fixed more expensive than floating and is likely to keep it that way.
Any decision to fix or to float depends on how quickly and how high interest rates will rise. Floating makes more sense if interest rates stay lower for longer, while fixing makes more sense if the OCR rises soon, quickly and to a high level.
Fixing may also make more sense for those who place a premium on having certainty about their repayments, regardless of whether they are higher than staying on floating. It's a close decision if you assume the Reserve Bank's own forecasts for the 90 day bill rate are correct.
Here's the RBNZ's chart below showing how fixed and floating rates have tracked since 2000. And click here for our interactive chart showing average bank interest rates since 2002.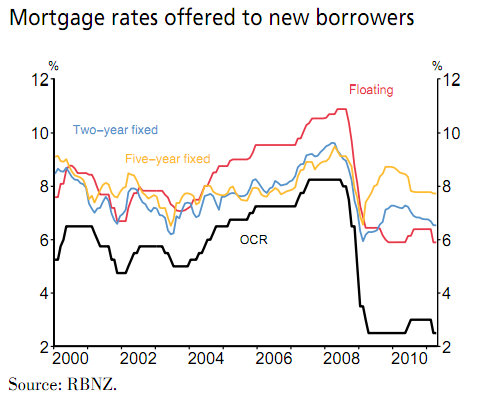 My view:
I think high household and government debt levels in many large developed economies will restrain global growth for some years to come and New Zealand households are being a lot more cautious about taking on new debt and spending than they were before the Global Financial Crisis.
Further financial market turmoil and a slow Christchurch rebuild may keep the OCR interest rates lower and for longer than economists think. That means I think floating is cheaper than fixing for now, but only because I have a more bearish view on global growth than the RBNZ and economists.
We have a spreadsheet which works out whether fixed is cheaper than floating, given the assumption that the RBNZ's forecast track for the 90 day bill rate is correct and given the current average mortgage rates. See the current mortgage rates offered by banks here. The spreadsheet shows the average one year rate of 5.89% is the best, the average two year rate of 6.42% for 2 years is second best with a 'loss' of NZ$78 over the two period of a NZ$200,000 mortgage, while the floating rate is NZ$880 worse off over the two years or NZ$8.50 a week.
I also think house prices will grow less than inflation and may fall further in some areas. I stick to my longer term view that house prices are still over-valued and will eventually fall to around 15% below their 2007 peaks.
They are currently around 5% below that peak and are down more than 11% in inflation-adjusted terms since that peak, which is the biggest fall in real house prices since the stagflation of the 1970s.
See David Chaston's article here.
The RBNZ's view
The Reserve Bank of New Zealand said in its June quarter Monetary Policy Statement on June 11 it expected to gradually increase the OCR over the next two years to offset a rise in inflationary pressures.
Here is its broader assessment on the OCR:
As GDP growth picks up, underlying inflation is expected to rise. A gradual increase in the OCR over the next two years will be required to offset this, such that CPI inflation tracks close to the midpoint of the target band over the latter part of the projection. The pace and timing of increases will be guided by the speed of recovery, but for now the OCR remains on hold.
The RBNZ forecast the 90 day bill rate would rise from 2.6% in June 2011 to 4.6% by the end of next year and 4.9% by March 2014. The Reserve Bank doesn't forecast the OCR, but the market watches its forecast 90 day bill track as a close proxy of where the Reserve thinks it will be.
Here's the chart of the forecast. The red line is where it the forecast was in the March quarter monetary policy statement. Click here for our interactive chart of bank bill rates going back to 2000.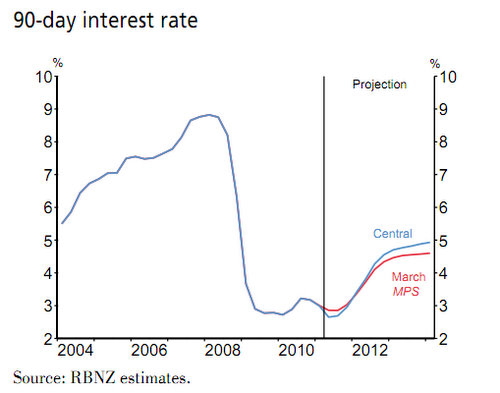 The Reserve Bank said in its June monetary policy statement it expected house price inflation at or below the inflation rate over the next three years.
Here's its full comment with its chart below on how overvalued it thinks house prices are:
Consistent with subdued consumption, house prices are likely to increase only modestly over coming years. A number of in-house statistical models suggest that house prices continue to be overvalued when compared to metrics such as nominal GDP or rental yields (chart below).

As a result, house price increases are expected to be at or below the rate of inflation over the projection.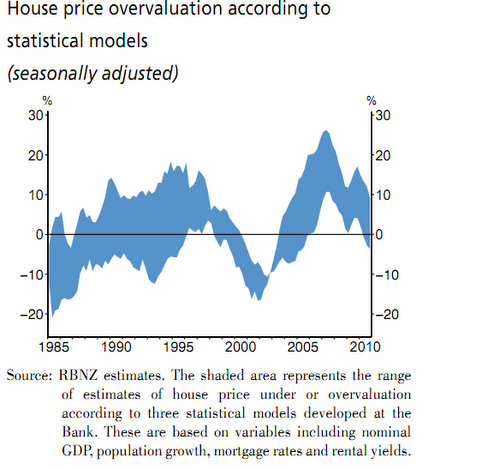 The Reserve Bank hasn't expressed a view on whether borrowers would be better off fixing or floating, but it notes that its ability to control the economy through the OCR is stronger when more people are floating rather than fixing. It said in June that the average duration of all mortgages was now below 6 months, compared with almost 2 years back in 2007.
ASB's view:
ASB's economists expect the Reserve Bank will start increasing the OCR on December 8. Here is their July 21 note previewing the RBNZ's July 28 announcement.
We expect the RBNZ to leave the OCR at 2.50% at the July OCR Review, with the tone of the accompanying statement likely to reflect the cautious optimism of the RBNZ. Recent developments would have given the RBNZ increased confidence that the underlying recovery in the NZ economy was gathering momentum. Added to that, there are emerging signs of inflation pressures off the back of improved demand.

These developments would likely make the RBNZ less comfortable. However, there are significant downside risks to the global growth outlook. Concerns about the sustainability of debt in some European economies and the risk of contagion have intensified. While the probability of a funding crisis in global markets looks remote for now, the RBNZ will be mindful of the significant consequences should this eventuate. In balancing the stronger domestic outlook and the risks surrounding the global economy, we expect the RBNZ will see a strong enough case for an OCR increase by December. Leaving the OCR on hold till then would allow the RBNZ to get a clearer picture of how inflation is trending and the NZ recovery is evolving.  
They forecast house price inflation firming to around 3.5% by the second half of 2012.
ASB said in a July 1 note floating may be cheaper than fixing for the first year, but be more expensive after that, although it notes this all depends on how quickly the OCR rises.
Our calculations suggest floating could prove to be slightly cheaper than fixing for a year, due to the lower floating rate being paid over the coming eight months. However, for horizons beyond the one‐year mark, fixing may turn out to prove a cheaper strategy.
ANZ National's view:
ANZ (and National) Bank economists expect an OCR hike by December and increasingly see the possibility of a September 15 start. Here is their July 21 Borrower's Strategy note.
With the economy moving into expansion, the OCR needs to move higher sooner rather than later. Global events pose clear and significant risks, and may yet spell trouble. However, with inflation elevated, the RBNZ has much room for regret, and little room to manoeuvre, and we would not rule out a rate hike before December, which remains our core view.

In fact we are increasingly erring towards a September move. Put simply, the 50 basis points of "insurance" delivered in March needs to be reversed, and we can put it a strong case for it being now. However, some perspective is required. Even though the risk is that the OCR heads higher sooner or more rapidly in the near term, we need to be cautious about extrapolating this into a more prolonged cycle. As history (and the most recent Australian experience has taught us) we are still only looking at a trough to peak move of around 200bps.

Despite the low starting point, we remain mindful of near record levels of leverage, high exposure to floating rates, the growing importance of prudential policy and an uncertain global credit environment.  
ANZ National's economists said in their June 24 Property focus they favoured floating over fixing for now...just. They said housing turnover was recovering but prices were "listless".
Mortgage rates were unchanged from last month. Given increased uncertainty, we favour floating for now. Broadly speaking, the rises implied by the mortgage curve are consistent with the RBNZ's projections, and our own expectations. If it were purely a question of cost, it would thus be a line call between remaining floating, or choosing a fixed term like 2-3 years.  
BNZ's economist Craig Ebert's view:
Ebert said in a note on July 25 previewing the RBNZ's July 28 rates decision it was time for the RBNZ to reverse its March 10 emergency rate cut.
While the RBNZ has a lot of counterbalancing news and risks to mention at Thursday's OCR Review, the balance of it is increasing pressure on the Bank to begin removing its stimulus earlier than the December-point it signalled in its June MPS. While Alan Bollard is bound to highlight the surging NZD, and global risks, the domestic inflation picture should have him jawboning the door open to a near-term hike, consistent with, albeit not locking and loading, September.

We, of course, last week shortened our view to a September hike of 25bps, having long held to December. We believe a further 25bp increment will follow in October, and December, taking the OCR to 3.25%. And while the outlook gets a bit misty beyond that – which is where the global context and NZD cycle come into consideration – we believe the RBNZ will probably have to keep going next year, with a mind to a 5.00% cash rate by end-2012 to lean against strong core-inflation pressure.
BNZ Chief Economist Tony Alexander's view:
Alexander said in his July 21 weekly overview after strong CPI data that 75 bps of tightening could now be expected before the end of the year.
Last week the March quarter rate of economic growth turned out to be higher than we were thinking. This week it was the turn of inflation with the cost of living for the average NZ household rising 1.0% during the June quarter whereas a 0.8% rise had been commonly expected. The rise takes the annual inflation rate to a 21 year high of 5.3% from 1.7% a year ago and means that if your after tax income has not risen at least that proportion over the past year you are poorer in real terms.

So does the high result and high levels for numerous underlying or core measures in the context of the Reserve Bank trying to keep inflation between 1% and 3% mean that interest rates are about to shoot upward? Not at the next cash rate review on July 28, but come September 15 we expect a rate rise of 0.25% with another to follow on October 27 then another on December 8. That will mean that come the end of this year the cash rate will have risen from the current 2.5% to 3.25% and one can reasonably assume floating mortgage rates will rise by the same amount.

After that they may take a pause to see how things pan out. But come early 2013 we expect the cash rate to be at 5%. But we repeat our warning that at this point in the interest rates cycle forecasters tend to under-predict the eventual peak and borrowers would do best to run their cash flow projections assuming a 6% cash rate come the end of 2013 – though our forecast is as noted above 5%.
Alexander said it was now worth looking at fixing if the right rate came along.
If our latest forecasts prove correct then one would do better fixing one year today at 5.95% than floating and paying an average rate of 6.4%. One would do better fixing two years at 6.45% than floating and paying an average 7.2%. One would do better fixing three years at 6.99% than floating and paying an average of 7.6%.

Personally speaking then, if I were a borrower, given the recent economic data and our new forecast for when monetary policy tightening starts, I would be inclined to fix a portion of my mortgage in either the two or three year area.
Alexander also said in his July Real Estate Overview on July 26 the housing market had entered a cyclical upturn.
New Zealand's housing market is trading at low levels with prices on average still some 4% below late-2007 peaks, construction near the lowest levels in four decades, and turnover less than half that seen in 2003/04. However there is a shortage of property now manifesting itself in agents reporting a sharp increase in difficulties finding new listings. This is happening at a time when more and more first home buyers are entering the market in an environment of increased discussion of the shortage, awareness of upward creep in rents and prices, and with interest rates set to come off their four decade lows.

While high levels of debt and low affordability by world standards will tend to constrain the extent of the housing upturn, barring a new global economic catastrophe, it appears that New Zealand's housing market has started a cyclical upturn.  
Westpac economists' view
Westpac economist Dominick Stephens said in his July 26 economic overview he expected the RBNZ would wait until December 8 before hiking, but that once it started it would raise the OCR towards 6% through 2013.
We see two factors that could leave the RBNZ cautious about earlier tightening. The first is that the New Zealand dollar has soared to new post-float highs (see below), which will directly help to contain inflation. Moreover, the RBNZ has a historical tendency to delay OCR hikes on the grounds that higher interest rates would cause a further unwelcome appreciation of the exchange rate. The second factor is the gathering clouds around the global economy.

Australian consumers' loss of confidence could hit the NZ tourism industry, and slower growth in China and India could hurt commodity export prices. Most importantly, financial markets' concern about the impact on European banks of the inevitable debt restructure in Greece (not to mention worries about the long-term solvency of bigger countries like Italy), has caused a squeeze in credit markets that is being felt worldwide. Credit default swap (CDS) spreads for the Australasian banks have risen to their highest level since May-June last year, when Greece first required a bailout. If CDS spreads remain high for long, bank funding costs could rise, leading to a de facto tightening independently of the RBNZ, as seen in 2009.

Barring any reversal in these two factors, we continue to forecast a December rate hike, later than the Sep-Oct start that the market is currently pricing in. The real point of difference in our forecasts remains in the extent of the tightening cycle. The RBNZ's most recent projections suggested an OCR peak of around 4.5% by early 2013; market interest rates, despite the more aggressive near-term profile, imply a peak of around 4%. We expect OCR hikes to continue through 2013, reaching a peak of 6%.
Stephens said in a media release on July 26 now was therefore the time to fix.
We don't expect the Reserve Bank to begin raising rates until later this year, but we do expect a reasonably large OCR cycle.

We are forecasting the OCR to rise by three percentage points over the course of two years. That's more than markets are currently pricing in, meaning now is a good time for borrowers to fix their interest rates
Here's Westpac Chief Economist Dominick Stephen's weekly video update that previews the Reserve Bank's July 28 statement.
Here is a summary of the various economists (and my) view on interest rates, house prices and fixing vs floating.
| | | | | |
| --- | --- | --- | --- | --- |
| Forecaster | First OCR move | Peak OCR | Fix or float? | House prices |
| RBNZ* | December quarter | 4.75% by Dec 2013 | Prefer you float | <2%  pa |
| ANZ National | December 8 | 4.5% | Float for now | Listless |
| ASB | December 8 by 25 bps | 4.5% by Nov 2012 | Float for short term | 3.5% pa |
| BNZ | September 15 by 25 bps | 5.0% by Dec 2012 | Fix for 2-3 years | n/a |
| Westpac | December 8 by 25 bps | 6.0% by Dec 2013 | Fix | n/a |
| Bernard Hickey | December 8 by 25 bps | 4.0% by Dec 2012 | Float | -5% |
* Forecasts implied from 90 day bill forecast track in June 9 Monetary Policy statement
(Updated July 27 with BNZ's Alexander with Real Estate market review. Updated July 26 with Westpac's call to fix now and that the OCR would rise to 6% by the end of 2013. Updaged July 25 with BNZ economist Craig Ebert's view and results of our spreadsheet on fixed vs floating. Updated July 20, July 21, July 22 with more details from RBNZ, charts, links to charts, ASB's view, ANZ National's view, BNZ's Toplis' view, BNZ Alexander's view, Westpac's view, Westpac video, Table of forecasts)