Elizabeth Davies sees the latest reality TV series as akin to Colosseum fighting, in which poor, desperate souls tear themselves and each other apart for our entertainment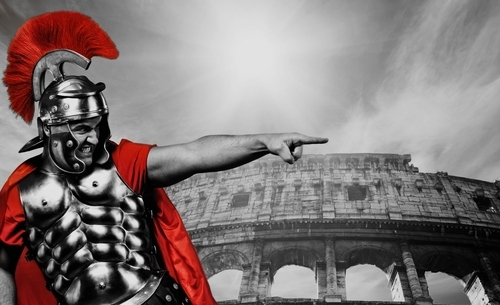 By Elizabeth Davies
I'm a sucker for reality TV.
I'd love to say that I choose to watch only educational and informative programming, and my favourite channels are National Geographic and BBC Knowledge but I'm not a good liar, and I'm pretty open about my sick fascination with MTV, the E channel and crime TV.
We all know reality TV is painfully shallow and dramatic. Personally I watch reality shows and embrace their drama because in a weird way it makes me feel better about my own life. I may be feeling a little bit lost, not eating as well as I should be and not doing enough exercise but at least I don't have two kids and a heroin habit – I'm a veritable success by reality TV standards.
I like reality TV in the same way that I enjoy people-watching on K Rd. It's like staring through a peep hole into other people's lives, a one way relationship that's simultaneously shocking and reassuring.
Last night New Zealand's latest contribution to the realm of reality TV debuted on channel One.
'Our First Home' is a new reality series based on Auckland's terrifying housing market. Parents use their own money to purchase a home for their adult children, then the older couple and younger couple band together to renovate this house using a budget and materials provided by sponsors. Teams then keep anything over the reserve price when they sell the house, and the team that makes the most wins an extra $100,000 to go towards their first home.
There are some obvious comparisons to other DIY reality shows like 'The Block' and 'Mitre 10 dream home'. Of course producers quickly point out that this show is completely different as it's about family and there are far fewer rules. Teams can spend as much of their own money as they are willing, they can buy in any area of Auckland, change what they like and choose to take or leave advice. The houses teams purchase are genuine properties for sale on the open market so teams are also having to compete with the general public to buy the house in the first place.
The whole show has this sick sense of Colosseum fighting. Let's watch these poor, desperate souls tear themselves and each other apart for our entertainment – don't pretend for a second this show's top priority is helping its participants.
I think we're supposed to view this show as a more realistic representation of the home renovation format. They're right, it is more realistic. You're only able to participate if you have parents who are willing and able to pay your initial mortgage. The more money you have to spend on your initial property purchase, the better the area you can purchase, and the more likely your renovation/sale will be profitable. Not to mention one member of the team must be a qualified builder as this is the only way you can save enough money on renovations to make the whole process financially viable.
Families will tear each other apart, tears will be shed, taste will be questioned and relationships will be threatened – sounds pretty realistic to me.
How bad has our housing market become that one of TV's main ways of entertaining us is allowing us to share in the misery and desperation of those trying to scramble onto the first rung of the property ladder? Misery loves company, and this new reality TV show is, perhaps unintentionally, holding a mirror up to our generation and saying: "This is your reality, are you still entertained?"'
--------------------------------------------
Elizabeth Davies is a graduate of the Auckland University of Technology post graduate journalism course. She writes a weekly article for interest.co.nz on money matters and financial struggles from a young person's perspective.