Roger J Kerr says those that think inflation is dead are looking backwards, not forwards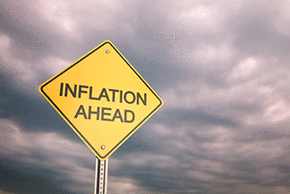 By Roger J Kerr
Two weeks ago local economic commentators were backing the "sure bet" that the RBNZ would cut the official OCR interest rate another four of five times to well below 2.50%.
Today they are not so certain, following the RBNZ's OCR review on 23 July and Governor Wheeler's speech in Tauranga last Thursday.
The Governor correctly hosed-down expectations that they will slash interest rates to as low as 2.0%.
Forward pricing has adjusted as the markets realise that annual inflation over the next six to nine months could potentially increase rapidly from the current 0.4% to above 2.0%. A lower dollar currency value and last year's petrol price decreases dropping out of the annual numbers are behind the sharp reversal in the CPI.
Already construction materials that are imported are shooting up in price and houses sold off the plans by developers are exercising clauses to raise the selling price on the unsuspecting buyers.
Those that think inflation is dead are looking backwards, not forwards.
The previous comfort that short-term interest rates in New Zealand were going down and staying down for a considerable period is suddenly being eroded away as the reality of the lower dollar and high capacity utilisation start to increase prices across the economy.
Countering the aforementioned upwards price pressures in the economy is the continuing advancement of technology that leads to lower prices for many products and services. Instead of paying $85 for a traditional taxi ride from Auckland Airport to the CBD, savvy travellers now pay $50 utilising Uber. Most commodity prices have reduced over the last six months, however I do not think you will see sawn timber and steel beam cost for your new house coming down as a result anytime soon. Other prices that are on the increase include the normal perennials such as local government rates, up a staggering 8% in Auckland.
However, do not expect the local moneymarket to react to the changing inflation environment until the reality is staring them in the face in the form of actual CPI results coming out above consensus forecasts. 
---
To subscribe to our daily Currency Rate Sheet email, enter your email address here.
Roger J Kerr is a partner at PwC. He specialises in fixed interest securities and is a commentator on economics and markets. More commentary and useful information on fixed interest investing can be found at rogeradvice.com