Gareth Vaughan on the milk powder paradox, a Chinese farmer's big sharemarket loss, Ambrose out of his bunker, things going wrong for a well intentioned boss & more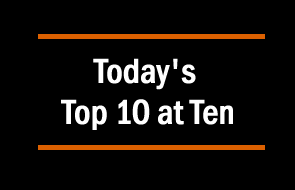 Today's "guest" Top 10 is by interest.co.nz's Gareth Vaughan, his first one.
As always, we welcome your additions in the comment stream below or via email to david.chaston@interest.co.nz.
And if you're interested in contributing the occasional Top 10 yourself, contact gareth.vaughan@interest.co.nz.
See all previous Top 10s here.
1) The milk powder paradox?
Some readers may remember the book by ex-pat New Zealander Michael Parker that we promoted on interest.co.nz four years ago. It was called The Pine Tree Paradox; why creating the New Zealand we all dream of requires a great university. Here's a video interview I did with Parker in 2011.
Parker's key argument was that exporting wasn't going to make New Zealand rich. His prime example was pine trees.
"You can grow a pine tree in New Zealand seven times faster than anywhere else in the world and that feels like the kind of competitive advantage that should make us rich, it should make us the Saudi Arabia of timber," says Parker.

"Instead what happens is that if you're a forestry company in Canada or the United States, Scandinavia or Russia even, and you're facing this disadvantage in terms of growth rates, you simply plant more trees."
Developments in the global dairy sector over recent months have reminded me of Parker's point about pine trees. Is New Zealand now suffering the same experience with milk? There's a glut of supply with increased competition from countries that, whilst perhaps not as efficient at producing milk and dairy products as New Zealand, have much greater scale than us.
Here's a Canadian take from The Globe and Mail as the latest TPP talks broke down with dairy, inevitably, one of the key sticking points.
Advocates of opening our dairy market to global competition insist it would be a boon to the most efficient farmers and processors, allowing them to grow by exporting their products internationally. But that belies the painful fate that would likely await the vast majority of Canada's 12,000 dairy farms. Having been sheltered from competition for so long, the relentless demands for lower costs and higher productivity would overwhelm most family-run dairy farms.

Those demands are only growing fiercer. The European Union's move earlier this year to abolish milk quotas is expected to lead to a surge in production in countries with the most efficient dairy sectors, particularly the Netherlands, Denmark and Ireland. They are aiming to take on New Zealand in the Chinese market and will push for wider access to Canada's dairy market than the tiny amount they stand to get in the pending Canada-Europe free-trade agreement.

Then there's the United States, where industrial-sized dairy farms with more than 10,000 cows are not uncommon. (The average Canadian dairy farm has 77 cows.) At the TPP talks, the United States is pushing harder than any other country for access to the Canadian dairy market.

New Zealand's dairy sector rode the Chinese boom until growth there flinched. China now has big stockpiles of whole-milk powder, New Zealand's main export, leading most analysts to predict that low global milk prices (and a weaker Kiwi economy) will be around for a while.
2) How a Chinese farmer lost it all to the stockmarket.
Some of the stories filtering out from the big recent falls in the Chinese sharemarkets bring to mind comparable tales from 1980s New Zealand, and the post 1929 crash United States.
There's money to be made and everyone wants a slice of the action. But things don't always end well.
Here's the sad tale of farmer Yang Cheng, courtesy of the CNBC video below. The initial lack of diversification in Yang's investing was certainly a concerning start.
Yang put his savings of US$164,000 in the bull market and invested his relatives money too. He bet it all on one stock, a local mining company.
And then, CNBC reporter Eunice Yoon says, Yang took some bad advice, which "doomed him."
What doomed him was margin trading. His brokerage convinced him  to try it. He borrowed US$1 million, more than five times his portfolio. When the market hit a low point in early July his brokerage forced him to liquidate. In an ironic twist he now owes roughly the same amount he originally invested.
A tearful Yang says;
I have ruined everyone in my family.
3) "Happy New Year, good health and ceaseless wealth."
On the subject of Chinese investors losing money, I've recently written two stories about Euro Forex, which appears to have been a major international financial scam run through British companies registered on the New Zealand Financial Service Providers Register. The stories are here and here. Most of the victims are apparently Chinese with one telling me they haven't been able to access their money for two years now.
My second Euro FX story featured quotes from, and links to, three videos of speeches by CEO David Byrne. In the first one he says a new account Euro FX is launching will enable clients to "experience forex trading for themselves." He signs off by wishing the audience; "Happy New Year, good health and ceaseless wealth."
The video below shows off London's Heron Tower, home of a "representation office" described as "one of the proudest achievements of the Euro FX brand to date." Euro FX's office was located on the same floor as Capital World Markets, which was raided by the police earlier this year with 13 arrests made on suspicion of fraud by false representation and money laundering.
One thing I've noticed in all the Euro FX videos I've watched is there's scant detail on what the company actually does. And something doesn't seem quite right about the guy presenting this video... 
4) Ambrose comes out of his bunker.
Ambrose Evans-Pritchard, possessor of a very English public schoolboy sounding name, has featured regularly in our Top 10s over the years. Always interesting and entertaining, he often paints a very gloomy picture of the global economy. To be fair to him there has been plenty of material to work with on this front in recent years given he's based in Europe.
This week, however, he was sounding almost optimistic, albeit perhaps only for the short to medium term.
In Europe, the monetary kindling wood of recovery is clearly catching fire. Spain is growing at its fastest pace since the post-Lehman crisis. So is Ireland.

The triple effects of quantitative easing by the European Central Bank, a 12pc fall in the trade-weighted index of the euro in 15 months and the fall in Brent crude prices from $110 to $50 have together lifted Euroland out of its six-year depression.
And;
The chances are that the growth scare of 2015 will prove to be a false alarm, much like the nasty episodes of 1987 and 1998 when market tantrums – frightening at the time – turned out to be innocuous. The cycle had another two years' life both times.
On China;
It is not a return to the manic uber-stimulus of the boom years, but it is unlikely that China will spiral deeper into its slump over coming months. The Communist Party controls the quantity of credit through the state-controlled banks, and it is using that lever to pump-prime the economy.
5) Greece is, however, still between a rock and a very hard place.
Despite Ambrose pointing to some encouraging signs elsewhere in Europe, things in Greece remain grim. I have relatives there and here's what one of them wrote in a recent email to my mother;
You say you find it hard to understand what is going on in Greece - you should try living here! We box on as best we can but (there are) still limits on how much we can take out of the bank. They have put up GST to 23% but it hasn't really started to bite yet. It's August and most people are on holiday - wait till they all come back and they all have to face higher prices on less money. 
And one of Ambrose's colleagues at The Telegraph, Szu Ping Chan, had an interesting article on the extent of Greece's debt woes, based on analysis from the National Institute of Economic and Social Research (NIESR).
By the end of 2016, the economy is forecast to be 30pc smaller than at its peak in 2007 and 7pc smaller than before it joined the euro in 2001.

"We don't see Greece getting back to the level it was when it joined the euro in 2001, let alone anywhere near where it was before this crisis struck, so this is a prolonged and severe depression for Greece," said Jack Meaning, research fellow at NIESR.

Economists said Greece's creditors would need to write-off or restructure €95bn of its €320bn debt pile, or around 55pc of gross domestic product (GDP), in order to reduce its debt stock to around 130pc of GDP, from a projection of 186.9pc this year.

NIESR said this would make an International Monetary Fund (IMF) debt target of 120pc of GDP by 2020 - which it considers to be the maximum sustainable level - "at least possible."
6) A global oil glut has tanked prices and cut profits—so why won't Shell give up on the north? 
So asks an indepth Bloomberg article.
...on July 30, Shell's chief executive officer, Ben Van Beurden, announced that as a result of $50-a-barrel oil, a 55 percent decline since last year, the company's profit fell by a third in the second quarter. Expecting prices to "remain low for some time," Van Beurden announced plans to eliminate 6,500 jobs, part of a broader contraction in a reeling industry. Even against this challenging economic backdrop, Shell won't postpone or downsize its Arctic dreams. The offshore Alaska field, Van Beurden said, "has the potential to be multiple times larger than the largest prospects in the U.S. Gulf of Mexico, so it's huge."

This raises the question of why Shell is doubling down on the Arctic amid a worldwide supply glut, and at the same time that many politicians are vowing to address global warming. Among the major oil companies, it stands out for its frank discussion of the threat posed by its business to the world's climate. Its top executives have even professed a desire to rethink fossil fuels and move toward renewable energy sources. And yet it's assuming immense operational risks to drill in the Arctic.

Shell executives don't deny the apparent contradiction. "We do believe in climate change," says Pickard. Shell's Scenarios group, an in-house think tank that management points to as an emblem of its open-mindedness, has done extensive work undergirding the company's support for government policies encouraging development of renewable energy sources, she says. But the Scenarios research also justifies aggressive exploration for more crude. With the global population rising from 7 billion to more than 9 billion by 2050 and total energy demand nearly doubling, "hydrocarbons are going to be needed for an awfully long time," Pickard says. "That's where Alaska fits into the picture." 
And here's Shell's intimidating sounding top executive for the Arctic, Ann Pickard, effectively saying the Arctic exploration is a bet on oil prices recovering, and other companies will follow if things go well for Shell.
Pickard acknowledges that if 2030 oil prices are no higher than today's, all the effort will have been for naught. If prices are 40 percent higher, or $70 a barrel, Chukchi oil would be "competitive," she says. At $110, which the company sees as a realistic possibility, it would be a smashing success. The vicissitudes of petroleum pricing aren't Pickard's concern right now. A Norwegian oil regulator she's friendly with reminded her recently that if Shell makes progress, other companies and nations will be emboldened to try the Arctic. "A lot's riding on your performance," the Norwegian told her. "The world's watching you."
7) An interesting test case.
Law firm Chapman Tripp has issued an interesting brief counsel on the civil proceedings taken by the Financial Markets Authority against Milford Asset Management portfolio manager Mark Warminger. The interest, Chapman Tripp's lawyers say, lies in trying to establish improper behaviour in the thin and highly responsive New Zealand sharemarket.
The FMA is seeking pecuniary penalties against Warminger for trading carried out while employed by Milford between December 2013 and August 2014. Warminger's lawyer, Marc Corlett, says Warminger denies that he manipulated any market and will defend the case. 
Chapman Tripp points out the FMA allegations are in three categories: 1) placing small trades directly on market in one direction, followed by large off-market trades in the opposite direction, 2) trading that manipulates the closing price, and 3) trading conducted in order to set the price rather than for a genuine commercial purpose.
The FMA made the choice to take a civil rather than a criminal action. Maximum criminal sanctions are imprisonment for five years and/or a fine of $300,000 for an individual, $1 million for a body corporate. Civil proceedings, which can be launched by either the FMA or by investors, can yield compensation orders and a penalty of (i) three times any gains made, (ii) the consideration for the transaction or (iii) $1 million, whichever is the greater.

The principal advantage to the FMA of civil proceedings in this instance is that they require a lower standard of proof – on balance of probabilities rather than beyond reasonable doubt. There is also no requirement to prove that Mr Warminger actually knew his trading would have the effect of creating a false or misleading appearance. It is sufficient to prove that he ought reasonably to have known this.

And a civil claim is open to settlement – whether a banning order or a fine – whereas a criminal prosecution will deliver a win or a loss. If the FMA proves its case, it may open the way potentially for third parties to sue Milford and/or Mr Warminger. But the fact that the FMA has settled with Milford means that the claimants will be on their own in taking action for compensation against Milford. The FMA cannot join them.
The problem for the FMA in proving its case could be New Zealand's thin trading volumes.
The novelty – and the challenge for the FMA – lies in the peculiarities of the New Zealand market, the relative thinness of which means that entirely legitimate trades can look like market manipulation.

Fund managers with a large position in a small company who legitimately decide to off-load their holding can move that company's share price. Similarly, on some stocks, a broker might be the only trader in the stock on a particular day.
8) Here comes Samsung Pay.
Much has been made of Apple's push into the world of iPhone payments through Apple Pay, which is yet to reach New Zealand. And now Apple's great South Korean smartphone rival, Samsung, is preparing to launch Samsung Pay. Here's Alphr with more.
As with Apple Pay, Samsung's payment service uses the MasterCard Digital Enablement Service (MDES) to carry out contactless payments, but it also features an alternative method of transaction.

 Earlier this year Samsung bought LoopPay for an alleged $250 million (£138 million), and the American startup's Magnetic Secure Transmission (MST) will play an integral part in the success – or failure – of Samsung Pay.

MST technology works by emulating the process of swiping a standard debit or credit card through a payment terminal. By directly beaming the same magnetic information found on traditional debit and credit cards to normal payment machines, Samsung Pay is able to "trick" them into thinking they're reading a card.

As a result, Samsung's service will be compatible with more merchants than Apple Pay – particularly in the US, which hasn't been as fast to implement contactless payment technology.
9) US$70k minimum annual salaries back fire on the boss.
Earlier this year I saw a story on TV of how Dan Price, CEO of US firm Gravity Payments, had decided to introduce a US$70,000-a-year minimum salary, up from US$48,000 previously, for his staff. Price even cut his own US$1 million annual salary to US$70,000. Why did he do this? Apparently because of a study on happiness he'd read that said emotional well-being rises with income, but there's no progress beyond US$75,000 per year.
Naturally Price was popular with his staff. But it seems things haven't panned out too well for Price himself, as MarketWatch reports.
But since then he has faced some harsh consequences, and tens of thousands of emails. "I'm renting out my house right now to try to make ends meet myself," he told the New York Times in this video.

"I haven't made this little amount of money since I was in my early 20s. It helps that I'm 31 and don't have any kids, too, and no girlfriend, no girlfriend to tell me I'm crazy." One writer told him: "Dan, this is actually a recipe for disaster," and three clients of Gravity told him that he made their job tougher.

Shortly after his announcement in April, he was served with a lawsuit by Lucas Price, his brother, and co-founder and minority shareholder in Gravity Payments, alleging that Dan Price breached his rights as a minority shareholder. (Lawyers for both parties did not respond to requests for comment.)
10) Tackling California's water woes.
The four places I've lived - Auckland, Wellington, London and southern Japan, are seldom short of rain for too long. So it's with some lack of comprehension that I look at seriously dry places and their struggles with water. One such place is California. 
This Boing Boing article looks at which water technology could save California from its drought. The two major technologies in development and "begging for attention from innovators" are desalination and water reclamation. Both, Boing Boing says, involve separating freshwater from "the things that make it unsuitable for human use" such as salts, pollutants and human waste.
Desalination is typically thought of as the refinement of saltwater by plants built in coastal areas, whereas reclamation deals with purifying water that was fouled by human or industrial use. The two main issues affecting their use and implementation are cost and environmental concerns.

When it comes to desalination, those plants that are in existence use a well-established, yet fairly old process, called reverse osmosis, which forces water across a permeable filtration membrane. The lion's share of the cost lies in the energy, usually supplied in the form of expensive electricity from the power grid, required to move the water across that membrane. Additionally, membranes get dirty, require cleaning with chemicals, and need replacing on a regular basis, which adds substantially to the cost of running the plants.  

Then there is the salty, chemical-filled brine after-product of desalination to consider. Where does it go? Often it is pumped right back into the coastal ecosystem—where it can increase local salt concentrations far beyond the normal range—but there are other brine disposal options available that depend on specifics of a plant's location. Regulations are also in place to ascertain that any proposed desalination plant properly assesses effects on marine life and the environment.

In California's more recent history, investment in desalination plants has faced an uphill battle resulting from generally low water costs compared to the cost of water provided by such a facility, periodic booms in water supply, and legitimate concerns over environmental impacts.