Beyond the short-term political posturing, the idea of deciding a 'right size' for this country's population is a sound and overdue strategy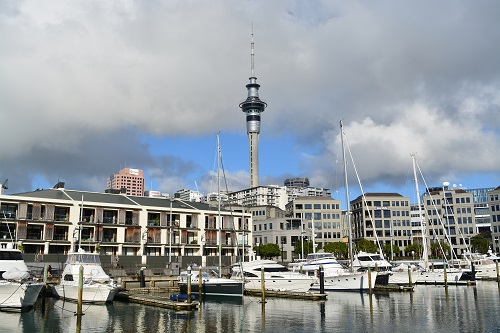 By David Hargreaves
Why have we always accepted that immigration is something that just happens and population growth is something that just happens?
And yes while child birth is something that very much 'just happens' (wink, wink, snigger, snigger) this doesn't just mean we should accept whatever we are dealt with when it comes to population size and rates of growth.
The latest population projections released by Statistics New Zealand have come at an extraordinarily timely moment, with immigration a hot issue and more and more people posing the question as to what sort of size population is desirable for New Zealand and, as a corollary to that, what sort of size our largest city Auckland should be.
I'm not sure whether it's a good thing or not that our politicians have suddenly discovered population as an issue, but if we do at least start having a debate on the subject then good. What we don't want is typical political short-term, poll-driven, populist moves that end up getting chopped and changed around in perpetuity.
The fact is in a small country like New Zealand the size of the population matters. If the population stagnates or even shrinks there's a chance we just gradually sink into the Pacific. Grow the population aggressively and the country becomes quite different. Better? Worse?
What do we want?
So, it is beyond time there was some sort of proper attempt made at deciding what size of population we want. Obviously we can't set a target to within a small range of people and expect to exactly meet that. Birth rates will fluctuate. Outbound migration rates of Kiwis will fluctuate.
But we can control the inbound levels of migration and that's obviously the real hot potato at the moment.
In reading the best efforts of Stats NZ to compile population projections for the next 50 years it was really brought home to me what an inexact science the good stats people are trying to apply - without being able to know things such as future government policy on migration and without such a thing as an official population target.
Based on the all the current variables, Stats NZ gives projections by 2068 of a population between 5.3 million and 7.9 million in 2068. That's quite a range.
Perhaps most intriguingly, by just 2025, given net migration of 30,000 a year (which is well above historic averages but, crucially, less than half the CURRENT rate), our population could be 5.5 million - up from around 4.7 million now. That's a 17% increase in less than 10 years.
Just letting it happen
Is that something as a country we can just 'let' happen without proper planning? But I fear that given recent history, and the way this Government has cynically used immigration as a short-term kick-starter for the economy, that this is exactly what could happen if it's allowed. And the other thing is where would that 17% go? I'm just guessing, but I would say not spread around the country. Look out Auckland. Maybe those 'inflated' Auckland house prices won't look that way at all in future.
Given that our small economy is so sensitive to even modest changes in the size of the population, we really need to properly have this debate now. Just about any decision you choose to think of in terms of planning for the future and that includes building houses and roads, businesses setting up, you name it, comes back to how many people will be around.
The other point is we need to achieve some sort of political consensus. And, yes, that's when it starts to look like mission implausible. Our very short (three-year) electoral cycle lends itself to knee-jerk, policy-on-the-hoof, vote-grabbing political tactics.
One aside I would make is that perhaps it is high time we looked at a longer - I would suggest four-year - electoral cycle. The constant disruptive changing and then changing again that we see around policies would be calmed somewhat by such a change.
Can we agree?
Aside from the politicians, I suspect finding agreement among the people of New Zealand ourselves would be pretty tough. Based on the comments we get on this website, there's a least a reasonable number of people out there who would not like to see the population grow at all.
At the heart of it really is what sort of country do we want? Do we want a very large national park with a few cities sprinkled here and there (as arguably we've got now). Or do we want a more bustling economy, with a bigger population base to drive a 'new' economy less reliant on exports? Is there a middle ground?
I don't have any particular preference.
But I do think that the country needs to be making that decision now. What sort of country and economy is this going to be? And how are we going to target the population to fit that?
I could be being very unkind, but it seems we've ended up with a population of 4.7 million and an Auckland population of 1.5 million, totally by accident. It all just happened.
With the global population never more mobile than it is now, such leaving of things to chance won't wash in future.
Stay-at-home Kiwis
The other key point to make I think is that there probably remains an assumption within New Zealand that at some stage soon the large-scale migration of Kiwis that has always been a historic fact will resume.
I'm not so sure. The grass is always going to be greener for some people. But the 'tyranny of distance' that used to apply to this country as being further away from everything than anything else doesn't have the same relevance in the interconnected modern world. Your physical geographic location has never been so unimportant. The Peter Jacksons and Lordes would in bygone days have had to physically relocate themselves from New Zealand in order to 'make it'. Now you don't have to.
So, if we do accept that more Kiwis staying at home might not just be a passing fancy, this too needs to be thoroughly incorporated into our view of the ideal population size. And how we get there.
Talking about population size and the size you want the population to be might seem esoteric, trivial. But for a small country like this, where the size of the population will make such a difference in future, this is something we really need to be discussing now - and making some firm decisions about, decisions that can't then easily be overturned at the whims of fly-by-night politicians.