David Chaston explains why both borrowers and savers should be keeping a close eye on wholesale interest rate benchmarks. He suspects a turning point is upon us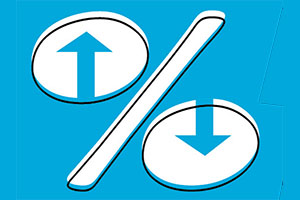 By David Chaston
The rise and rise of long term benchmark interest rates in the past few days should have local borrowers - and savers - keeping an eye on them.
Since the start of October, one year New Zealand swap rates have risen +2 basis points (bps), but the four and five year rates have risen +25 bps. For ten years the rise is +33 bps.
Over the same time frame, the United States Treasury (UST) 1 year yield has risen +7 bps, the UST 5 year yield has risen +20 bps, and the ten year yield has risen +25 bps.
However, over a much longer timeframe we have seen compression of the differential between the two benchmarks.
The rises in the past few days are not large in the perspective of the past year or longer. But after a longish period of stability at low levels, the risk is that we are at a turning point.
A fundamental turn higher will affect many groups.
Bond investors may face increased risks of capital losses.
Investors in dividend yield equities face risks of stock prices falling sharply.
Other asset investors (read real estate, especially commercial real estate) face painful reductions in property valuations if yield rises are sustained. The impact may flow through to these asset classes slowly, but there will be no avoiding them.
Borrowers will see fixed mortgage rate offers pushed higher, especially for terms three years and longer.
Group rethink
Monetary authorities worldwide seem to have had a group rethink about the benefits and efficacy of low rates; these policy makers are finding low interest rate strategies hard to justify.
Universally, they are concerned about the consequential run-up in asset prices. Led by the Fed, and encouraged by the Bank of Japan, higher long term rates are on their way, and the pain that will cause some investors will be seen as a necessary adjustment in the drive to get the cost of money back to more normal levels.
Just how far this process has weighted on New Zealand wholesale rates can be seen in this chart: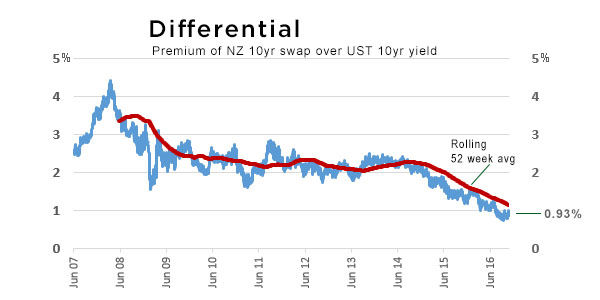 The RBNZ has clearly signalled that it will cut rates on November 10, maybe for the last time in this credit cycle. That signal is a sop to local commodity producers to try and hold the NZ dollar from appreciating. But since the last no-change review on September 22, the Trade Weighted Index (TWI) five has actually retreated slightly from 76.4 to 75.5, and the NZ dollar has fallen from US73.4 cents to US71.1c.
The price of money is too low
In their first opportunity after the US presidential election, the Fed will almost certainly raise its policy rate by another 25 bps, and markets have priced almost all this change in now. They are starting to price in the subsequent 2017 changes.
So why the RBNZ needs to cut baffles me, especially as it will just pump up house prices. The price of money is too low in New Zealand now and making it lower embellishes the bad behaviour of investors. New Zealand investors react in the same way investors do in any other market when money is cheap. We only have a NZ$1 trillion housing market because of this distortion.
For most of the post-Global Financial Crisis (GFC) period, the differential between benchmark US and NZ 10yr yields has been 2.25%. Prior to the GFC, the differential was about 2.5%. The slip to under 1.0% is unusual and I think it will revert higher, just at the time the US starts getting serious about raising rates. Which means local borrowers may have two factors weighing against them.
And then, factor in the tighter loan-to-value ratio (LVR) rules, plus the coming debt-to-income ratio rules driven by the RBNZ. Plus the Australian Prudential Regulation Authority rules imposed on Aussie banks to test affordability at a 7% interest rate (which the RBNZ seems happy to allow to apply in New Zealand). Then there is a substantial level of wholesale weight pushing on both mortgage demand and interest rates.
It seems unlikely there will be other countervailing factors that can keep our rates artificially low for much longer. Banks say they are already feeling the margin pressure. Their first reaction will be to test borrowers with rising rate offers. If their rivals follow, there will be no place for borrowers to hide.