Cameron Preston crunches the numbers to explore whether it is Tower or NZ's insurance system that is 'broken'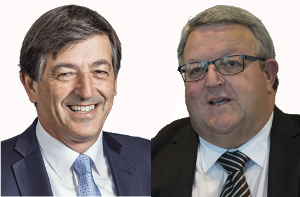 By Cameron Preston*

Insurance seems like a simple product: a promise.
Homeowners pay premiums in return for a promise that they will be compensated in case of a disaster.
In order to keep their side of the promise, insurers need to have sufficient financial resources available.
The recent hypocritical finger pointing between the minister responsible for our public insurer, EQC, and the chairperson of our largest NZ owned private insurer, Tower, boils down to one simple issue: neither had the financial resources to keep their promise.
From Tower's perspective the problem started simply enough. It funded its promise via reinsurance, but did not purchase enough.
So it had to fall back on its capital instead.
In a memo dated 17 March 2011 authored by the RBNZ's Head of Prudential Supervision, Toby Fiennes to then Minister English, Fiennes noted that Tower "might have exceeded the top level of catastrophe cover". However he went on to observe:
"Tower group had net assets of $440m…. needed to support the other 3 Tower insurers. At the recent AGM, Tower disclosed they are considering a return of some capital. We therefore expect they would be able to meet any shortfall from wider group resources."
As it transpired Tower cosolidated its three insurers and returned some capital, but instead of quickly honouring its promises to its policyholders and returning the capital to them, Tower gave it back to its shareholders instead.
Between 2011 and 2016, Tower Group returned capital of $327mln to its shareholders in the form of dividends and share buy backs: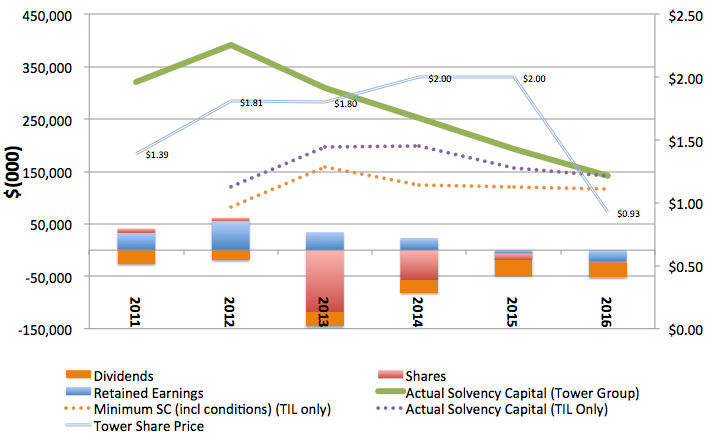 In 2013 the Board excited its shareholders with catch phrases like "delivering value to shareholders" by operating an "efficient capital structure while delivering strong returns", meanwhile its patient policyholders were completely unaware that poor corporate governance was steering their insurer towards the situation Tower face today.
So who was entitled to any 'excess' capital first? the policyholder or the shareholder?
Did the policyholder take a bigger risk when buying their promise from Tower than a shareholder did when buying theirs?
Tower obfuscate by indicating that the policyholder and the shareholder would have both got their respective promises had they had a more timely view and access to their claim exposure from EQC and that the Board had acted "prudently" in the circumstances, which is  akin to "the dog ate my homework".
However EQC and its Minister are no better.
Sir Roger Douglas noted in EQC's first corporatised Annual Report in 1988 that EQC had now become "an independent Corporation controlling its own finances". In fact the opposite was the case, and the government began draining EQC of its premium income and investment capital at 'arms length', by diverting it into government stock and taking massive dividends and lieu payments.
Between 1988 and 1996 $1.5bln of premium income was extracted from EQC under the guise of a 'reinsurance fees, payemts in lieu of taxes' and straight dividends. Worst still EQC's remaining $6bln "Natural Disaster Fund" was almost inclusively diverted to be invested in government stock.
That cash was spent on more pressing priorities such as crime prevention, healthcare, bigger ministerial limos and alike. So when EQC went to its safe in 2010, all it found were some old IOU's and a Minister that wanted to create a 'repair programme' to slow its capital return down. Politicians seem to treasure EQC's premium income stream, capital and expense control – it is all  useful to them.
The point being there is always someone who wants to use your capital elsewhere. Warren Buffet calls it 'float' and he has made a lot of money from it.
The Board and shareholders of Tower failed badly in their capital management, and blaming the government who is equally guilty of its own capital management games with our public insurer is both hypocritical and peeing into the proverbial.
Insurance isn't just a promise, arguably the product is actually an effective and enduring way of safeguarding sufficient financial resources required to fulfil that promise in a timely fashion.
From history this seems to boil down to both regulating the promise and protecting the resources from the from the wandering hands, interests and aspirations of politicians, boards and shareholders alike.
While I can't offer any one great solution, I know the prudential supervisor of the private sector is ineffective and often too late to the problem, depending  too much on insurers own 'appointed actuaries' (as opposed to 'independent actuaries').
Meanwhile our public insurer is at the complete mercy of political interests, both before and during a catastrophe, only made worse by the thin veneer of an 'independent Board of Commissioners'.
In my view the model is more 'broken' than is currently discussed, and addressing these fundamental issues should underpin, if you excuse the pun, any review of the EQC Act or wider catastrophe insurance model in New Zealand.
As we approach the 6th anniversary of the Christchurch Earthquake, there are still many thousands of policyholders that are still asking themselves the question: are we still on a promise, or are we just getting screwed?
---
*Cameron Preston is a Christchurch accountant with outstanding quake claims.