National is gearing up to announce a big Auckland housing plan. It has been dubbed 'KiwiBuild-lite', but even that implies too wide a gap from Labour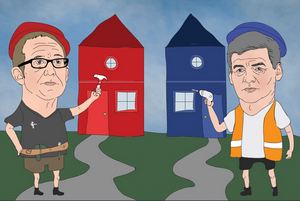 By Alex Tarrant
They've been dubbed KiwiBuild and KiwiBuild-lite.
But even that description of the difference between Labour's and National's state-led private house building plans might imply the gap is too wide.
Particularly when it comes to Auckland.
New Zealand's two main parties are each promising to build tens of thousands of houses on Crown land in Auckland to sell into the private 'affordable' market over the next decade.
Both will use the threat of government building as leverage to try and force private land bankers to get a move on with residential development.
And both are proposing at least some level of central government funding for Auckland housing infrastructure, be it roads, water or sewerage.
So what difference is there to vote for? It's all looking pretty purple when it comes to government-led Auckland private housing supply efforts.
National set to announce big Auckland housing plan
Prime Minister Bill English in February welcomed approval of Auckland's Unitary Plan. He said it would allow for an increase in the amount of housing on Crown land in the city from 27,000 to 69,000 over the next decade.
He even outlined that extra building should be expected in Avondale, Mt Roskill and South Auckland alongside existing projects in Hobsonville, Northcote and Tamaki.
Further details have been short on the ground. But National is gearing up for a big Auckland housing announcement in the next month or so – potentially ahead of the 25 May Budget. We'll get a better idea of where these houses will be, when they'll be there, and how you'll be able to get to them.
It is an election year. A lot will be said of policy differences between Left and Right on issues such as immigration, tax settings and expected interest rate tracks (on Interest.co.nz at least). Let's park demand to one side – perhaps until we get Labour's immigration policy – and focus on supply.
A brief overview:
Labour is promising to build half of its 100,000 house KiwiBuild target in Auckland over the next ten years.
National is promising to increase the numbers of houses on Crown land in Auckland from 27,000 to 69,000, or "slightly more" than that, over the next ten years.
Labour says KiwiBuild is a 'counter-cyclical' policy. Government will fill gaps left by the private sector. Another way to interpret that is the policy can be used as leverage: the threat of mass-building on Crown land as an incentive to get private land owners moving ahead of the government.
National says competitive land markets are the key to addressing Auckland's housing problem and that government is a Very Large Auckland Landowner. As leverage, they will use the threat of mass-building on Crown land as an incentive to get private land owners moving ahead of the government.
If you don't, we will
The Crown has owned its land for a long time. Valuation movements (think potential falls) won't matter as much to the government as they might to private land bankers. The message from both National and Labour is: if you don't develop your land, we'll develop ours, and the value of yours will fall.
One response from land owners has been that they would develop but need to be able to connect to the Auckland Council infrastructure grid.
Both National and Labour have recognised a need for government intervention to help the Auckland Council sort this out.
Labour is proposing Treasury's Debt Management Office borrows funds at the central government level to pay for infrastructure such as new/improved transport links and three-waters. This will allow for development of greenfields land and more densification.
Targeted rates will allow for the borrowing to be repaid over the lifetime of the asset. Having the debt sit at central government level will mean the Auckland Council's balance sheet won't be overburdened.
National is offering funding to councils with its $1bn Housing Infrastructure Fund (HIF). We're still yet to hear which council plans will be blessed with the funding, but think of projects like the Penlink road in Auckland, or a couple of new bridges over to vacant land in Hamilton.
This will allow for development of greenfields land and more densification. Projects could be developed and refunded within Special Purpose Vehicles, so the Auckland Council's balance sheet won't be overburdened.
Now, $1bn isn't going to be enough. We will be seeing extra policy from National on this front. A starting point will be gentle pressure on making sure the Auckland Council has its priorities straight.
But if the HIF projects go to plan – let's say Penlink is funded and helps the future residential areas north of Auckland be developed quicker than expected – then these things will be all the rage. Targeted rates, anyone?
Where's the difference? Funding those houses
It all sounds very similar. More so, at least, than the traditional 'let the market sort itself out' versus 'government intervention is required'.
This isn't necessarily bad. But for those worried that we're going to have an ideology-free, centrist general election when it comes to the supply of private Auckland housing spurred on by the government, do not despair.
One difference that might just emerge regards how a National or Labour-led government will fund the tens of thousands of homes each is aiming to build.
Labour's KiwiBuild is set to get an initial $2bn government injection. This is expected to be recycled as houses are sold, and returned to the Crown when KiwiBuild is complete.
National is leaning more towards requiring and allowing Housing New Zealand to seek its own funding. Private sector funding for the building of houses on Crown land that will then be sold to the private sector.
The mantra is that borrowing at the government's risk-free rate should not be used to fund riskier asset classes such as property.
There has been plenty of debate at the top of government about this – including a look at whether there should at least be some central government funding kick-start for National's grand ambitions for Housing NZ.
But that could be the difference. We'll know soon enough.