Differences between National and Labour on housing starting to show through as Adams readies 'rest-of-NZ' announcement and Labour works on explaining KiwiBuild & demand-side plans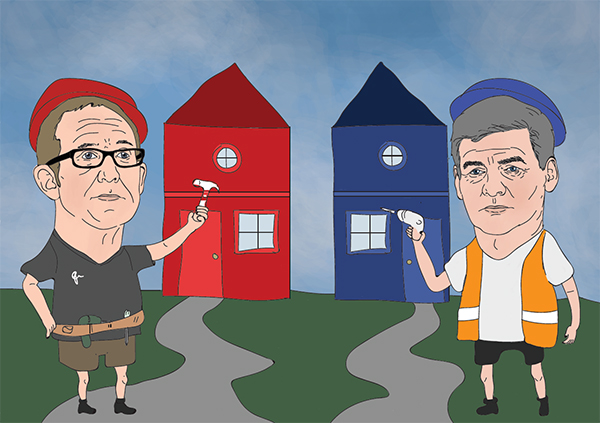 By Alex Tarrant
The differences between National's and Labour's housing policies are starting to show through.
A few weeks ago I wrote about the purple housing supply election Auckland was facing, as it appeared KiwiBuild would face off against KiwiBuild-lite.
National has now set out its stall, in respect to Auckland at least. It will soon be announcing 'housing plans' for the rest of the country. While this will largely focus again on social housing, my expectation is some could well follow the lines of Auckland by including 'market' and 'affordable' residences as well.
One thing we can be sure of now is the difference between National's approach and Labour's. National argues its plan is all government can do, given industry constraints. Labour is buoyed by suggestions KiwiBuild won't go far enough. Both now have defences against the others' criticisms.
Amy Adams may well be right that the government could go no further in Auckland due to construction industry constraints. If true, Labour will have great difficulty ramping up KiwiBuild during a first term.
National has attacked Labour on the part of KiwiBuild that envisages building on private land (see Phil Twyford's response to that below). The point fits well with Amy Adams' argument that the government only owns 5% of Auckland land and that its main priority should be social housing.
This showed through during Parliament's Social Services Select Committee Thursday. Twyford asked Adams why the Auckland Housing Plan (AHP) did not promise more than 20% of new-builds to price below the $650,000 'afffordable' cap, "given that the private market's only producing 5% of new builds that are 'affordable?'"
Adams reminded him 20% is a minimum. "It might be considerably more. But…to build a 100% strain of affordable homes involves a considerable subsidy to the market development potential, all of which…effectively comes back to then how many social houses we can fund," she said.
"What we're saying is, with the amount of land we own, me as Social Housing Minister thinking how I best meet the needs of social housing tenants, and how I best use the capital available, is to build a selection of social housing,…affordable housing to help with the transitions, and some market housing to make sure that the communities are vibrant and the project works financially."
Their conversation continued:
PT: So you're expecting the private market to deliver affordable housing. It's not your job. Do you think the private market's going to do it – the other 95% - is that what you're saying?
AA: Well if you're asking me if I think it is the government's job to provide every house that an Aucklander needs, no I don't think it's the government's job.
PT: Well if the private market's not going to do it, and the government's not going to do it, who will build affordable housing?
AA: Well, Mr Twyford the private market owns 95% of the residential land in Auckland so they're going to have to be a part of the solution.
PT: Are they going to build affordable housing?
AA: Well, that's why we're focussed so much as a government on freeing up land supply, because…
PT: Well they're not now building affordable housing, so what's going to change?
AA: What I'm saying is, I have responsibility for 5% of the land in Auckland. I'm talking about what the government is going to responsibly do with its 5%. And as the Minister for Social Housing, and the government's primary role in the housing market to provide for social housing tenants, that's what we're doing with our part of the land. And we think it is the right blend across that housing continuum.
Is KiwiBuild ambitious enough?
Meanwhile, Labour is holding fast to KiwiBuild. Yes, 100,000 homes nationwide, with 50,000 in Auckland, appears ambitious against National's plan. But there is now talk it is not ambitious enough.
Labour has been working on its response to National's criticism that KiwiBuild requires private land for a large part of the programme, versus the AHP, which focuses on the 5% of Auckland land the Crown owns. Phil Twyford offered up some thoughts to media in Parliament last week:
"Many of the KiwiBuild homes are going to be delivered in private developments, where a developer will come to us and say, 'we think 30% of the homes we're going to build could well meet the KiwiBuild price requirements.' Then we'll buy them off the plan, thereby de-risking and speeding up developments and guaranteeing a certain percentage of affordable homes."
The 30% is a 'for instance', but it does indicate Labour's desire for KiwiBuild to contribute a portion to residential building activity and for it to help encourage developers to think bigger by promising funding for part of a development.
"Bear in mind that what we're talking about doing [is], if we can increase the industry's output to, say, 40,000 [nationwide] homes a year, that's going to take us to what New Zealand was building in the mid-70s, when the population was one-third smaller than it is now," Twyford said.
That's a setting Labour wants people to remember. We are building about 30,000 houses annually now. KiwiBuild will seek to add 10,000 a year, with Labour also looking to build 1,000 state houses annually alongside that. There should be an amount of private building outside that.
To those worried it's not enough, Twyford said other supply and demand side measures need to be added to the equation. Labour is set to announce its immigration policy in Auckland on Monday.
"Alongside all of the other things that we're going to do, genuinely reforming the planning rules through a National Policy Statement under the RMA, a massive build programme of state housing, reforming the rental laws, banning foreign buyers, taxing speculators, closing the loophole for negative gearing, that's a big, big agenda."
What about house prices?
It could be argued such plans might also have a big, big impact on prices. We put that to Twyford last week.
"Governments don't control the market," he replied. "So, I'm not going to say that house prices won't come down, but what we're going to do is, make housing more affordable by building large, large numbers of affordable homes, and we're going to squeeze the speculation out of the market."
"We don't want to crash the market; we don't think that that would be [helpful]. We want to stabilise the market and we want housing to be more affordable. And we think that by rolling out the measures that are in our reform agenda we will do that," Twyford said.
"The thing to make really clear is, that we don't control house prices. We're not going to promise that they come down, we're not going to promise that they won't come down."
---
You can read all political parties' Election 2017 policies in our comprehensive database here.