Labour is now in a position of choice. The ball is in National's court to respond, perhaps with a lurch across the centre line, Alex Tarrant writes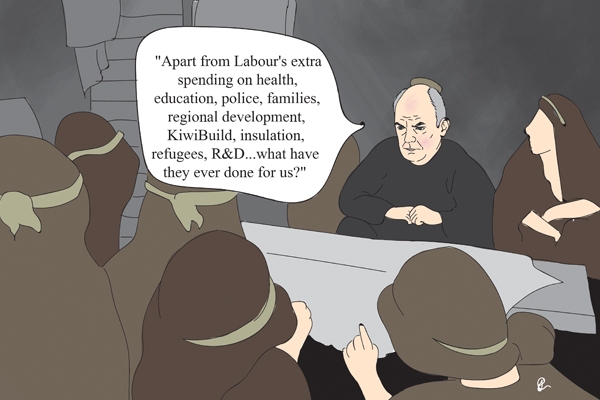 By Alex Tarrant
Labour has options. A two-party coalition with New Zealand First, or a trio with the Greens and Maori Party. This week's 1 News Colmar Brunton poll was what Jacinda Ardern has been hoping for.
Of course, a lot of water is still to flow under the bridge. National is still in with a shout if it can stop its numbers from falling – it can't afford any more weakness. Winston Peters' greatest chance of the most power now lies with New Zealand First and National being able to form a government together, so I'd expect to see attacks against Labour from his direction this next week as he strives to win back his Kingmaker slot.
Bill English and Steven Joyce are now in 'make-or-break' territory. How on earth do you respond to such a shift in sentiment? National front-loaded its campaign with the traditional announcements. Something about a hospital, boot camps, drugs & gangs, being hard on youth beneficiaries, tax cuts in a few years if we can continue to manage the economy well.
So, what's left for the next two weeks? I wouldn't be surprised to see a lurch across the centre line to see if it can grab back some of the urban middle class vote that Ardern has rounded up. Something along the education lines – secondary or tertiary - with Nikki Kaye involved, could fit the bill.
Wheeling out John Key to tell us how the prosperity we've scrimped and saved for these past nine years will be at risk if we vote an unknown into power also feels likely. "Helen's already out there supporting Ardern, and anyway, John was always planning to pop up," will invariably be the message from the National campaign (alternative thought: What signal does it give if he doesn't show?).
How did we get to this point?
Some people have likened Ardern's rise to David Lange's in 1984. Now, I wasn't around then. In terms of admiration for the Labour Party leader, I'm told the scenes are similar. But when it comes to groundswell of why voters are so keen to turn to Labour, it sounds like the times are slightly different. The feeling in 1984 was very much along the lines of "we've got to do anything we can to get Muldoon out," I'm told.
There doesn't seem to be the same drive this time. We're not hearing talk of English & co. having run the country into the ground along the lines of criticism of Muldoon. Quite the opposite, in fact – everyone, including Labour, seems to be congratulating English for his top-line economic management these past nine years.
So why the ground-swell to Labour? To me, it feels we must therefore have a policy undercurrent this election beneath the 'stardust'. Not a nitty-gritty details-led policy drive, but a recognition that Labour can not only be trusted with the purse strings, but that its health and education focus is the next step for a New Zealand government that survived the ravages of the recession.
Steven Joyce's attack on Labour's fiscals may have had the effect of keeping some Nats from jumping ship. But on all other accounts it has backfired. Even the secondary argument that Labour will have to run tight, 'near-zero' budgets for the next two years isn't being bought that much.
Yes, Steven, after the extra spending above Pre-election Economic and Fiscal Update (PREFU) projections on health, education, family and baby transfers, tertiary education, police, tax credits, paid parental leave, trains…you're right in pointing out that there will be less money for Labour to spend on other things. That's because money doesn't just grow on trees – as National was very keen to point out in 2011 and 2014. You have a pot of it available and it is government's job to decide what to prioritise.
It is a government's prerogative to decide on reallocating spending from certain areas to others when in charge. It is a government's prerogative to seek spending efficiencies. In fact, that's pretty much what the entire job entails.
Policy undercurrent
Why do I think there's a policy undercurrent? Watching National these last few weeks indicates they think Labour might just be on to something. English has been wheeling out Health Minister Jonathan Coleman – a previous rival for the top job - to a greater extent than people thought this campaign. Dunedin Hospital, cheaper GP visits, Canterbury mental health – National knows it has a fight on its hands in the health policy (spending) space.
Education, too. Nikki Kaye was prominent at National's campaign launch. She's been doing the rounds for the past year announcing a few millions here, a few millions there for school classroom upgrades. But this was taken to the next level during the election campaign with National's $50 million Whangarei Boys High announcement (a government announcement made with the campaign bus present).
If National is out there reinforcing to people that health and education are the two major policy issues this campaign, then voters invariably end up casting their minds to which of the two major parties is best at spending money in these areas. Try it yourself – the answer is Labour.
National's argument that it's not the amount you spend, but how well you target your spending, has some merit, and worked a treat during the recession era of deficits and zero budgets. But, isn't Bill English telling us constantly how successful the country has become once again? The public reaction seems to be that, if the money's there, why not spend it? Particularly if you're also able to talk about paying down debt in the same breath.
"I would like to not have to pay that 'voluntary' donation for my child's free education. I like the idea of cheaper GP visits and of health boards not being in deficit, I like the idea of shifting away from a government with a defensive spending mindset." This seems to be the thinking of the urban middle class that was so enamoured by John Key and Bill English during the tough times.
That thought has been growing for a year or two now, but when these voters turned to see what the alternative looked like, they saw Andrew Little – perhaps the most defensive man in Parliament by some measures. This only served to cement the view that there was little hope for 'blue-skies' change from the other major party.
There was no obvious reason to shift support to Labour. This led the older disaffected to Winston Peters, and the younger disaffected to the Greens and The Opportunities Party. So, it is no surprise that these three minor parties are struggling somewhat on the back of Ardern's rise.
Peter Dunne felt the shift. He says that even before Ardern became leader, he'd begun to feel a slight change in temperature in Ohariu. People started coming up to him on the street saying something he'd never heard before: "I'll still vote for you, Peter."
On the face of it, that sounds positive – every politician wants to hear that people will vote for them. But, the fact they were saying "still vote for you" indicated to Dunne that people were having conversations – whether within the family, sports club or down the RSA – about shifting away from the status quo, although they hadn't quite decided yet where to.
It was something he'd never heard before. He thought he could still hold the electorate, but then Jacinda Ardern turned up and effectively sealed the deal. Suddenly these voters had something new to turn to and feel good about. That thought on what they would like government to prioritise finally had a fresh home.
During the first 15 minutes or so of Thursday's Press debate, and following that 1 News poll, I found myself telling an empty living room that, "it looks like Bill English might have lost this election." When he had to revert to the stunt of trying to read out a list of tax changes Labour won't rule out, it felt like the brains trust behind victories in 2008, 2011 and 2014 had nothing fresh to turn to.
Watch Winston
To be clear, it would be folly to call it just yet – we've got two more weeks of what is already a crazy campaign. There's still a chance that Winston Peters – faced now with being left out of a Labour-led government if the Greens and Maori Party can hang on – warms to National if that becomes his greatest chance of power.
That Labour now looks to have a choice of coalition government options, keeps Bill English in the game when it comes to the Peters factor. If Peters was ever looking for an excuse to turn back to his Muldoonist roots rather than having to support a fresh, young, outwardly looking, migrant-friendly (relatively), former head of the International Socialist Youth, then the 1 News poll was it.
So, the election is still anybody's. But National needs to stem the flow of the 'John Key factor' urban middle class to Labour. Will Key appear on the campaign trail these final two weeks with English? Will National lurch across the centre line with a bumper tertiary education policy or something similar aimed at stealing Labour's oxygen? Will we see Steven Joyce spelling out the tax changes National will deliver in two-to-three years' time and tell us that, since PREFU, the potential for bringing them forward has increased?
These next two weeks will be fascinating. Labour has front-loaded its campaign with policy announcements, giving it the ability to attack any big policies English and Joyce announce between now and September 23 as desperate, eleventh-hour bribes - just the kind of criticism we had in 2008 but the other way around.
But, because this election has an undercurrent of policy driving people's preferences beneath the stardust, as opposed to 1984's "we've got to get rid of this madman", National still has a chance. Watch for Peters this next week. If he can't get up a head of steam up then English will certainly be sweating.
Here's our Sunday cartoon. If you don't get it, then watch this.