For months National's finance spokeswoman failed to put a dent in Finance Minister Grant Robertson's fiscal armour, but Jason Walls says this week she found a chink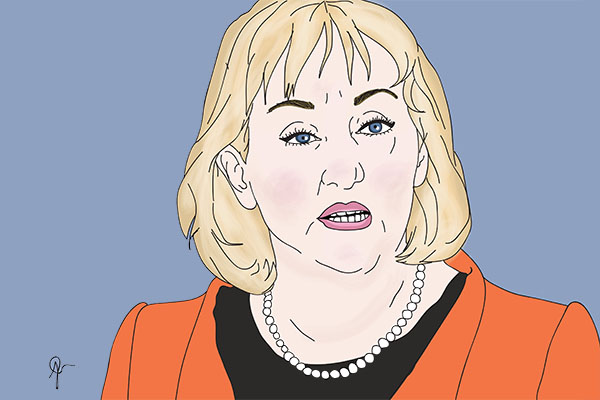 By Jason Walls
Amy Adams, National's finance spokeswoman and former Minister of Justice and the Environment, seems to have found her groove as an opposition MP.
It has taken a few months, but Adams is looking more and more at home sitting opposite the Government's front bench, rather than on it.
During her time in Government, Adams was highly regarded within the party and seen as one of National's most competent ministers.
That's why after her failed attempt at National's leadership, it made perfect sense for her to take on the finance role.
Adams had some big shoes to fill as National's numbers person. Before his highly politicised "$11.7 billion fiscal hole," Steven Joyce had a good track record as the Minister of Finance.
Bill English was even better and, because of his steady hand through the Global Financial Crisis and Canterbury earthquakes, he will go down in history as one of New Zealand's best Finance Ministers.
When appointing Adams to the role in March, leader Simon Bridges made it clear Adams was going to be a lynch pin in National's plan to win back the Treasury benches in 2020.
"The economy remains the National Party's number one priority," he said.
But for her first few months, Adams seemed to have one thing on her mind: debt.
In the House, in media interviews and in select committees, Adams constantly attacked the Government on its debt levels and trajectory.
For months the Finance Minister was wearing a sly smile, as when it comes to this area of his portfolio, he is untouchable and he knows it.
According to Treasury's estimates, Core Crown debt as a percentage of Gross Domestic Product (GDP) will fall to 19.2% by 2022 – below the Government's 20% target.
Sure, as a nominal figure the dollar amount of debt is going up, but no one – not even the credit ratings agencies – care about that.
Every time Adams attacked the Government on this issue, all Robertson had to do was point the finger back at the previous Government when debt as a nominal figure was going up too.
Freaky Friday
In an interesting twist, it seems Adams has taken a page out of Robertson's book.
After sluggish per person GDP figures were released this week, she was in attack mode and has been winning easy points.
For years, slow GDP per capita growth was Robertson's main line of attack in opposition.
In September 2016, he made a devastating run at then Finance Minister Bill English on this very issue, referencing research from Westpac, ANZ and Devon Funds to make the point "GDP per capita growth is what matters most for achieving higher material living standards."
Adams used Robertson's argument in the House in 2016 on Thursday, quoting his very words back at him.
Robertson, in keeping with the theme, chose to quote Joyce in saying it was unwise to look at quarterly numbers because they go both up and down.
This made it easy for Adams to go after the Government in this area – "he's basically just picking the numbers that suit him," she said on Thursday.
Because of the relatively fiscally conservative nature of this Coalition Government, set in stone by its Budget Responsibility rules, Adams has had a tough time scoring many political points.
But with the economy shifting down a gear and GDP per capita remaining low, she has found herself a foothold and a damn good one.
And she can thank her biggest political rival for the helping hand.