David Hargreaves argues that the Government must take a more realistic approach than currently intended in its initiatives on financial conduct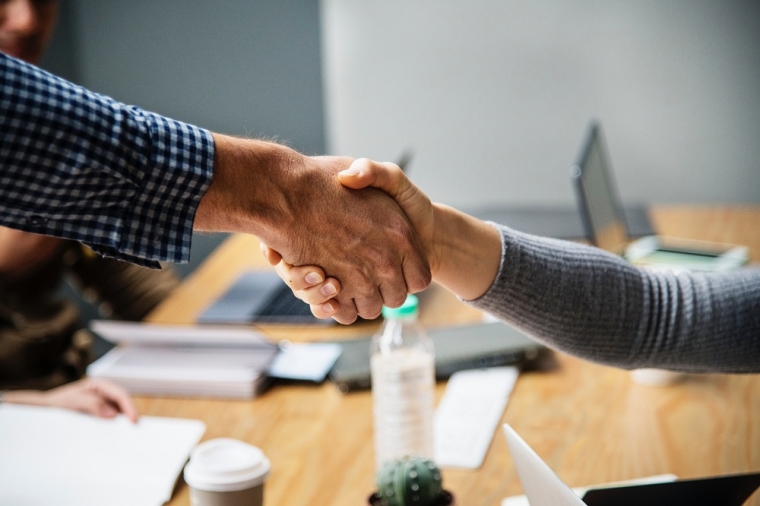 By David Hargreaves
You always feel like you are being a bit of a fun-spoiler if you tackle someone about being over-ambitious.
So, I would have to say firstly, I think it's great the Government is tackling front-on the perceived problems over the conduct of our financial institutions.
My concern, based on what's in the Options Paper just released for consultation, is that the Government may be trying to tackle the problem the wrong way around.
The risk is that they may try to tell the financial institutions what to do rather than what NOT to do. That sentence probably needs a bit of explaining, which I shall attempt to to do, but, briefly, it can be far more complicated and prescriptive to regulate what businesses do, rather than simply tell them what they can't do.
I think the least complicated way of tackling the perceived conduct problems is to ban sales incentives and commissions within financial institutions and, providing some suitable consensus can be agreed, ban certain products.
In theory, if sales incentives are removed then so the incentive to push certain products that might not be suitable for the individual concerned is removed as well. Essentially you then have a level playing field in which the consumer is offered in an unfettered way a range of product options.
At this point, I think it is worth including from the options paper the part that deals with the Government's desired outcomes. So here they are: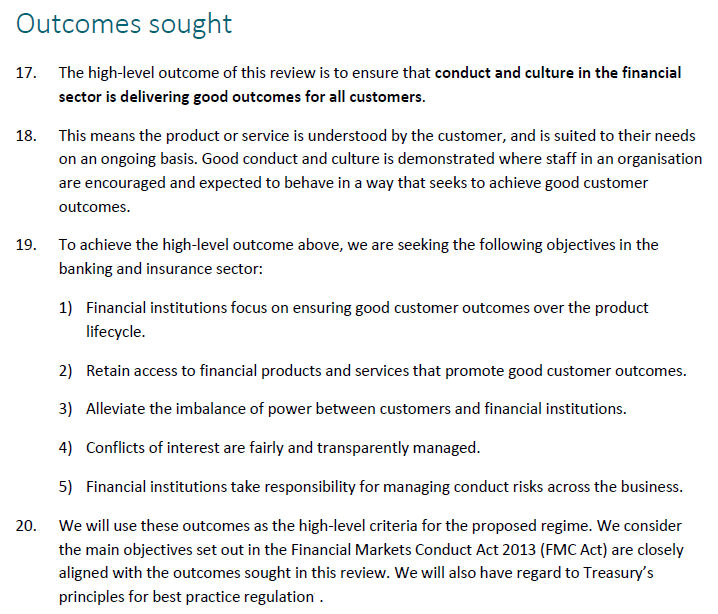 Look at the bold bit at the top there, which talks about "good outcomes for all customers".
I have a real problem with that. 
How can you truly define what a "good outcome" is? I suppose we can all imagine what a "bad" outcome is, since it might involve us losing our shirts financially. But a "good" outcome? It depends what you said you wanted in the first instance and what you set out to achieve.
And I dare say the individual's view of just what a good outcome is from any financial commitment might actually change during the cycle of that commitment. 
So, how is a financial institution supposed to second guess what you would regard as a good outcome when they sit down to discuss options with you?
Likewise, I think there's also difficulty in trying to put compulsion on financial institutions to design and fit the "right" products for the right people. Again this sounds good, but again there's plenty of room for debating what the right things are for people. And like the "good outcome" idea, the concept of what the "right" product is might change over time and depending on the individual's circumstances.
So, the worry from my perspective is that in trying to go down the path of regulating institutions for "good" conduct, we may open ourselves up for legislation that is incredibly complicated and expensive to adhere to.
I think this all also moves into the area of how obtrusive do we want the Government and its agents to be in terms of governing the choices we make and effectively perhaps trying to save us from our own decisions. 
That's always a tough one, I feel. To what extent should a Government be trying to save people from themselves? Do we try and set up a Government that is capable of protecting everybody against any bad decision they might ever make?
I don't think that's possible. Nor is it desirable. 
The individual needs to be free to choose and yes, to make their own mistakes and to handle the consequences.
What we want to avoid is people being railroaded into decisions they wouldn't make of their own volition by someone who has a vested interest in the outcome.
And that's where you get back to the idea of banning commissions and the like. 
That therefore is the pathway I hope the Government follows on this. 
The obvious problem with such an approach though is what it would do to the wage structure for the average financial institution. Any financial institution that is overly dependent on commissions to pay its staff decent wages is likely to be pretty unhappy with the removal of that buffer.
But I think that's the way we need to go. Keep it simple. Set clear parameters for what the financial institutions cannot do and leave a reasonable amount of choice in the public hands.
I do fear however, that the Government, which after-all is a Labour-led Government, won't be able to resist the temptation to try to tell the institutions what they SHOULD DO and therefore put it all on the institutions to protect the public in some instances from themselves.
Potentially, that could be a mess.
I think the timeframe the Government has set for getting legislation in place - by the end of this year - is too tight. Because I think these issues of conduct are rather more complex than anybody might want to believe.
Ambition is good. But over-ambition is not. Deciding what is over-ambitious is probably about as difficult as deciding what a "good outcome" is.
All I would say is, let's try to be realistic. Let's set realistic goals. We can't expect the financial institutions to be running around after us to make sure we get a "good outcome". But we can remove the incentive from them to flog us things we might not want. Let's start from that and work upwards.
*This article was first published in our email for paying subscribers early on Wednesday morning. See here for more details and how to subscribe.