New Zealand's largest home loan lender cuts its two year rate to the same level BNZ adopted a few days ago. So does Westpac. But they remain much higher than the recent market leaders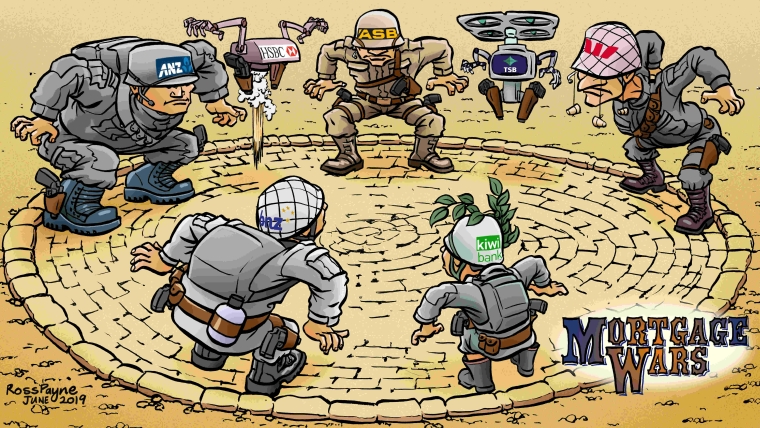 ANZ has cut its two year fixed rate by -5 bps to 3.54%, effective today (September 19). And now, Westpac has followed suit, effective Monday, September 23, 2019.
It is a change that matches the recent cut by BNZ.
However, it ignores the cuts by the two Chinese banks, with the latest one from the Bank of China pushing their two year 'special' down to 3.15%.
As such, the BNZ and now ANZ 'special' is +39 bps higher that that market-leading home loan offer.
Apart from making a matching cut to its equivalent standard rate, no other changes have been advised by ANZ at this time.
Wholesale swap rates have been rising recently and the two year rate is +10 bps higher than a couple of weeks ago when it hit its all-time low. Term deposit rates have flattened out completely and now some of the highest rates on offer are the specials' in the 6 months to one year tenors. But 'highest' is a relative term - all these rates are historically low and few from any bank are over 2.8%. These deposit rates have an outsized bearing on how low the main banks can pitch their home loan rates.
So far we have mercifully stayed away from the Aussie diseases of fee-bundle-packages, and tighter LVR standards (most Aussie fixed rate home loan specials now require a 70% or better LVR to qualify for a 'special').
The ANZ 'special conditions require at least 20% equity and an ANZ transaction account with salary direct credited, to qualify.
Here is the full snapshot of the advertised fixed-term rates on offer from the key retail banks.
In addition to the above table, BNZ has a unique fixed seven year rate of 5.70%.
All carded, or advertised, term deposit rates for all financial institutions for terms of less than one year are here, and for terms of one-to-five years are here. And term PIE rates are here.