Boss of credit bureau Centrix surprised by volume of borrowers in arrears not seeking a mortgage deferral, says credit demand fell across country when Auckland moved into new lockdown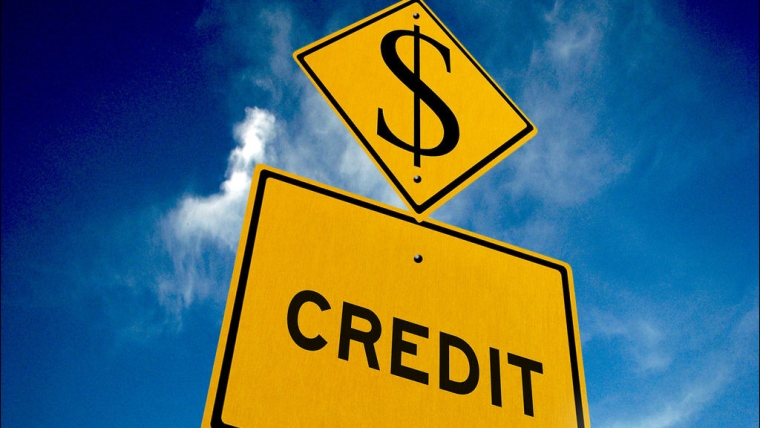 The demand for credit, or debt, is unlikely to bounceback as strong after Auckland's current lockdown as it did after the first one earlier in the year, the managing director of credit bureau Centrix suggests.
Centrix's Keith McLaughlin said when the nationwide lockdown ended, and the economy was freed up in May, there was a massive bounceback in credit demand.
"We got to about 96%, 97% of pre-COVID credit demand," McLaughlin told interest.co.nz.
"I'm interpreting the numbers that are in front of us at the moment where a material component of the drop is clearly identified as being uncertainty in the market. My suspicion is that we won't see the same recovery this time around. I think the first time around there was a feeling that we'd beaten it, we're okay, back to level 1 life goes on as per normal, close the borders and the New Zealand economy would be fine."
"Certainly it still hit the tourism market, but the rest of the economy got a lot of business. I don't think there's the same level of confidence that that's going to happen this time. So I'm not expecting a similar bounce to what we had with the first lockdown," McLaughlin said.
"I think it has been a wake up call and my read of it is that it'll be a slow recovery. It's going to be compounded by the increasing unemployment as it occurs. So I think this is probably not very good timing and I don't think the bounceback is going to be nearly as complete this time."
In terms of consumer credit, McLaughlin said as soon as Auckland moved into COVID-19 Alert Level 3 last week there was a 25% drop in credit demand in the city. That did not surprise him.
"But what really did surprise me was across the rest of the country there was a 6% drop in credit demand. And yet the [Level 2] restrictions placed on the rest of the country were not that material that it should've affected the ability to obtain credit or buy things on credit. So I think that really comes down more to uncertainty, lack of confidence in the market. People have pulled back from buying things, particularly non-essential items," said McLaughlin.
Centrix, which receives data from all the major banks on a monthly basis, says 11.9% of mortgages in Queenstown and 8.9% of mortgages in Rotorua are registered as being on mortgage deferral. Away from those two tourism hotspots other cities with a significant percentage of mortgages on deferral include Whangarei with 8.7%, Taupo with 8.4%, and Tauranga at 7.6%. In the major centres Wellington's at 3.8%, Auckland 6.8%, and Christchurch 6.3 %.
Surprised by volume of borrowers in arrears not seeking a deferral
McLaughlin said what's surprising Centrix is the number of people going into mortgage arrears who are not seeking a mortgage deferral.
"That has climbed a bit and at the moment shows about 13,500 mortgages that are currently in arrears where there has been no application for a deferral. And that's quite sad because the facility is there, the banks have done what they can to promote it, and we'd encourage consumers to approach their lenders if they are having any difficulties whatsoever to seek a deferral. If they're not doing that then it [their loan] just slips into arrears and that has a long term impact on their credit score. Whereas a deferral has no impact on a credit score," said McLaughlin.
The 13,500 total had probably doubled since the onset of the COVID-19 crisis, McLaughlin said, and is equivalent to about 1% of all mortgages.
McLaughlin said if somebody applies for a mortgage deferral it comes through to Centrix with a specific flag and it does not impact the borrower's credit score.
"We've put that [system] in place and it should be taken advantage of. If it [the loan] just goes into arrears and people don't respond to phone calls, or as sometimes tend to do just ignore it and hope it'll go away, then it does go into arrears and it does become an issue for them further down the track."
The mortgage deferral scheme, put in place at the onset of the COVID crisis in March by banks, the Reserve Bank and the Government, was this week extended by six months to March 31 next year.
'The envy of Australia'
On August 6 illion, another credit bureau, described New Zealand's economic recovery as the envy of the Australian financial sector, with demand for most types of credit products quickly returning to near normal levels following the easing of lockdown restrictions.
"Since Level 3 restrictions were lifted on 27 April, NZ credit enquiries have quickly recovered to 93% of pre-COVID volumes (against an 18 January benchmark). Australia has seen a much more gradual return to credit application levels however: utility enquiries, for example, are now at 100% in New Zealand and only 75% in Australia. Credit enquiries are an important indicator of economic recovery and consumer confidence," illion CEO Simon Bligh said.
"Effectively what we have seen in New Zealand is a U-shaped economic recovery, compared with something more like a swoosh in Australia – it's a lot flatter," said Bligh.  
On August 14 illion said Kiwis were avoiding new debt, with applications for personal loans that fund major purchases such as cars and holidays, down to 70% of pre-COVID volumes.
Auckland was moved from COVID-19 Alert Level 1 to Level 3, and the rest of NZ to Level 2 from Level 1, on August 12 after four members of an Auckland family tested positive for the virus.
Westpac's update
In its third quarter trading update, released on Tuesday, the Westpac Banking Corporation provided figures for COVID-19 related customer support from Westpac NZ. The figures in the diagram below are as of July 31, and in NZ dollars.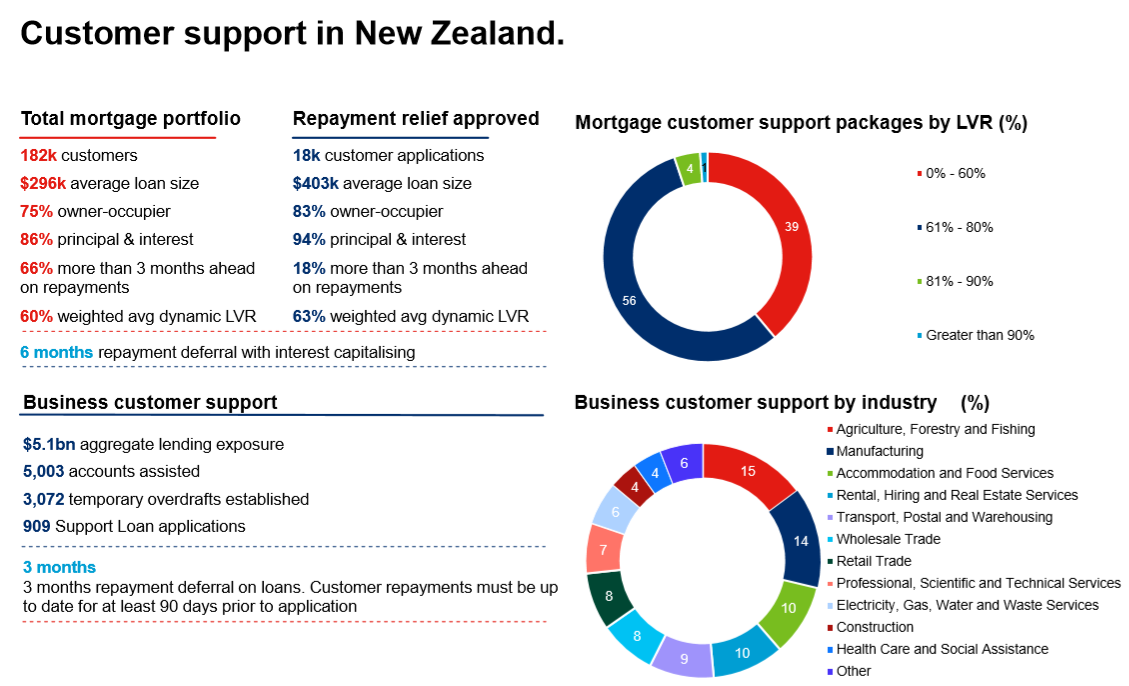 The Westpac charts below are on NZ asset quality.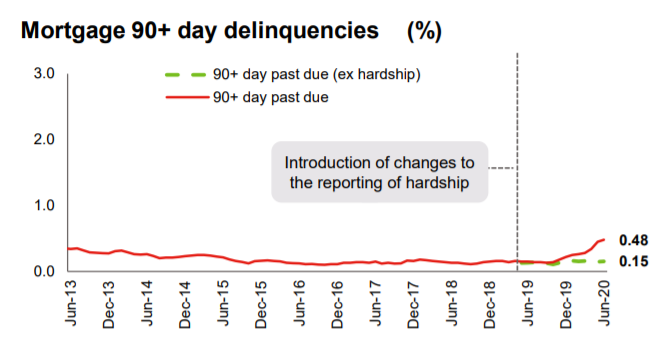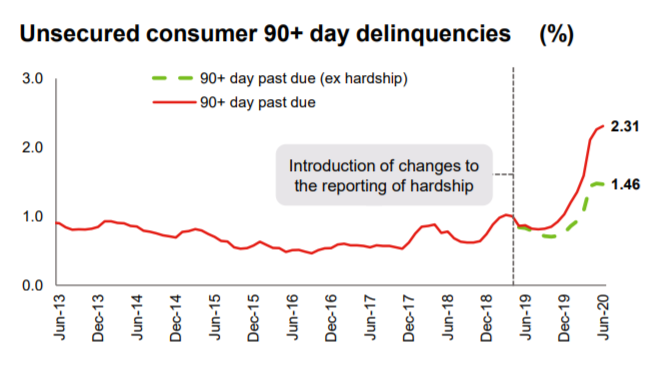 *This article was first published in our email for paying subscribers. See here for more details and how to subscribe.