'The rebound is looking less like last year's Red bull-powered hill sprint, and more like a herbal tea inspired jog uphill'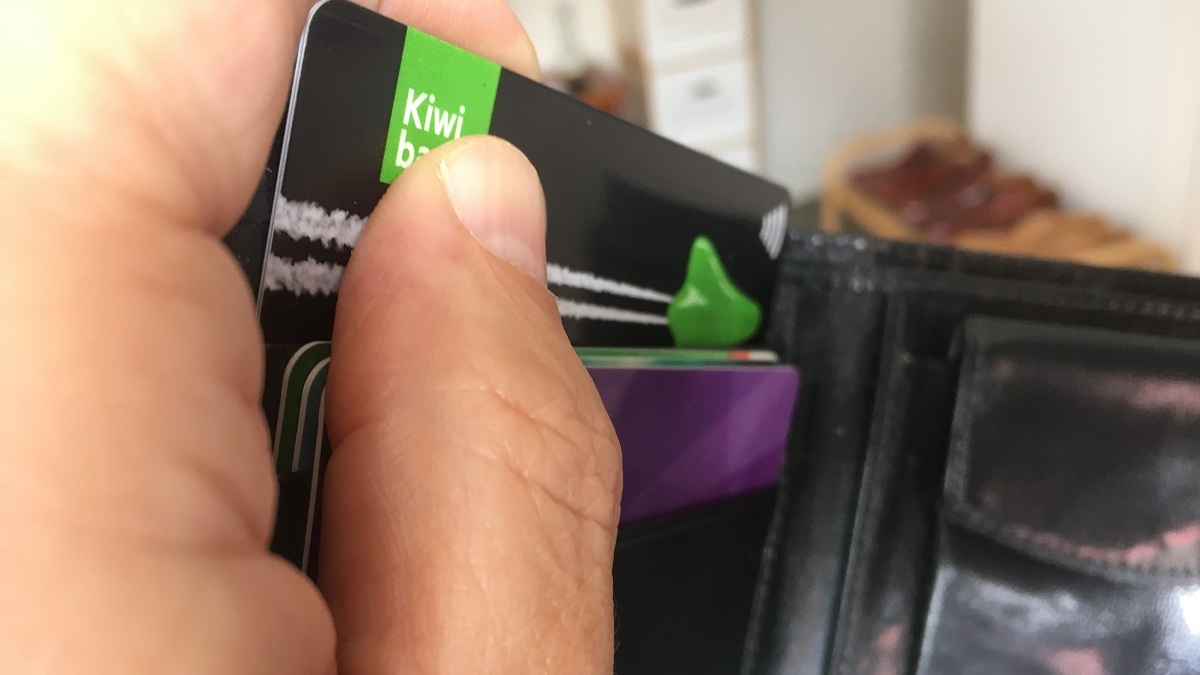 Kiwibank economists are reporting that the spending bounce back after this year's lockdown has been less sharp than it was a year ago.
This year of course, we have the situation where Auckland is still heavily restricted, which was not the case a year ago.
Kiwibank's latest quarterly Household Spending Tracker, based on spending data of its customers, shows that in August, which had the two-week nationwide lockdown, total Kiwibank credit and debit card spend was down almost 8% in the month. Spend picked up in September as restrictions outside of Auckland were gradually relaxed.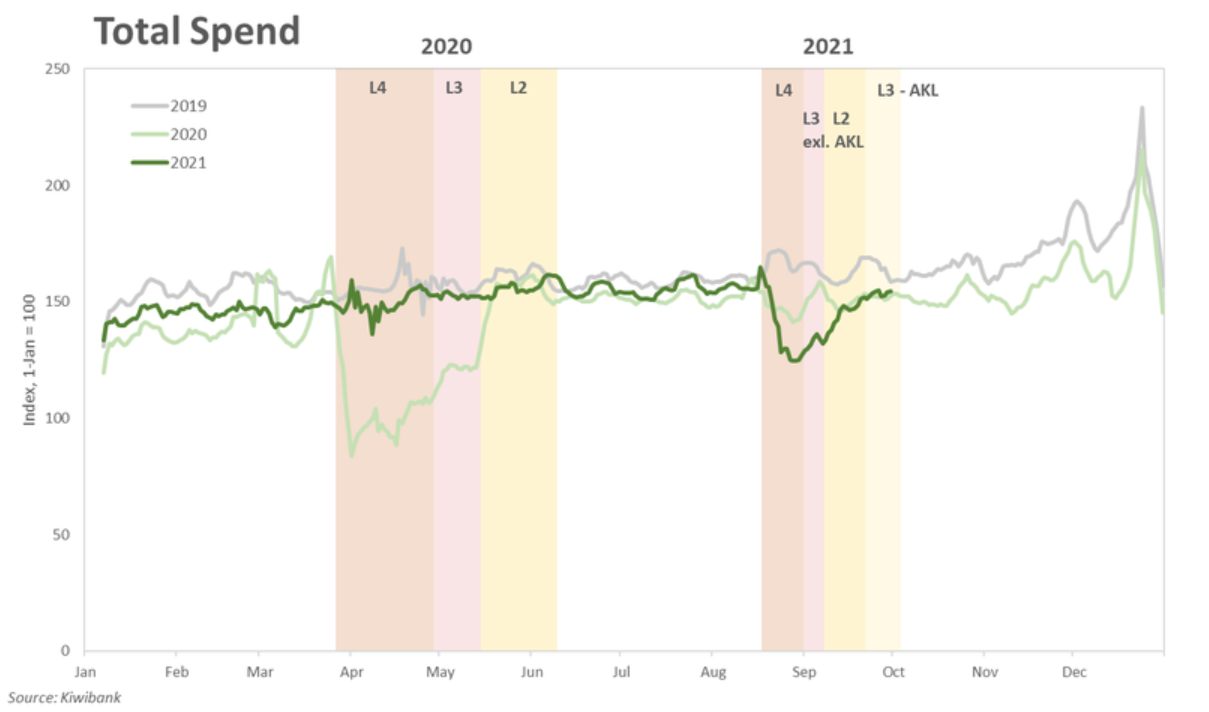 Kiwibank economist Mary Jo Vergara said overall, Kiwibank electronic card spend fell 1.6% in the September quarter.
"That compares to the 16% rise in spend in the June "lockdown" quarter last year,"  she said.
"...The rebound [this year] is looking less like last year's Red bull-powered hill sprint, and more like a herbal tea inspired jog uphill."
Vergara noted that many restrictions remained in place, particularly within Auckland.
"The June 2020 quarter, however, not only captured the lockdown but also the move to Level 1 and the rebound in spend."
She also said the drop in spend last year was much deeper.
"The nationwide 2020 lockdown was considerably longer, totalling 33 days and leading to a 20% monthly drop in spend in April. Starting from a lower base, the subsequent spending spree saw spend rise in the quarter overall. In contrast, online purchases during the 2021 lockdown surged, which supported total spending. Households learnt that they need not wait until stores reopen to continue spending. And many businesses were better equipped this time around, having bolstered their online presence over the past 18 months."
Last year sending spiked by 14% in the first week at Level 3.
"Given the more staggered easing of restrictions this time, spending has been slowly grinding higher. Spending rose 4.3% when the regions outside of Auckland moved to Level 3. Once Auckland sailed out of lockdown, spending was given another kick higher, rising 7% in the first 5 days at Level 3."
Vergara said spend on retail goods was well supported by online shopping throughout the lockdown period, "but inflation may also be working behind the scenes here".
"The September quarter inflation print is expected to be yet another strong one, with the annual rate likely to shoot above 4%.  Firms are facing rising costs due to capacity constraints and global supply chain disruptions. The shallower drop in spend may in part be due to higher consumer prices, especially for durable goods." 
Vergara said the ongoing disruptions to global supply chains raises questions of whether there is sufficient supply to meet demand.
"The struggle to get hold of stock has been well documented. With NZ sitting at the edge of the earth, shipping routes are being severed. Several media report international shipping companies abandoning the relatively remote and marginal trans-Tasman routes in favour of profitable routes between China, Europe and the US.
"Anecdotally, we've heard of retailers limiting their stock to just a handful of brands, and holding onto more inventory than usual. The business model has shifted form Just in Time to Just in Case. So don't be surprised if you get the same Christmas presents as everyone else this year." 
The drop to Level 3 saw an immediate bounce back in quick-service restaurant and café spend. And once Auckland moved to Level 3, fast-food spend was given another leg up. At the same time, spend at grocery stores fell and has since returned to pre-lockdown levels.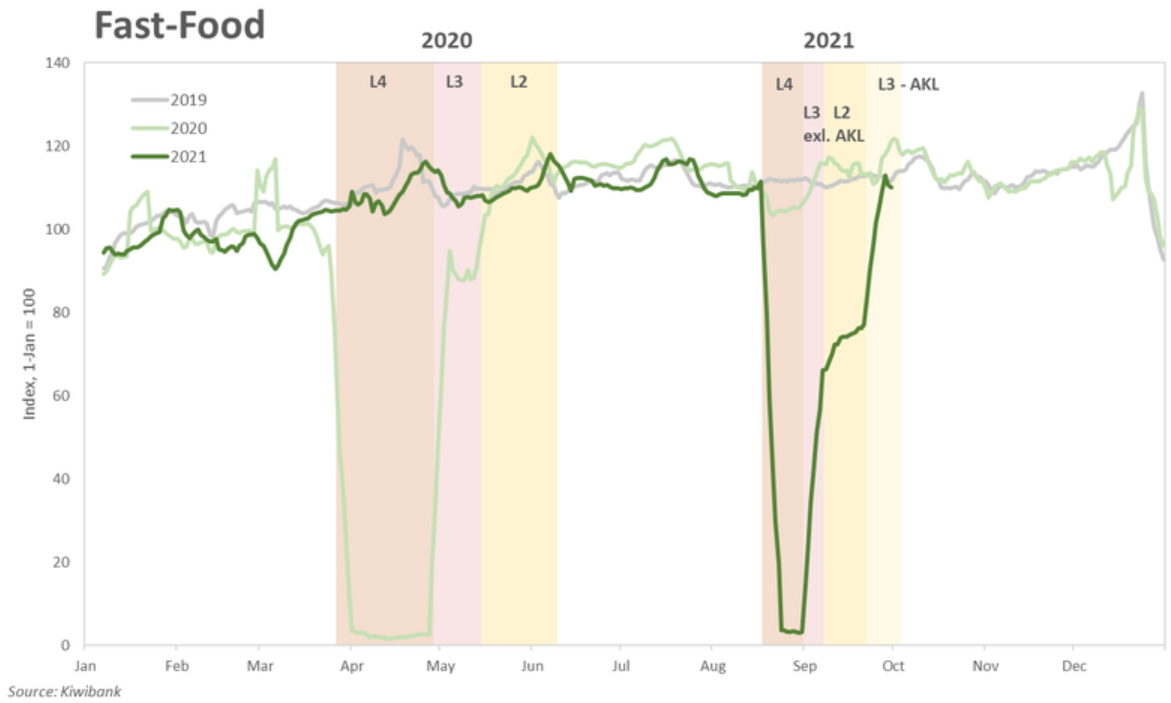 "But Level 3 isn't just 'Level 4 with takeaways' but 'Level 4 with takeaways and Mitre 10'. It wasn't just under the Golden Arches where queues of cars were spilling onto the streets, but also at hardware stores. The option to click and collect saw many, from tradies to DIYers flock to their local hardware store, waiting bumper-to-bumper."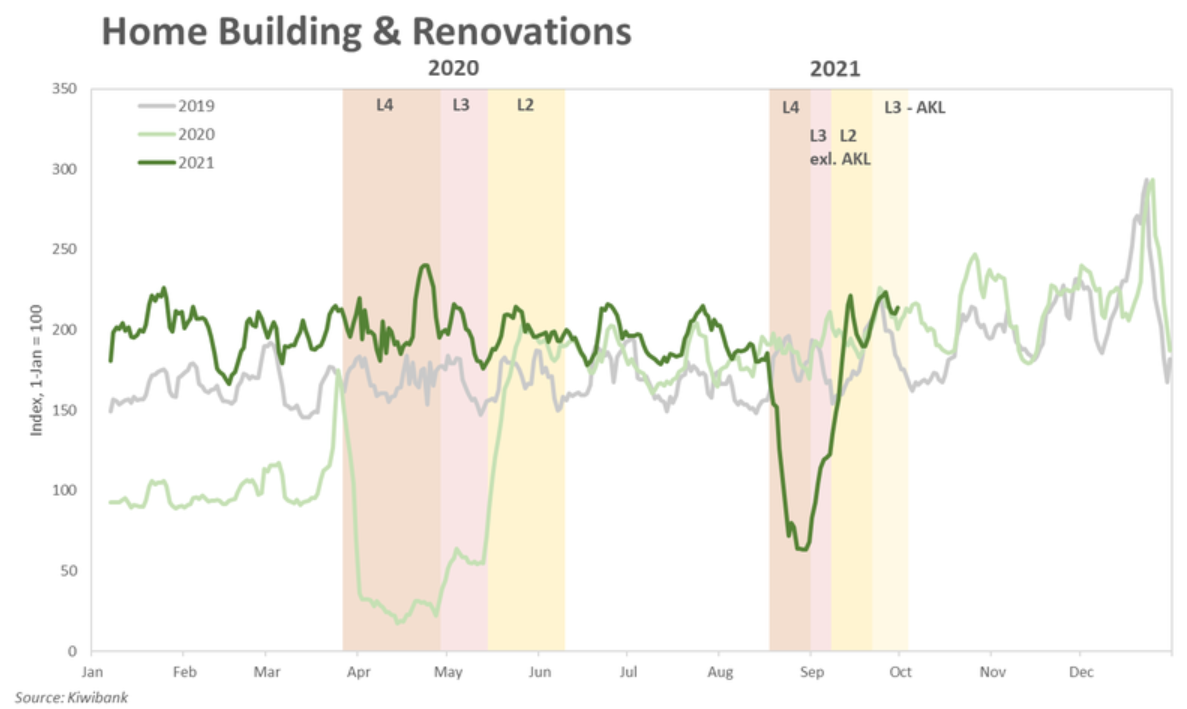 Vergara said the Kiwi economy entered the latest lockdown on a firm footing.
"Supercharged GDP growth of 2.8% was recorded in the June quarter, and the labour market had returned to full employment. But the Delta outbreak has disrupted the recovery. We are expecting a 7% fall in Q3 GDP. A short, sharp fall from lockdown." 
She said the disruption is expected to be followed by a rebound in the December quarter.
"As we've learnt from previous lockdowns, demand is deferred not destroyed. Economic activity bounces back once the restrictions are relaxed. We've pencilled in a rebound in GDP of 8.5% in Q4.
"However, with some form of lockdown, especially in Auckland, dragging into the fourth quarter, there's growing downside risk to our forecast. So long as lockdowns are part of the covid playbook, large swings in economic activity are expected."