Statement of claim in 'class action' over bank fees coming by the end of May, Fair Play on Fees group says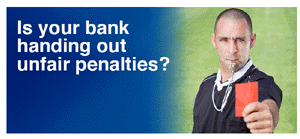 By Gareth Vaughan
The group pledging to sue banks on behalf of customers over bank default fees says more than 22,000 people have signed up for the legal action and it plans to file a statement of claim by the end of May.
New Zealand lawyer Andrew Hooker, who is fronting the Fair Play on Fees group, told interest.co.nz court papers were being prepared.
"The court proceedings are going to be filed, we anticipate, before the end of May," Hooker said.
"And we've got all the numbers that we need. We're just working with the barristers to get the court proceedings finalised. So it's all go."
The Fair Play on Fees group also includes Australian law firm Slater & Gordon, and Australian litigation funder Litigation Lending Services. At a press conference launching their action in March the group said they wanted to claim back "excessive" bank default fees from the past six years, which is the limitation timeframe for such action. At the time Hooker said it was New Zealand's largest ever planned class action and banks had been "unlawfully overcharging" Kiwis for many years.
Fees at the centre of the case are what are known as honour and dishonour fees, plus credit card late payment and credit card over limit fees. Hooker said such fees were excessive and add up to around NZ$1 billion over the past six years.
"We've got over 22,000 people registered and that's well and truly enough in terms of the critical mass to get the proceedings off the ground," Hooker said yesterday.
"We would anticipate that when we announce the launch of the proceedings officially and file them, getting a lot more people registering then. History suggests you could even double those figures."
Search for plaintiffs, selection of primary defendant
The group was currently working to identify its most suitable plaintiffs, and would be talking to these people about what being a plaintiff would involve.
"There's likely to be more than one plaintiff because there are different types of (bank) relationships so you need to cover off all the different type of banking relationships," said Hooker.
A primary defendant, being one of the banks, would also be named becoming the target of the primary case. Which bank this would be hadn't yet been determined, Hooker said.
Asked whether any one bank's customers were over represented among those who've signed up for the legal action, he said the list of names reasonably accurately reflected banks' marketshare. That said, Kiwibank customers were probably over represented.
"I would say, if anything, from the information I've seen I think Kiwibank is probably higher than their overall market share. But I wouldn't want to read too much into that because it's potentially the type of customers they have. A lot of lower socio-economic customers are hit by this and I suspect Kiwibank are reasonably strong in there," said Hooker.
"But more importantly I think the pro-active people who have moved to Kiwibank are probably the people who are more proactive about sticking up for their rights."
No talks planned with the banks
The group has had no contact with the banks, or any representatives of them, Hooker said.
"They've got my number," he said. "They know what's happening. If they wanted to contact me they could contact me. We're not planning a meeting or anything."
The New Zealand Bankers' Association responded to the Fair Play on Fees announcement last month by saying it was failing to take into account differences between the New Zealand and Australian banking sectors. It said three of the four fees being targeted have been overseen by the Commerce Commission for 10 years, and customers concerned about fees should talk to their bank rather than to lawyers. A Commerce Commission spokeswoman told interest.co.nz the consumer watchdog did not know what legislation the legal action would be taken under.
The parties behind Fair Play on Fees stand to pocket 25% of any of the money won through their action, plus getting Litigation Lending Services' costs of between NZ$3 million and NZ$4 million back.
This article was first published in our email for paid subscribers. See here for more details and to subscribe.