ASB drops its MasterCard product range and launches a low rate Visa card with no account fees for early adopters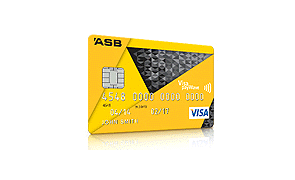 ASB has launched a new low rate credit card, kicking it off with a 0% start up special. And Westpac has unveiled what it and MasterCard are touting as the "most premium credit card product" in the New Zealand market
For Low Rate Visa cards signed up by May 31, 2014, the ASB offer is;
- 0% interest on all purchases for the first five months,
- $0 account fees for the life of the card, and
- a 13.5% purchase interest rate on the card, (which will apply to early adopters only after the first five months).
This new Visa card replaces ASB's "Low Interest" MasterCard. In fact, ASB no longer offers MasterCard although it will continue to service them on a legacy basis. No doubt, MasterCard holders will be encouraged to convert to the new Visa-based offer. The old MasterCard "Low Rate" product had a primary fee of $60.00, and $70.00 if the card attracted rewards.
After the promotional period ends on May 31, the fee for the new Low Rate Visa card will be $40 per year.
The card will not qualify for ASB's True Rewards. And, you can't transfer a balance to the ASB Visa Low Rate credit card.
Although the interest rate will be 13.5% for purchases, the rate for cash advances when this card is used will be 21.95%.
ASB's standard Visa card currently attracts a purchase rate of 19.95% and a cash advance interest rate of 19.95%.
Banks have traditionally tied their pricing for credit cards to the changes in the Official Cash Rate, and with a rising OCR track ahead of us it may be reasonable to expect credit card interest rates to start rising too in 2014.
Westpac World MasterCard
Meanwhile Westpac and MasterCard have announced the launch of Westpac World MasterCard, which they say is MasterCard's "most premium credit card product" in the New Zealand market. Designed for high net-worth travellers, it offers Westpac's highest rewards earn rate of three hotpoints per dollar spent and exclusive travel and lifestyle benefits.
The interest rate on retail purchases is 15.95%. Westpac says the account fee is $390 a year, including a joint or additional card, with the fee charged $195 every six months. However, this fee is refunded if the customer spends $50,000 or more over six months. The interest rate on cash advances is 22.45%.
Westpac and MasterCard have also hinted at more to come.
"There are two things that our customers are telling us they want from their cards - more features and faster, safer and easier ways to make payments. MasterCard is a global leader in this space and we're working with them to bring a number of these innovations to New Zealand," Westpac's chief product officer Shane Howell said.
"The Westpac World MasterCard is the first step in delivering that. Our research shows current cards are not meeting the needs and expectations of high net-worth Kiwi travellers. Offerings are too generic and outdated and they're after more than just a credit card. Since 2011 New Zealand has had double digit growth in its number of high net worth individuals, with around 29% of Kiwis now considered affluent," Howell added.
The Westpac World MasterCard includes these "exclusive' benefits;
· Triple Earning Power – get rewarded sooner and more often with Westpac's highest earn rate of three hotpoints per dollar.

· Priority Pass airport lounge access to over 600 airport lounges in 300 cities throughout 100 countries, regardless of the class of travel or airline you're flying.

· On-Call Concierge Service – full access to Westpac World MasterCard concierge service on call to arrange everything from restaurant to taxi bookings.

The Home Assist service is also available 24 hours a day to arrange tradespeople when you need it most.

· Complimentary Travel Insurance for up to 120 days per trip.

· Extended Warranty Insurance – get covered for longer with an extension of up to 12 months on the manufacturer's New Zealand warranty on goods purchased in full with your Westpac World MasterCard.

· Purchase Protection Insurance – when you pay for any purchase in full on your Westpac World MasterCard, it could be covered for its replacement value for up to 90 days if it's lost, stolen or accidentally damaged.

· Hotel & Car Rental Upgrades – complimentary Gold status upgrades at participating Starwood hotels and resorts, complimentary Hertz Gold membership and priority queues.
Westpac World MasterCard cardholders also have access to up to 44 days' interest free credit and MasterCard PayPass 'tap & go' contactless technology, which will be enhanced as contactless technology continues to evolve.
Further new payment features being trialled by Westpac and MasterCard are planned for release later in 2014, Westpac and MasterCard say, including via integration with Westpac's online banking platform.
Other banks also offer low rate cards and the new ASB one compares as follows:
Low rate cards
 
Interest
Free
Period
Primary
Fee
$
Balance
Transfer
rate %
Balance
Transfer
Period
Cash
Advance
%
Purchase
Rate
%
 
 
 
 
 
 
 
 
MasterCard
55
$58
1.00%
12
20.45%
13.90%
Visa
55
$40
n.a.
n.a.
21.95%
13.50%
BNZ
MasterCard
55
$60
1.00%
12
22.20%
12.95%
 
Visa
55
$60
1.00%
12
22.20%
13.25%
Kiwibank*
MasterCard
55
$50
1.99%
6
12.90%
12.90%
Westpac
MasterCard
55
$65
1.00%
12
22.45%
12.95%
 
 
 
 
 
 
 
 
Warehouse
MasterCard
55
$65
5.99%
 
21.99%
12.99%
(Update adds details of new Westpac MasterCard credit card).
* Updated with revised details