Elizabeth Kerr blames television for sabotaging our financial future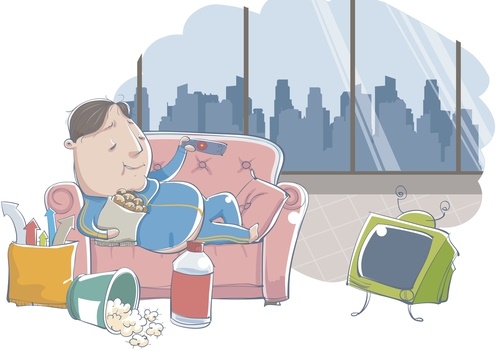 By Elizabeth Kerr

A brain is like a huge computer processing billions of pieces of information everyday.
It's fairly efficient at this - but we could make its job a hell of a lot easier if we just fed it messages that supported our financial goals instead of making it work overtime fighting off the ones that don't.
Therefore this week I'm taking your TV prisoner.
According to a study by Tom Corley on the website richhabits.net the average person in the United States watches six hours of television each day, whereas the rich barely hit an hour. Also,  it was established that people spend an extra US$208 annually for each hour of television that they watch weekly.
There is no reason to think this would not be the same, if not even worse, in NZ.
Reality TV is the genre that pisses me off the most because it's in no way a representation of reality; yet because of the way our brain processes information it has a big impact on our spending habits.
You might feel in control of your attitude towards spending but all it takes is one night of television viewing and suddenly your brain and your wallet are more open to botox injections and designer dogs.
For the fun of it let me illustrate with a few examples:
My Kitchen Rules – A cooking show-off. Watching this show not only makes you hungry but raises the bar for what is considered a meal.
Contestants race around the supermarket plucking hundreds of ingredients off the shelf for just one meal. No one carries a calculator or shopping list with them.
Remember, eating is just to provide you with nutrients to be healthy and ward off hunger. Dinner is not meant to be a work of art every evening and it's totally acceptable to serve leftovers, stuff from the freezer and not have dessert.
This show does not represent reality and your wallet and waistband will thank you to realise this.
Real Housewives of Orange County/New Jersey – A show following several women who spend their time drinking wine, coiffuring their hair, arranging flowers, bitching about each other and planning fashion shows.
It's what all of us NZ housewives do right?
The Block – I admit to liking the concept of this show because people working hard to achieve a goal should be applauded.
However, this show has the detraction of making you feel very dissatisfied with your home, insecure with your furnishings and impulsive for all things Freedom Furniture/modern retro. There is too much emphasis on style rather than function in these homes and it's expensive to emulate.
Additionally such shows have an uncanny ability to make the viewer feel like an expert in DIY and design: "No, you can't do it. Yes, buying those tools is expensive. And, no, it's not an investment!" Enough said!
Surveillance reality shows such as Jersey Shore and the GC are the worst.
Let's be clear that these people are paid and encouraged to have a good time.
It is not normal for young people to have the cash to live in a modern house, in a nice area, wearing designer clothes and go out drinking all the time.
In your financial youth any money you earn should be just to keep you from being naked or hungry and the rest is for investing in your future.
Storage Wars – People bidding to buy other people's forgotten possessions. If this show doesn't reinforce the tragedy of having too much stuff lying around then nothing else will.
The more TV we watch the more tolerant we become to the lifestyles and behaviours we see.
The impact is that they reinforce what you don't have, can't do and won't be. After this the only thing that will make you feel better is an expensive three course meal with beef jus and pea jizz, served on a set of laminate nesting tables from Freedom Furniture, to host your crazy drinking party - whereby you'll be legless and making out with your neighbour in the morning. Not a good example of how you should be spending your money.
But, it's not all bad...
On the other hand there are some fantastic reality shows out there, which I think are actually very helpful for reinforcing some good financial habits.
These are shows whereby people make some smart decisions with their money, which can be quite encouraging, and your brain will thank you for the positive reinforcement to your goals.
George Clarks Amazing Spaces or Tiny House Nation - A show about people building small cheap and functional housing. After this show you will never whinge about your inability to afford a decent first home in this country again.
These very clever houses are designed to meet all of the owners' specific needs without the wasted space or humungous price tag.
Pioneer Family – Next time you moan about not having wet-wipes or foaming liquid soap take a moment to give praise that you have running water and after you've done your business you never need see that sucker again!
Till Debt Do Us Part –If you needed motivation to sit down with your partner and discuss your finances, this show gives it in spades.
The people on this show are grossly in debt by spending far more than they earn on crap they don't need and have to claw their way out with the help of a very practical coach.
Survivor Island –A great example of how everything we need to live a satisfying life can be learned or bartered. The person with the most practical skills and a positive attitude wins.
Young, Dumb and Living off Mum – If you see yourself in this show then slap yourself and get on with it. Otherwise this show is inspirational for reminding you the importance of taking responsibility for your own life.
To conclude with this week: I personally think that watching TV is the number one tool for sabotaging your ability to be different from the rest of the herd; and let's face it being financially independent is being different.
Do yourself a favour and behave like you're already rich and fill your time with more productive activities instead.
If you have views on any of my columns or you have favourite TV shows that reinforce good financial decisions please comment below or email me at Elizabeth.Kerr@interest.co.nz. Have a great week!