John Bolton's Squirrel Money goes live with 'first real P2P lending service'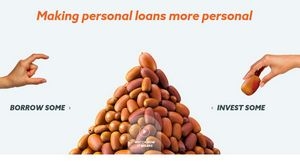 Squirrel Money has officially launched what it's describing as the country's  "first true peer-to-peer (P2P) lending service".
Squirrel Money, which has been planning entry into the P2P market for some time, says it will connect "real lenders with real borrowers in a way New Zealand hasn't seen before".
Managing Director John Bolton says he's "excited to introduce an authentic P2P service". See earlier articles on P2P lending here.
"Other offerings are really just marketing campaigns for the very banks we're disrupting. Squirrel Money is about connecting borrowers with real lenders, not banks or finance houses. The benefits for both are obvious.
"Lenders have more security, more control and for first-time lenders, it's a great introduction to the market.
"For borrowers we can offer sharper interest rates and an online model that makes the whole process easier and more straightforward than ever before." Borrowing rates are determined by an auction-style bidding process. The more investors that join an auction, the lower the rates on offer, and vice versa. Because we have a flat fee structure re-turns aren't eaten up by hidden costs and percentages," says Bolton.
Squirrel Money charges $250 for unsecured loans and $500 for secured.
Bolton says the time is right for Squirrel Money as investors are keen to see their money work harder for them.
"Most investments are either high risk for potentially higher return, or low risk for very low return. This puts off a lot of potential investors from entering the market. Here at Squirrel Money we want to balance that risk and return and make life easier for someone to lend money and to get their money back when they need it."
Squirrel Money's transactions are protected by Loan Shield - a reserve fund that covers unexpected credit loss.
The software that makes Squirrel Money "so easy to use" was designed and built in New Zealand.
"We're using our own designers and developers to build the app and that's meant we're able to make the changes we want, to build an app that works for New Zealanders." says Bolton.