New Zealand banks in no rush to follow Australian banks' example and cull ATM fees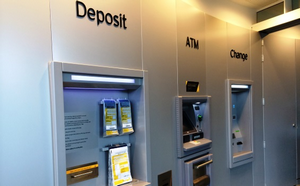 It appears New Zealand's major banks won't be rushing to match the move by their Australian parents and cull ATM fees charged to their customers when they use another bank's ATMs.
Over the weekend Australia's big four banks all announced cuts to ATM fees. The move was kicked off by ASB's parent, Commonwealth Bank of Australia.
"In a first for an Australian bank, Commonwealth Bank has removed ATM withdrawal fees so all CommBank and non-CommBank customers won't be charged an ATM withdrawal fee by us when they take cash out at any of our 3,400 ATMs. Reserve Bank of Australia data shows that Australians made more than 250 million ATM withdrawals from banks other than their own last year so the move is designed to increase convenience and bring savings," CBA announced.
"No ATM withdrawal fee access applies to CommBank-branded ATMs and excludes Bankwest ATMs and customers using overseas cards."
The Australian Financial Review reported Australia's big four banks had been in discussions about an industry-wide measure but CBA jumped the gun. Thus the other three - ANZ, BNZ's parent National Australia Bank and Westpac - promptly followed suit.
"All Australians, regardless of whether they bank with NAB or not, can use any of our ATMs and not be charged a cash withdrawal fee," NAB said.
"ANZ today announced it would remove fees for all non-ANZ customers using its fleet of automatic teller machines anywhere in Australia. The change will impact non-ANZ customers who are currently charged a $2 fee when they use an ANZ ATM. ANZ customers are not currently charged when they use one of ANZ's more than 2,300 machines," ANZ said.
And Westpac said: "Westpac today announced that non-Westpac Group customers will no longer be charged an ATM withdrawal fee when they use one of Westpac Group's 2,925 ATMs. This also includes non-Westpac customers using St.George, Bank of Melbourne and BankSA ATMs."
NZ's major banks typically charge customers a $1 fee when they use another bank's ATM versus A$2 in Australia. Massey University's David Tripe told Radio NZ banks charge this fee because the card-issuing bank is charged by the bank that owns the ATM for providing the service. Tripe said this cost has been estimated at about 50 cents to 60c, which is lower than in Australia.
"One of the differences with the New Zealand fee is that it has borne some relationship to cost, so therefore it's harder to argue that it's unreasonable. Because the New Zealand fee is lower, it may well continue," Tripe told RNZ.
Interest.co.nz asked New Zealand's big five banks if they would mimic the Australian move. Here's what they said.
ANZ NZ
"The cost and revenue structure of ATMs in Australia is different to New Zealand. New Zealand's competitive banking industry means we have a high ATM accessibility. ANZ has invested heavily to ensure its customers can access NZ's largest ATM network and enjoy fee free withdrawals. This results in a relatively small number of customers choosing to use other banks' machines. Fees for customers using other banks' ATMs are also lower in New Zealand than was charged in Australia. Customers can avoid other bank ATM fees by using their own bank's ATM and withdrawing cash with EFTPOS purchases. All our fees are constantly under review to ensure we are competitive."
ANZ's ATM fees are set out below.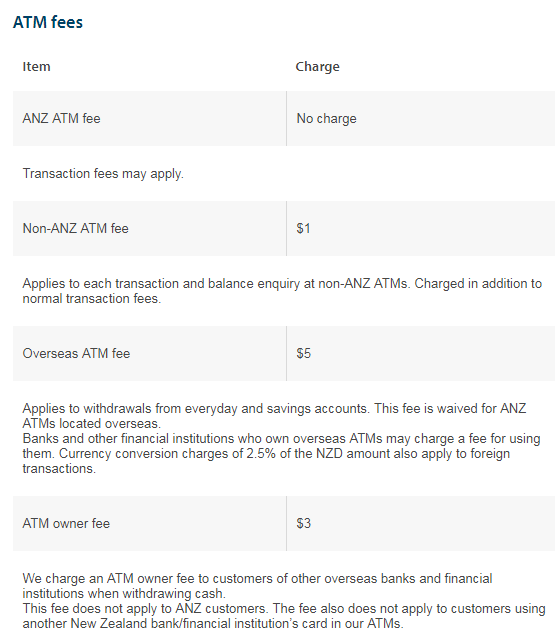 ASB
"ASB is aware of the move by banks in Australia over the weekend to remove ATM fees. We regularly review our products and services in response to customer preferences."
There's detail on ASB's ATM fees here.
We've received no response to our questions from BNZ.
Kiwibank
"Kiwibank charges $1 for any transaction by a Kiwibank customer using another bank's ATM. It reviews its fees and rates all the time, but has no immediate plans to change the ATM fee as a result of what has happened in Australia."
The details of Kiwibank's ATM fees are below.
Westpac NZ
"Westpac NZ is looking at the developments in Australia with interest. We need to consider the charging arrangements between banks in New Zealand which are very different to those in Australia, and certainly more complex. We're always looking for ways to better meet the needs of our customers. This year we removed or reduced 11 banking fees in direct response to customer feedback, ensuring our fees are fair and easy to understand."
Westpac's ATM fees are detailed below