The newly-minted Commerce and Consumer Affairs Minister commits to championing open banking, capping payday lenders' interest rates, and writing a code of conduct for the supermarket industry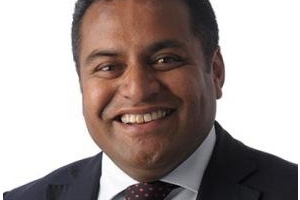 By Jenée Tibshraeny
Kris Faafoi is pledging to take a "balanced" approach in his role as Commerce and Consumer Affairs Minister.
The newly-minted minister outside cabinet says we'll "see a lot of action around the consumer end of protection", but doesn't want to be "heavy-handed".
In somewhat of a quick-fire interview with interest.co.nz, he says: "I want to strike balances to make sure that we can work in good faith with industry to make sure things happen."
He has committed to capping third tier lenders' interest rates, as well as writing a code of conduct aimed at increasing competition in the supermarket sector.
He says he will continue the push the previous government started to enable open banking in New Zealand; looking to what Australian authorities have done in this space.  
Faafoi won't change tack from National and look to ban or cap commissions paid to financial advisers for the time being.  
Nor will he cap KiwiSaver fees, despite his officials looking into the levels they're at currently.
Here's a more detailed look at what Faafoi has indicated will and won't change under his watch:
Interest rate caps to be introduced
Further to campaigning on the matter, and putting a Members' Bill in the ballot on it, one of Faafoi's priorities is capping the interest rates payday or third tier lenders charge their customers.
The idea is to prevent lenders preying on vulnerable borrowers.
"The previous government were reluctant to do that three years ago when they brought in their credit reforms. So that's certainly one area where we're looking to crack down nice and early," he says.
Faafoi can't yet comment on the level at which the caps will be set and exactly which sorts of lenders will have to comply with the rules.
Australian authorities in 2013 set interest rate caps for payday lenders at 20% up front, and 4% monthly for the life of a loan.
Competition watchdog to be beefed up
Faafoi is committing to better resourcing the Commerce Commission, so it can be a more effective law enforcer and better educate consumers about their rights.  
He's also particularly keen to provide more oversight of New Zealand's supermarket duopoly.
"Across the Tasman there is a compulsory code of conduct for the supermarket industry. We've given signals in the past that we'd be interested in that kind of thing in the future, and that would hopefully increase competition," he says.
Faafoi says the code will be aimed at protecting both consumers and suppliers.
'Potentially piggyback' off what Australia's doing around open banking
Faafoi sees open banking - or enabling bank customers to access their banking data and pass it on to third parties if they wish (meaning banks must give third parties access to their systems) - as a "big opportunity".
The idea behind open banking is to empower consumers to seek out banking products better suited to them, and create opportunities for innovative business models in banking that enhance competition.
Faafoi supports his predecessor, Jacqui Dean, recently telling the banking industry to pave the way for greater retail payments competition by next April, or face regulation.
Dean made the call in a pre-election letter to Payments NZ CEO Steve Wiggins that was copied to the CEOs of the country's major banks and senior executives of other key interested companies.
Faafoi doesn't believe banks are as resistant to open banking as the previous government indicated.
He's keen to "work collaboratively" with both banks and start-ups to foster innovation in this space, while protecting people's privacy.
He can't say whether or not he would need to enforce a move towards open banking through legislation, but recognises: "There are some issues around security and privacy that may require legislation. I think the officials will come back to me with that information soon. If it does, then I think it's something we should look at.
"This is the way of the world. Technology is changing the way we do things. We don't want to stifle innovation."
Faafoi says he'll watch how his counterparts in Australia handle open banking.
"Given our banks our predominantly Australian-owned, we'll see what they do and what their attitude is and make sure that we can potentially piggyback off what's happening there to make sure that we get the innovation that I think New Zealanders would want to."
Australia's Treasurer in May announced the government's intention to introduce an open banking regime, so commissioned an independent review into the best approach to implement a regime. A report on the review is expected to be released before the end of the year.
Transparency key to adviser commissions debate  
Faafoi is also siding with the previous government in calling for financial advisers to be more transparent about which financial service providers they receive commission payments from.
And like his predecessors, he does not support going as far on the matter as Australian and UK authorities have, in banning or capping commission payments altogether.
The issue was addressed in the recent review of the Financial Advisers Act. The conclusion that has been drawn from a consultation process is advisers will be required to abide to tougher disclosure requirements around how they're paid. The exact form of these requirements will be detailed in regulation, not in legislation.
"There needs to be a level of transparency… where that lies, I'm unsure and I've asked officials to come back to me as to what that might look like," Faafoi says.
"I'd prefer to work with industry in good faith to try to get the right balance between transparency and over-burdening them with bureaucracy of having to, on each individual contract, come up with exactly what commission they might get…
"My natural inclination for industry is to say, 'hey let's meet half way'… if that doesn't work out, there are options [IE outright banning commissions]."
As for the level of education financial advisers have to undertake to get registration, Faafoi once again says: "Whether or not we're striking that balance right is a question I'm still yet to answer, but I've got to balance that up with access and affordability of advice too.
"If we make it too onerous in terms of qualifications… that could see the access to advice be only available to people who can afford it."
Officials looking in to KiwiSaver fee levels
Finally, Faafoi is conscious of concerns around some KiwiSaver providers charging disproportionately high fees.
Yet he is going to take a "considered approach" towards the matter.   
"At this early stage, capping a whole lot of things is not necessarily the wisest thing to do. I've certainly heard concerns around KiwiSaver fees and I've asked officials to look into it."
*This article was first published in our email for paying subscribers early on Friday morning. See here for more details and how to subscribe.