RBNZ Governor Adrian Orr is confident NZ's highly indebted households can withstand interest rate rises, as long as there are no 'abrupt changes'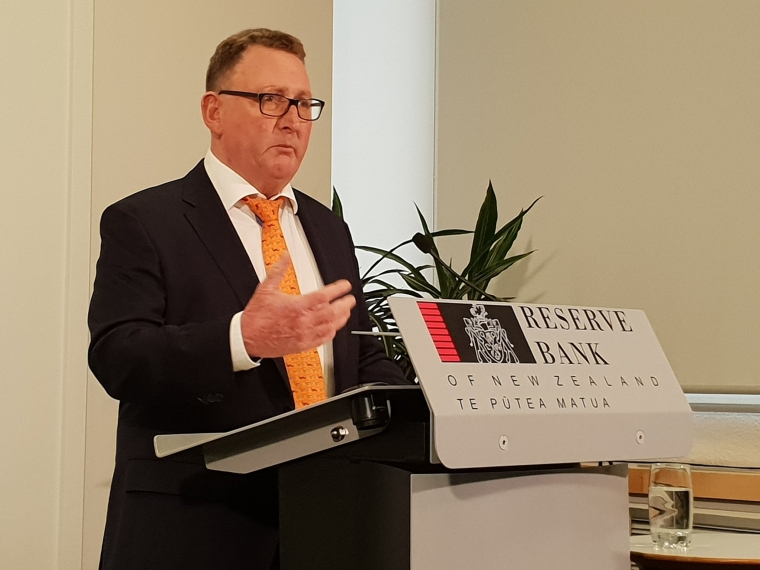 The Reserve Bank does not see rising international interest rates as a major concern for households in New Zealand, as long as there are no "abrupt changes" in the international market.
In its twice-yearly Financial Stability Report, the central bank again outlined the high level of household debt in New Zealand as the "largest single vulnerability of the financial system."
Although, in part thanks to loan-to-value ratio (LVR) restrictions on home loans household debt has moderated recently, it remains at an all-time high.
The Reserve Bank has previously outlined this as an issue, citing issues of homes being highly leveraged and vulnerable to any increases in interest rates.
Speaking to reporters on Wednesday Bernard Hodgetts , the Head of the Reserve Bank's Macro-Financial Department, said households could probably cope with an increase in interest rates.
"The issue really comes about if we get an abrupt change in interest rates," Hodgetts says.
He says there are still a lot of households with high debt to income ratios (see graph.)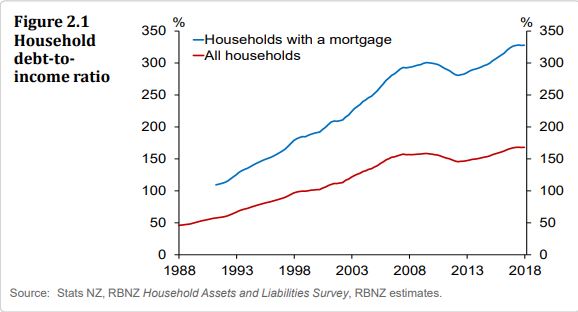 "Those are the sort of borrowers that could struggle if interest rates were to move up abruptly."
Reserve Bank Governor Adrian Orr says the central bank is "positively pursuing" adding debt-to-income (DTI) restrictions to its macroprudential toolbox, through the RBNZ Act Review currently taking place.
Hodgetts says the Reserve Bank is "very conscious" of the risk to highly leveraged households if markets react negatively to "dramatic tightening of monetary policy that we're seeing around the globe."
In its March forecasts, the US Federal Open Market Committee was split on whether to lift rates two or three additional times this year amid an improving economic outlook and rising inflation.
As long as things go according to plan, Hodgetts says "the household sector generally can cope with it."
Good and bad tightening
Orr followed Hodgetts' comments by outlining the difference between good, and bad interest rate tightening.
"Good tightening is if central banks are gradually raising interest rates because economic activity in those countries is behaving as they currently project," he says.
This could be due to improving economic growth, for example.
"Good tightening" is well signalled in the Reserve Bank's central projections.
"Bad tightening," on the other hand, is more of a concern.
Orr gives the example of what happened overnight with the Italian elections, where suddenly markets got spooked and risk premiums rose.
But, he says the risks of this happening on a much wider scale are "very small – they're not part of central projections."
Speaking to MPs during the Finance and Expenditure select committee, Orr said he was pleased to see an improvement in the banking sector around how banks are funding themselves.
"They are borrowing more internally long-term, rather than short-term and they are funding themselves more from domestic deposits, rather than more international borrowing."
He says this is a "fantastic movement" that makes the Reserve Bank feel more comfortable about the ability of the banks to weather unanticipated events.
Meanwhile, Orr says the BNZ's major service loss over the weekend – caused by the power loss at its parent bank National Australia Bank in Australia – is an "excellent example of the operational vulnerability of banks."
"It is one of those trade-offs of efficiency vs certainty," he said when asked about BNZ's implementation of the Reserve Bank's outsourcing policy.  
"In this case, were they aware and ready enough to have independent business continuity plans that could manage for that particular risks?
"But we have got a very, very big work programme ahead of us, around making sure that large, important banks are operationally capable on their own within New Zealand."