Robertson pushes ahead with TWG recommendation to investigate a vacant land tax, despite Treasury and the IRD saying there's no evidence to suggest it'll stop land bankers and improve housing affordability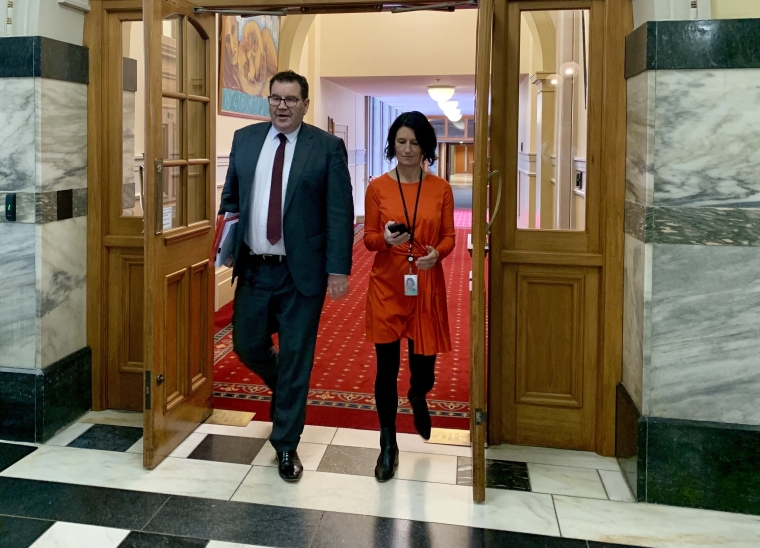 The only change to the tax system the Government's considering making to improve housing affordability is one the Inland Revenue (IRD) and Treasury aren't keen on.
Both agencies in November 2018 advised the Tax Working Group (TWG) against recommending the introduction of a tax on vacant land or property.
However, the 11-member group, in its final report released in February, suggested the Productivity Commission investigates a tax on vacant residential land as a part of its inquiry into local government financing.
Finance Minister Grant Robertson liked the idea. It was one of only 10 TWG recommendations he in April classified as a "high priority" in the Government's tax work programme. (The TWG made a total of 99 recommendations, including one to extend the taxation of capital gains, which the Government dismissed).
Asked by interest.co.nz on Tuesday afternoon whether he was aware Treasury and the IRD were opposed to a vacant land tax, Robertson didn't miss the opportunity to make a subtle dig at Treasury:
"I'm well aware of the views of the Treasury. There are a few things the Treasury and I differ on, but this is one we think is worth investigating…
"Differences of opinion between politicians, the Treasury and the IRD are many years in the making, so we'll have a look at it."
Complications incentivising the "best" land use
The IRD and Treasury, in their report prepared for the TWG, concluded there wasn't enough evidence to suggest a vacant property and/or land tax would have the desired effect of increasing housing supply to improve affordability.
"The design and implementation of vacant land taxes are complex," they said.
They believed it would be difficult to make judgement calls to determine whether one type of land use should be preferred over another.
Setting the tax rate at the right level would also be tricky, as it would have to high enough to encourage a land owner, otherwise incentivised to do nothing with their land, to develop it.
A tax to incentivise behaviour or generate revenue?
However the IRD and Treasury conceded that advice from the Department of Internal Affairs (DIA) suggested identifying vacant land would be easy enough using local councils' records.
The DIA also believed it could be possible for a local council to tax vacant land owners under existing laws - the Local Government Act 2002 and Local Government (Rating) Act 2002.
The catch is the tax would likely need to be applied with the purpose of enabling the council to recoup costs incurred rezoning the land and servicing it with infrastructure, rather than with the aim of incentivising land development.
Treasury and the IRD concluded: "It seems that a local authority may be able to impose a targeted rate on vacant land, provided the local authority has invested in rezoning the land and providing infrastructure. If there has been no investment, then the ability to impose a targeted rate seems less certain."
In this vein, the TWG said a vacant land tax would be best levied by local councils rather than central government, and would be most feasible where a local authority had rezoned the land as residential and provided infrastructure, but the land remained vacant.
Data lacking
At the heart of the issue, the IRD and Treasury said there was insufficient data for them to even pinpoint the extent to which land banking was a problem.
They referenced a 2014 Auckland City Council study that identified a "significant pool" of over 5,000 vacant residentially zoned sections within the "built-up" area of Auckland. The study found about 3,250 sections had been vacant since 2006 and earlier.
Interviews with 29 owners of long-term vacant residential land, done as a part of the study, also gave some insight into why owners were discouraged from developing.  
Reasons they gave included: high development costs, high compliance costs because of the urban location, the value of the site being higher than what a developer was prepared to pay, and capital gains earned by flicking the un-developed site off being more attractive than trying to make a return through development.
The IRD and Treasury also acknowledged the media had reported on cases of land bankers eyeing untaxed capital gains when they eventually sold.
But ultimately they believed they didn't have robust enough local or international data to suggest a policy change.
They suggested the Government keep an eye on what other countries are doing in this space.
Anecdotes plentiful
Robertson wouldn't explicitly say whether he supported a vacant land tax, but admitted it was an idea "worth investigating".
Asked why he wasn't opposed to it, he responded: "We think it's something New Zealand hasn't considered before. We do think there are issues with land banking that need to be addressed and this is one potential way of doing it."
Pressed on how he knew there were issues when Treasury and the IRD said they didn't have hard data on the matter, Robertson said: "I think most New Zealanders will be aware that over the years we've had issues, particularly in Auckland, around the city limit areas with this.
"But that's all a part of our investigation, to see what value it would have."
The Productivity Commission is expected to release a draft report on local government financing on July 4, before delivering a final report to the Government on November 30.
Interest.co.nz on April 23 requested, under the Official Information Act, that both Treasury and the IRD release their communications with Robertson, the Prime Minister and the Revenue Minster on a vacant land tax.
However the agencies said these documents couldn't be released because they were under "active consideration" while the Government finalised its Tax Policy Work Programme for 2019-20.
*This article was first published in our email for paying subscribers. See here for more details and how to subscribe.