Tax Working Group proposal for vacant land tax that was referred for further investigation by Finance Minister Grant Robertson has been given a firm thumbs-down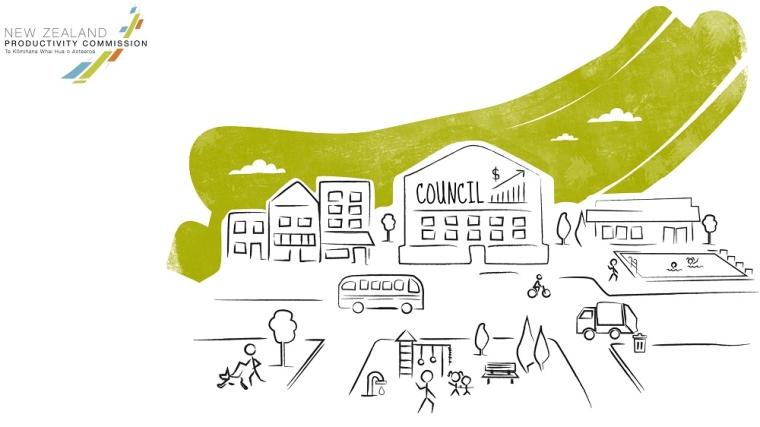 The idea of a vacant land tax has been torpedoed by the Productivity Commission in its final report on local government funding and financing.
In essence the commission has decided that a vacant land tax would ultimately prove to be a tax on new housing and would have harmful effects.
The decisive thumbs-down for the tax given by the commission means the idea is probably now dead and buried - at least under this Government.
The land tax was one of the key proposals put forward by the Tax Working Group in February - although of course this particular tax was overshadowed by the proposal the TWG for a Capital Gains Tax.
CGT was ruled out by the Government, but  Finance Minister Grant Robertson subsequently referred its recommendation for a vacant land tax to the Productivity Commission to consider in its report.
 It was one of only 10 TWG recommendations he in April classified as a "high priority" in the Government's tax work programme. (The TWG made a total of 99 recommendations, including one to extend the taxation of capital gains, which the Government dismissed).
Both Treasury and Inland Revenue had been against the idea and with it now receiving the thumbs down from the Productivity Commission that would likely appear the end of the matter.
The overall report
In terms of the report as a whole, the commission says it has focused on targeted solutions that do not compromise councils' autonomy or accountability.
Meanwhile though the body that represents local councils, Local Government New Zealand, is lamenting "the lack of courage" shown in the commission's final report, saying that while it makes many worthy recommendations, its play-it-safe-approach relegates the report "to a mere repeat of the nine rates reviews that have preceded it since 1945". (See full LGNZ release at bottom of the article)
The commission has found that payments from central to local government are justified in some circumstances, and that co-funding will be needed to help some councils deal effectively with the challenges they face. The report sets out guidance about when costs should be shared between local ratepayers and general taxpayers.
It recommends central government co-funding to help councils redesign and possibly relocate infrastructure at-risk from climate change, as well to assist small, rural and low-income councils upgrade their three-waters infrastructure. 
It says the Government should actively encourage aggregation of council water businesses and better governance arrangements. It should also consider having backstop arrangements to deal with councils that fail to lift performance sufficiently to meet minimum health and environmental performance standards.
It also says the Government should place water providers under economic regulation when and where doing so would improve investment performance and minimise costs. 
The Government should legislate to enable any council-owned water provider, incorporated as a council-controlled organisation, to directly charge water users for their services, with provisions similar to those applied to Watercare in Auckland. The Government should legislate to enable councils to set targeted rates for wastewater on a volumetric basis, just as they can set volumetric targeted rates for the provision of drinking water.
Rates
The commission says the Government should work with local government and suitable financial providers to develop and implement a national scheme for postponing rates. The scheme should have a single set of clear and generous eligibility rules, be accessible and have provisions that are easy to understand and work with, have moderate and transparent fees and be nationally promoted.  
The commission says many councils can make better use of their existing funding tools. Improvements to organisational performance, transparency and decision making can also help to relieve cost pressures. Spatial planning would also help to coordinate council efforts as they plan and respond to the various stresses, both regionally and with central government.
Special Purpose Vehicles
The commission also says the Government should expand the use of Special Purpose Vehicles to finance investment in growth infrastructure in fast-growth local authorities that face debt limits. It says, f needed, the Government should promote legislation in Parliament to enable the placement of debt-servicing obligations on existing as well as new residents who will benefit from the infrastructure. 
The report makes 44 recommendations (page 301 to 320) to deal with cost pressures, and to better align council and ratepayer interests.
The commission says by far the largest item that can be estimated is the cost of the Commission's proposals to help councils whose assets are threatened by climate change. Central government's share of this cost could be in the order of $150 million per year for 20 years. 
The vacant land tax
On the vacant land tax (discussed on pages 189 to 194 of the report), the commission says that on the surface, taxing vacant properties may seem appealing, especially to address inefficiencies and inequities arising from land banking.
"If the tax were to prompt land bankers to reduce their holdings, this would seem to increase the supply of land for housing," the commission said.
However, the Commission's research and analysis had led it to conclude that while vacant-land taxes could help reduce land banking and increase housing supply in the near term, these effects "are likely to be small and transitory".
"Indeed, over several years, such taxes would likely prove to be taxes on the development of new housing and have harmful effects. They would likely reduce housing-supply responsiveness by reducing developer flexibility and risk-taking, which is the opposite of what is needed in New Zealand."
Raising costs
The commission said the main effect of imposing the tax is to raise the cost of holding vacant land for developers (or other landowners) who would therefore reduce the amount they choose to hold.
"Selling off the vacant land they no longer wish to hold would give a small and transitory boost to housing supply, but it would not solve the undersupply of housing relative to demand in New Zealand." 
The commission says beyond the "first-round effect", vacant-land taxes would likely reduce the responsiveness of housing supply to changes in housing demand, exacerbating the underlying problem with New Zealand's housing market.
"The taxes would likely shift the scale and timing of steps in the development process from their before-tax chosen settings – choices that are likely to be efficient. For example, a smaller stock of vacant land after-tax might entail converting farmland in inefficiently small chunks and holding inefficiently small inventories of vacant land to cope with demand fluctuations. These inefficiencies will raise risks and costs for developers with knock-on adverse effects for residential development and house buyers."
The property development process and how it interacts with demographics, the construction sector, other economic forces and the market in existing dwellings is a complex, evolving system, the commission says.
'Not a cure'
If housing supply is not responding to housing demand and this is causing harmful land and house price inflation, then that may be caused by any number of variables in the system.
"The Commission's investigation strongly suggests that the problem will not be cured with vacant-land taxes."
More likely causes of an unresponsive housing supply include poor land-use regulations or slow infrastructure provision.
"These can restrict the ongoing supply of usable land, push up land prices and increase development costs. Imposing additional taxes on development through vacant-land taxes is not going to counteract these effects and will likely exacerbate them."
The commission's official recommendation is that the Government should not further advance the idea of implementing a vacant-land tax. Councils should tackle the problem of lack of housing supply by reducing regulatory and infrastructure barriers to development. 
This is the full Local Government NZ release in response:
Prod Comm hamstrung by playing it too safe

Local Government New Zealand (LGNZ) is lamenting the lack of courage shown in the Productivity Commission's Local Government Funding Report, saying that while it makes many worthy recommendations, its play-it-safe-approach relegates the report to a mere repeat of the nine rates reviews that have preceded it since 1945.

"The report underscores the well-understood point that property rates are an efficient mechanism for charging and collecting local government taxes. We don't disagree, especially where councils are operating in a stable environment," said LGNZ President Dave Cull.

"But we're not in a stable environment. In 2004, Stats NZ predicted our population would hit five million people by 2050, but we're on track to hit that number in 2020. That's 30 years ahead of schedule and our critical local infrastructure hasn't kept up with this growth."

Mr Cull noted a major reason for this is because rates confronted local communities with the costs of paying for growth infrastructure upfront, whereas the short-term tax benefits of population growth wash up exclusively in central government's coffers in the form of GST, salary and profit taxes.

LGNZ has long argued that local government's revenue tools need to be broadened and linked to the economic cycle, either through a share of GST, local capital grants, resource rents, or tourist taxes.

"We're not calling for rates to be scrapped, but for this mainstay of local government funding to be augmented with revenue tools that give communities a clear reason to vote for pro-growth initiatives. Until we tackle the political incentives at the ballot box created by the rates system, New Zealand's infrastructure will continue to fall behind."

"That's what makes the Productivity Commission's endorsement of the status quo so disappointing. If the Government entity charged with coming up with bold new ideas for New Zealand can't think courageously, then who can?"

"They've played it extremely safe, and haven't left an inch to try something different at the margin - the irony being that only by trying something different can we find new and innovative ways to be more productive as a country."

The local government peak body welcomed many of the suggestions put forward about how councils can lift their performance, noting that much of it was already in train through LGNZ's work programme.

What was less certain was the Government's willingness to accept the recommendations in the report as they relate to central government, particularly on the need for central government to tally up the invisible costs it imposes on ratepayers through the legislative process.

"We've been highly critical of central government's unfunded mandates for years, and economists and governance experts up and down the country all agree that government should at a minimum disclose the costs they impose on ratepayers when making laws," said Mr Cull.

"But as vocal as we've been on this issue, we've seen successive governments simply refuse to be transparent this. The challenge on Ministers Robertson and Mahuta – as sponsors of this report – is to have the courage to finally grasp this nettle."