No sign of downturn in house prices or sales volumes as buyers thumb their noses at coronavirus threat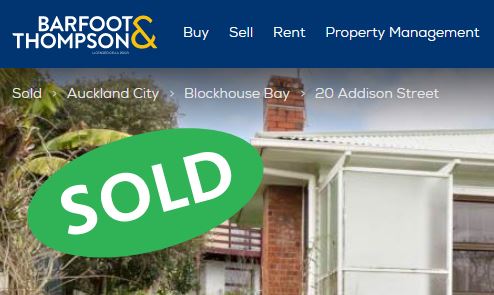 Home buyers appeared unconcerned about the threat of coronavirus and the turmoil in world financial markets at this week's early auctions.
At Barfoot & Thompson's regularly scheduled auctions at Manukau and at the real estate agency's head office auction rooms on Shortland Street in the CBD on Tuesday (March 17), bidding for properties remained competitive and the overall results were still in line with those of the previous few weeks.
At the Manukau auction, 42 properties from south and east Auckland were offered and sales were achieved on 22, giving a sales rate of 52%.
At the Shortland St auction, 10 properties from central and western suburbs were offered and seven were sold, giving a 70% sales rate.
That gave an overall sales rate of 56%, consistent with Barfoot's narrow weekly sales rate range of 55% to 58% since the last week of February.
It was particularly significant that at the Shortland St auction the first three properties offered had all received pre-auction offers that were acceptable to their vendors and had been accepted subject to a better offer being received at auction.
Effectively this meant the pre-auction offers became the reserve prices and in such situations it is not uncommon for there to be no bids at auction because the pre-auction offers are at or near the top end of the properties' expected price ranges.
But all three properties received multiple bids, which meant they sold for prices that were almost certainly well above their vendors' price expectations.
So looking at both of Tuesday's auctions and comparing them to those of the last few weeks, there is nothing to suggest that either the number of sales or the prices being achieved have taken a sudden turn for the worse.
The fallout from coronavirus will have two main impacts on the housing market, one of which is almost immediate and quantifiable, while the other is longer term and not yet quantifiable.
The immediate impact comes from the Reserve Bank's decision to slash the Official Cash Rate, which resulted in an almost immediate drop in floating mortgage interest rates, with cuts to the more commonly used fixed mortgage rates likely to follow over the next few weeks and months.
In the normal course of events that would be expected to either push up or at least support current house prices.
The other impact from coronavirus is that the economy appears increasingly likely to be pushed into recession. If that happens unemployment is likely to rise while wages and consumer spending are likely to be suppressed and immigration levels are likely to fall.
All of those things would likely have a negative impact on the housing market, in terms of rents, prices and turnover. The trouble is, it is difficult to say when those effects could start to bite, how deeply they will bite and how long they will last.
That's where the uncertainty comes in.
It appears that at the moment, house buyers are focussed more on the known, immediate effects of interest rate cuts rather than the potential long term impacts of recession.
The comment stream on this story is now closed.
You can receive all of our property articles automatically by subscribing to our free email Property Newsletter. This will deliver all of our property-related articles, including auction results and interest rate updates, directly to your in-box 3-5 times a week. We don't share your details with third parties and you can unsubscribe at any time. To subscribe just click on this link, scroll down to "Property email newsletter" and enter your email address.