ASB boss picks stronger asset growth ahead as bank seeks to boost share of residential mortgage market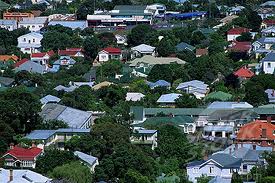 This article was first published in our email for paid subscribers this morning. See here for more details and to subscribe.
By Gareth Vaughan
ASB CEO Barbara Chapman is predicting stronger asset growth from the bank in its current financial year as it strives to grow its residential mortgage lending book following a flat performance in the year to June 30.
Chapman told interest.co.nz that after 6% growth in business lending and 5% growth in rural lending in the year to June 2012, she wants to grow ASB's home loan book in the year to June 2013.
"I think what you'll see from us over the year ahead is more momentum around asset growth," Chapman said.
"Certainly in terms of our housing book we had quite a flat year and that's a story of two different parts. That's reasonable growth in the ASB branded book - we've been growing at above market there, but we've had quite a strong decline in our third party mortgage book which comes to us through Sovereign - those are clients of Sovereign's brokers largely. We have seen that book in decline."
"But what we're finding over the last quarter is some good momentum coming through in the ASB book and in fact the Sovereign book is showing signs of stabilising. So what I think that will translate into over the year ahead is stronger asset momentum growth for us."
"We're predicting to grow at or above systems growth for housing. I would be expecting us to be increasing our market share over the next 12 months," Chapman added.
Return on equity outstrips parent CBA
Chapman was speaking after ASB yesterday posted a NZ$117 million, or 21%, rise in annual net profit after tax to a record NZ$685 million. This came despite a rise in total lending of just 1.2% to NZ$53.002 billion and a NZ$487 million, or less than 1%, rise in total assets to NZ$63.537 billion. ASB also recorded a 180 basis points increase in its return on equity to 19%, outstripping parent Commonwealth Bank of Australia's 18.6% return on equity which was down 90 basis points. See more on ASB's annual results here.
In the year to June ASB's home loan book was flat at about NZ$37 billion with its market share at 21.6%, versus 22.1% a year earlier and 22% at December 31, 2011.
Chapman said ASB was seeing growth in residential mortgage lending in Auckland, Christchurch and to first home buyers.
'Geographical tailwind' in an Auckland housing market that's 'not over heating'
"Obviously the Auckland market is doing well and we're a big part of the Auckland market so there's some geographical tailwind that we experience here," Chapman said. "And we're putting a lot of focus on our third party distribution book too, to improve delivery out through that broker channel and increase the opportunity that we have there, which we probably lost sight of over the last couple of years."
This involved providing a "much better and tighter service" to existing partners. There were no plans to loosen any lending criteria.
Of the Auckland market Chapman said she didn't have any concerns it was over-heating despite Quotable Value and the Real Estate Institute of New Zealand reporting Auckland house prices and values were rising at annual rates of 6.3% and 9.3%, respectively, in July. REINZ also said Auckland maintained its record median price of NZ$500,000 for the third straight month. See more from QV and the REINZ here.
"It's a cyclical market. I think some of the increases that have been going on might look significant compared to what has been going on in the last five years. But if you track back longer than that, I think you'll find they're still relatively conservative increases," Chapman said.
'RBNZ's unusual position would slow economy'
In May Reserve Bank Deputy Governor Grant Spencer said putting limits on Loan-to-Valuation Rations (LVRs) is one of four policies the central bank views as "viable candidates" to put the brakes on any future sustained boom in credit and asset prices. Asked about this Chapman said it was an "unusual position."
"I think that it's incumbent on us to lend money to the right types of customers and to do that properly needs analysis. Everything I've read would suggest that (LVR limits) would slow down the economy to quite a degree so that would need to be carefully thought through, as I'm sure it is being," added Chapman.
As of its most recent general disclosure statement, covering the nine months to March 31, 6.4% of ASB's overall residential mortgage exposure had LVRs above 90% and 10.9% had LVRs between 80% and 90%. See more on this here.