Home owners are piling back into fixed rate mortgages.
According to data released by the Reserve Bank of New Zealand today, housing credit rose by $6.3 billion during 2012 to end at a record $177.7 billion.
This is a 3.7% increase and the highest rate of growth since January 2009.
This easily trumped the increase in 2011 of just $2.0 billion. 
The 2012 rise was last bested in 2008 when the increase was $6.9 billion.
A remarkable $1.362 billion leaked out of floating rate mortgages in December from the previous month, and the value of floating rate mortgages declined by a whopping $7.9 billion over all of 2012.
Most of that went into one year of less fixed rate mortgages, chasing lower rates.
Other fixed terms were less popular, although there was some support for the five year term.
The value of mortgages for all fixed terms rose by $13.6 billion in the year, and they were up $2.5 billion in the one month from November to December.
These are very big moves, with the rush back to fixed as fast as the rush into floating in 2009/10.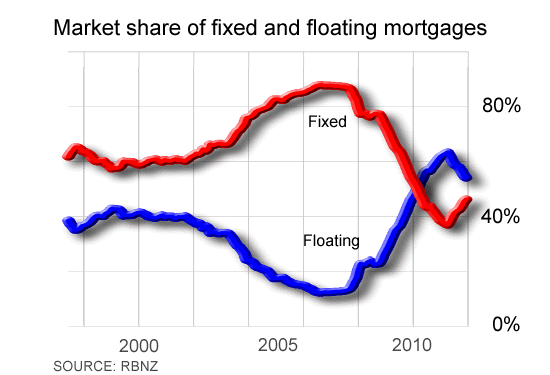 Meanwhile, rural credit is growing again. Loans to agribusiness rose $2.4 billion in 2012, at 5.1% p.a. an even faster rise than for housing.
The recent new surge in dairy conversions will see this growth continue, and the future track is strong now that big investments in irrigation are coming.
Lending to businesses grew $1.9 billion in 2012, the slowest clip of the three major sectors covered by the RBNZ data. More than $78.8 billion has been borrowed from banks, but this is no record. The high was in $84 billion in December 2008. Many corporate treasurers felt banks were only fair-weather friends during the GFC and have sought to diversify their funding sources away from banks.
The one section of the economy that has clearly deleveraged are consumers with their non-housing debt (personal loans, credit cards, etc.). At $13.3 billion, this is still 6% below its pre GFC peak, and only now just starting to show any recovery - and only in the past three months.
Across all sectors, bank lending reached $319.6 billion at the end of December 2012, up $10.9 billion from 2011.