Barfoot & Thompson says a surge in million dollar house sales has pushed Auckland average price in March to record NZ$646,000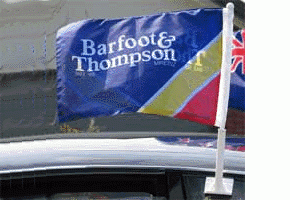 An "abnormally high number" of sales above NZ$1 million has seen the average sales price for houses in the Auckland market reach $645,928 in March, according to Auckland's biggest real estate company Barfoot & Thompson.
"This is our highest ever average price and exceeds last month's average price by 6.9%, and the previous highest average price of $627,721 achieved in November last year by 2.9%," said Peter Thompson, managing director of Barfoot & Thompson. Barfoot & Thompson accounts for about 40% of the houses sold in Auckland.
In addition, the company sold the most houses in a month for nearly 10 years - going back to the last big housing boom. It also sold the most million dollar-plus houses ever in a month.
The latest figures will add to worries about the increasingly overheated nature of the Auckland market, which is pushing up national prices and causing the Reserve Bank to become concerned about potential inflationary impacts.
Westpac senior economist Michael Gordon says his bank is forecasting a 9% rise in nationwide house prices this year, followed by a 4% rise next year.
"Notably, the RBNZ's house price forecasts are now not too dissimilar from our own. The main point of difference is that the RBNZ expects the knock-on effects from house prices to household spending and inflation pressures to be more muted compared to past cycles. We're not convinced that this time will be different, and we maintain our view that higher interest rates will be warranted by the end of this year."
The situation is being fuelled by an acknowledged shortage of new housing in Auckland.
The latest Barfoot & Thompson figures show that supply of houses is barely meeting demand. The company said that it had 1476 new listings in March - but there were 1430 sold. And many of these were in the higher price bracket.
"While we expected to see a major lift in the average price between February and March, as it is a trend evident in our sales statistics since 2010, the most critical factor in the price increase was undoubtedly the number of homes that sold for in excess of $1 million," Thompson said.
"186, or 13% of all our sales, were for more than NZ$1 million, whereas the percentage last year was 8.5% of sales.
"This is the highest number of sales in excess of NZ$1 million we have ever sold in a month, with the highest concentration of sales being in the eastern and central Auckland areas, and along the North Shore beach suburbs.
"A higher-than-normal number of sales at the top end of the market does have a significant impact on the average price, and the same influence was felt when our previous highest average price was established in November, when we sold 146 homes for more than NZ$1 million."
Thompson said the company had ""an exceptional month's trading in March".
"While there was a great deal of focus on top-end homes, market activity was also strong in the under NZ$500,000 price category where we sold a total of 550 homes, making up 38.5% of total sales.
"New listings during March at 1476 were solid, but down 15.8% on those in February and down 4% on those for last March.
"The level of new listings combined with high March sales saw available listings at month end at 3721, down 6.7% on those at the end of February and down 22% on those last March.
"It is the second lowest number of listings at a month's end for more than a decade, and is yet another sign of the acute shortage of property available for sale in Auckland."