Len Brown urges Aucklanders worried about greater density to look at Vancouver's 'urban density done well' despite its housing affordability woes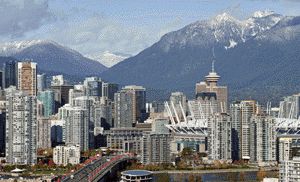 Auckland Mayor Len Brown, who is striving to convince Aucklanders to support his council's "compact city" blueprint for their city's future, is pointing to Vancouver as a model of "urban density done well", even though his Vancouver counterpart says a lack of affordable housing is Vancouver's most pressing policy issue.
Brown has issued a report entitled Learning from Vancouver: Gentle Density, which was commissioned from Isthmus Research by Auckland Council. The report looks at Vancouver's approach to increasing density in the suburbs. However, it does also touch on the city's need to tackle affordability issues.
Brown says Aucklanders who are worried about the impact of greater urban density should look at the report.

"It shows that, with the right approach, it's possible to build a more intensified city that is more liveable and affordable, and that residents are proud of," says Brown. "Vancouver has many similarities to Auckland, including a central isthmus and low-rise suburbs spreading out from the central city."
Vancouver second least affordable
A study comparing 337 urban markets, released by Demographia in January, named Vancouver as the second least affordable city with a median multiple, or house-price-to-income multiple, of 9.5. The report showed in parts of central Auckland the median multiple is well over seven times and the North Shore almost at seven times. In Manukau the multiple has reached six times, and in Waitakere it's 5.5 times.
Demographia says housing is "affordable" when it can be purchased for less than three times annual household incomes. It is "moderately unaffordable" at between three and four times household incomes, is "seriously unaffordable" between four and five times household incomes, and "severely unaffordable" above five times annual household incomes. See the Demographia report here and see interest.co.nz's story on it here.
Separately, the Economist has named Vancouver as both the most expensive city in North America to live in, and third "most livable" city in the world.
The Auckland Council's draft Unitary Plan is currently open for consultation. This sets out that 60% of development over the next 30 years will take place within the current urban area with more high rise living on the agenda.
See an interview with Deputy Mayor Penny Hulse on the Unitary Plan here.
However, the Government, primarily through Housing Minister Nick Smith, has expressed concern the Unitary Plan won't do enough to improve housing affordability and has threatened to "smash" Auckland's metropolitan urban boundary to free up greenfields land for the building of new houses.
Prime Minister John Key last week suggested Auckland needs 15,000 sections available per year for both greenfields & brownfields development and suggested his government's planned Resource Management Act changes are a key plank in enabling this. Over the last decade an average of 6,520 homes, including apartments, have been consented in Auckland per year.
'Vast majority of Vancouver households have incomes well below those required to purchase even a modest condo'
Meanwhile, a Vancouver Mayoral Task Force report on housing affordability, released late last year, quotes Mayor Gregor Robertson saying the lack of affordable housing is the most pressing policy issue in Vancouver today. The report notes that; "Vancouver has the highest housing prices in Canada, and the vast majority of households in Vancouver have incomes well below those required to purchase even a modest condo (condominium)."
An academic working group that looked into the impact of foreign investment on housing affordability, noted that - as in Auckland - there's lots of media coverage, cocktail discussion, and broad debate about the impact of foreign investors coming into the real estate market and their impact on affordability. However, the academics conclude that "no concrete evidence exists showing either negative or positive impacts and the empirical conclusions of the impact of foreign investors on affordability is weak at best. Further exploration is required."
The Task Force focused on affordability solutions for moderate income households earning between C$21,500 (single income household) and up to C$86,500 (for single and dual income households). It noted rental vacancy rates were chronically low, averaging just 0.9% over the last 30 years. It also said nearly 40% of Vancouver households spend more than 30% of their income on housing, with the situation even more serious for young households with almost half households headed by people under 34 spending more than 30% of their income on housing.
The report made four recommendations;
1) Increase supply and diversity of affordable housing.
2) Enhance the city's and the community's capacity to deliver affordable rental and social housing.
3) Protect existing social and affordable rental housing and explore opportunities to renew and expand the stock.
4) Streamline and create more certainty and clarity in the regulatory process, and improve public engagement.
More choice & greater density called for
The report also notes that one way to improve housing affordability is to increase supply and competition between housing providers.
"Many of the initiatives identified in this report seek to increase the supply of housing that can be delivered at a lower price point. Lower development costs only translate into lower prices and rents when there is sufficient supply and competition in the marketplace. Currently in Vancouver, housing exists in two major forms – single family homes on single lots and apartment buildings (largely strata and some purpose-built rental). There is little in the continuum of housing beyond these two forms to meet the needs of families and smaller households."
"A number of the initiatives proposed in this report speak to the need to broaden the choices of housing form, achieve greater density and, by extension, increase the diversity and affordability of housing," the report says.